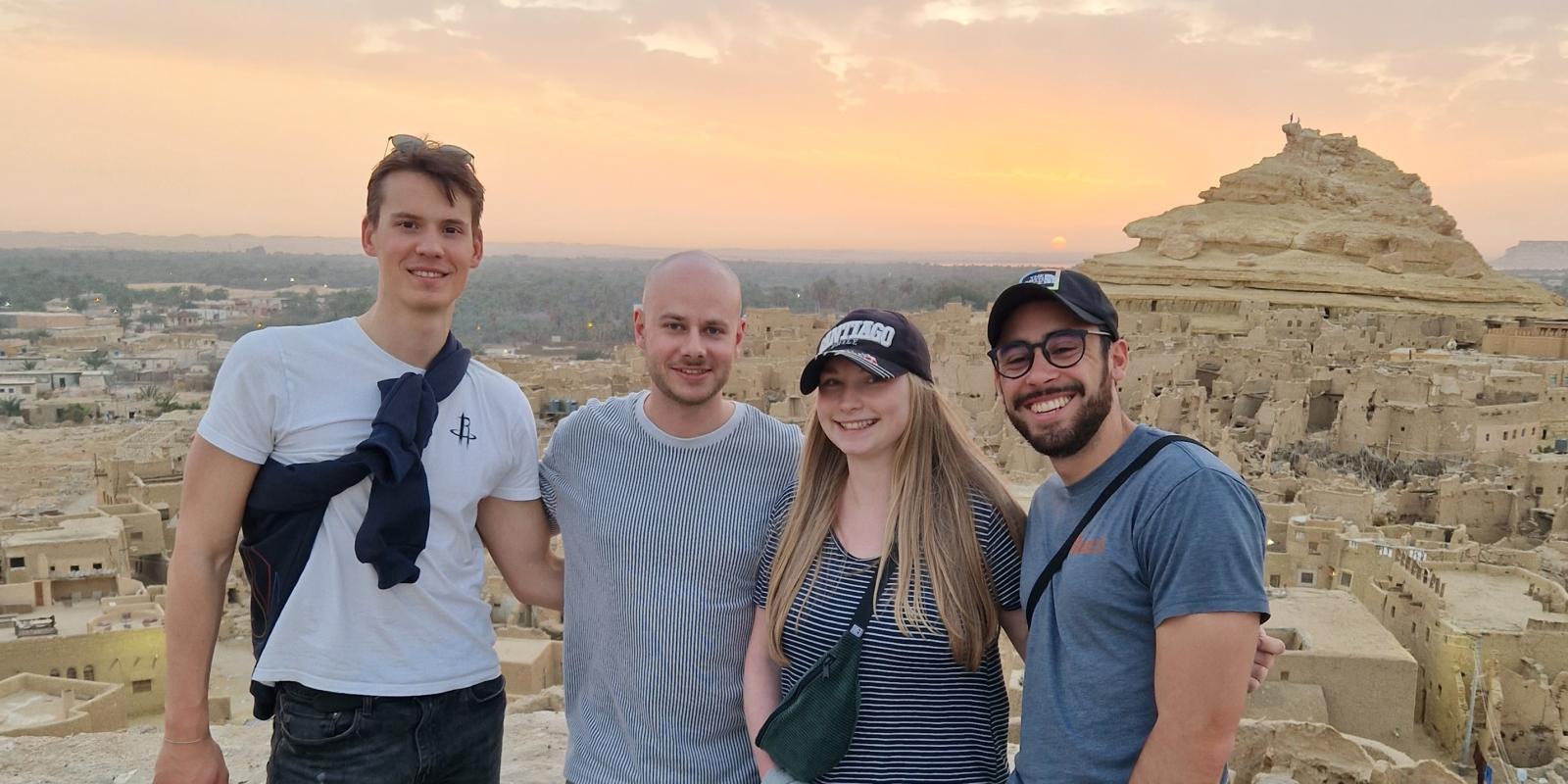 AUC's Global Network Grows With CEMS Connection
AUC's Global Network Grows With CEMS Connection
From the ancient past to the present, doing business in Egypt has always been an international affair. Today, AUC's School of Business continues this tradition as part of the CEMS network.
CEMS — the Community of European Management Schools, now known as the Global Alliance in Management Education — is a network of elite business schools and corporations across the world, which cooperate for joint programs and allow students to gain hands-on business experience in foreign countries and companies.
For six years now, AUC has sent young Egyptian business graduates abroad to study at some of the world's top universities, and welcomed some 25 foreign students to Cairo to show them how business is done in the Arab world's largest economy.
One such student is Angelique Nies, a native of Germany and graduate of the CEMS Master of International Management program at the Norwegian School of Economics in Bergen.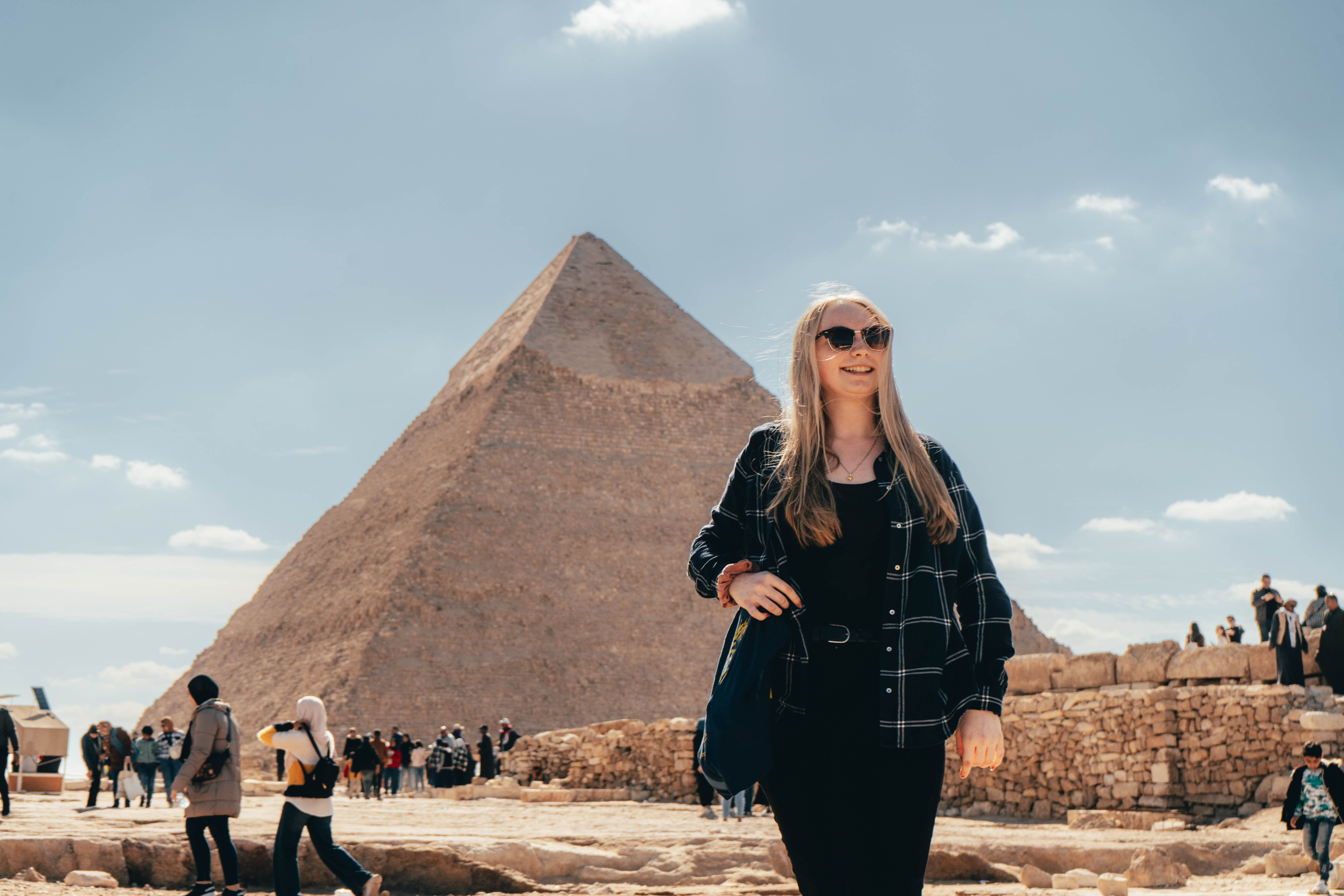 When choosing a host school for her CEMS semester abroad, AUC stood out clearly from the rest with its promise of something truly different from already-familiar European business schools. "What was most important for me when choosing my exchange destination for my term abroad was having a unique cultural experience and exploring a new part of the world," says Nies.
Aside from the change in climate, Nies noticed differences in AUC's teaching system compared to schools in other countries. The AUC School of Business environment is "much more intimate in comparison to European grad school programs," she remarks.
Nies recounts that her class sizes at AUC ranged from just five to nine students, allowing more focused teaching and making professors "much more accessible" than at other schools around the world. "Professors at AUC really care about your personal development and learning journey," she explains.
AUC faculty, along with students, are just a few of those who make up what Nies found most charming about Egypt: the people. "Every Egyptian I met was extremely welcoming and went out of their way to make me feel at home and share their rich culture with me," she says.
Hindsight has not changed her opinion. "If I could go back, I would choose AUC all over again!"
Global Networking
When CEMS decided to expand to the Middle East and Africa, AUC was invited to join as the region's leading University.
Since becoming a member in 2017, AUC has joined the ranks of famous business schools and universities such as HEC Paris, National University of Singapore, London School of Economics and Political Science, China's Tsinghua University, Türkiye's Koç University, HKUST Business School in Hong Kong, and Brazil's FGV EAESP.
As of 2023, AUC is the first and only CEMS member school in the Arab world and Africa, and has established a range of cross-school initiatives with fellow CEMS members in recent years.
One of the most prominent programs is the CEMS Master of International Management (MIM), a one-year program offered to graduate students at all CEMS member schools. The program focuses on international business operations, from global marketing strategies and finance management to navigating worldwide supply chains. It seeks to equip business students with the skills needed to lead the globe-spanning industries of the future.
Students accepted into the program study for one semester at their home university, one semester at another CEMS school and one final semester of at least eight weeks interning at a CEMS corporate partner, gaining real-world experience to launch their business careers. AUC students have interned in Saudi Arabia and the United Arab Emirates, says Hakim Meshreki (MBA '05) director of the MIM program.
"AUC aspires to become a pivotal member of CEMS, developing and spreading the CEMS culture of business across the whole region," adds Meshreki.
Aside from the valuable experience of studying in a foreign country, the CEMS program also allows students to get their foot in the door of global business through internships at major companies. AUC student Malak Fayed, for example, spent her internship term working hands-on with Coca-Cola's marketing department.
The internship experience and the MIM reputation can also boost resumes; according to Meshreki, MIM students have a 98% recruitment rate after graduation.
"The CEMS MIM is a compelling choice for those seeking a truly versatile and geographically mobile international career," he says. "AUC students who take part in this program have many benefits, the most important of which is belonging to a very strong network of corporate and social partners, in addition to the 34 academic members of CEMS."