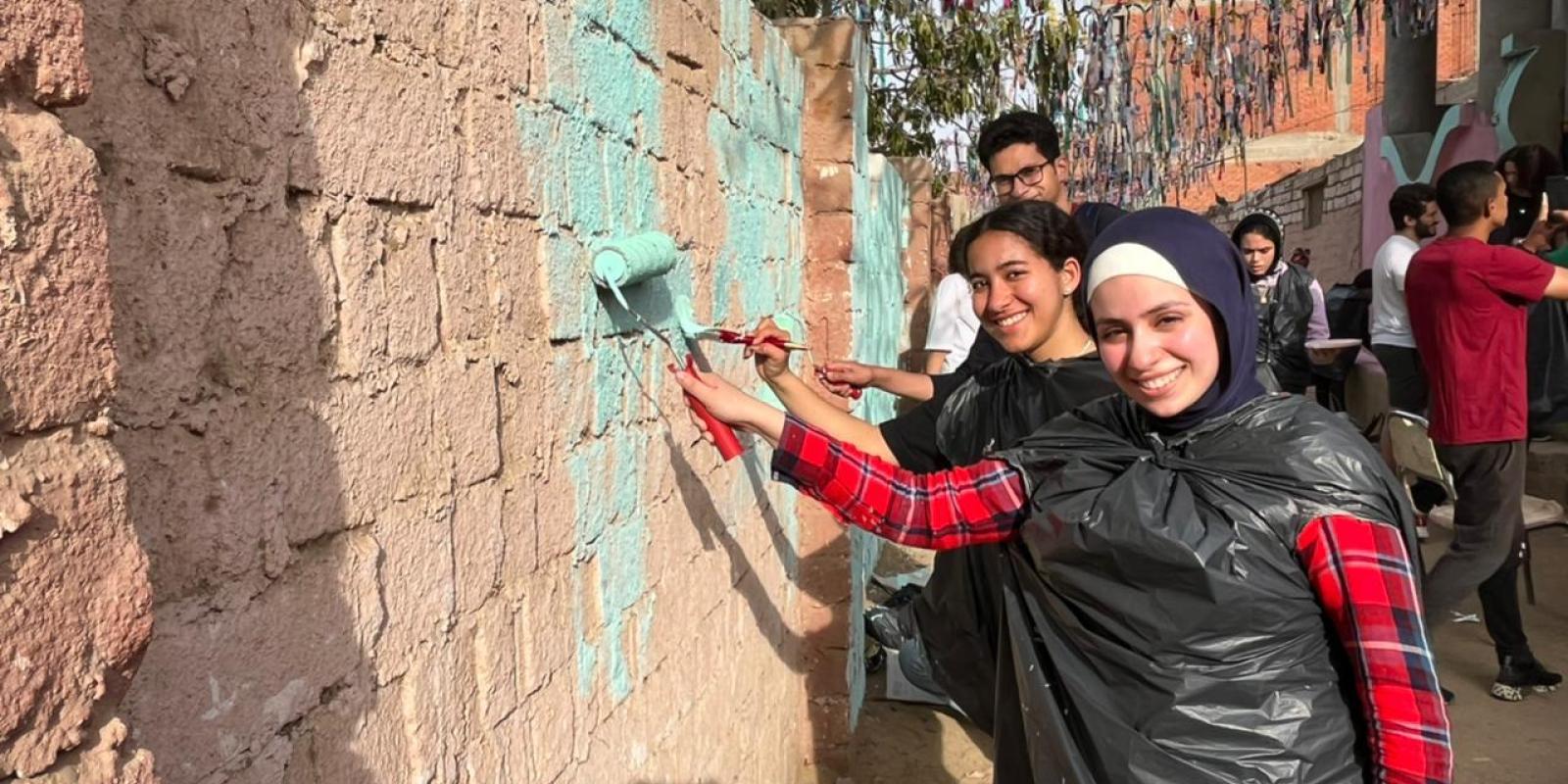 AUCians United by the Spirit of Giving During Ramadan
AUCians United by the Spirit of Giving During Ramadan
Since the beginning of March, AUC student clubs and organizations have been working tirelessly in preparation for Ramadan, a month known not only for fasting, but also for giving. From creating packs full of essential food staples to hosting charity iftars and leading workshops for underprivileged children, AUCians within these clubs are showing their dedication to creating positive impact in the local community during the holy month.
The Gift of Food
Most common among AUC's community service clubs during the holy month is the assembly and distribution of Ramdan food packs, which consist of basic cooking necessities to last one family an entire month. A standard pack includes pasta, cooking oil, legumes and tomato sauce, among other staples.
Volunteers in Action (VIA), led by President Dareen Hussein, a computer engineering senior and Vice President Lames Osama, a biology senior, have compiled around 3,000 handmade and ready-made packs this year. In assembling the handmade packs, the organization rallied 60 volunteers, who put together 1,200 packs over a period of five days.
"Around half of the packs will go to families in the urban area of Kafr Hakeem, while the second half is split between orphanages and other organizations we work with, as well as people in Giza's Mit Okba," said Hussein.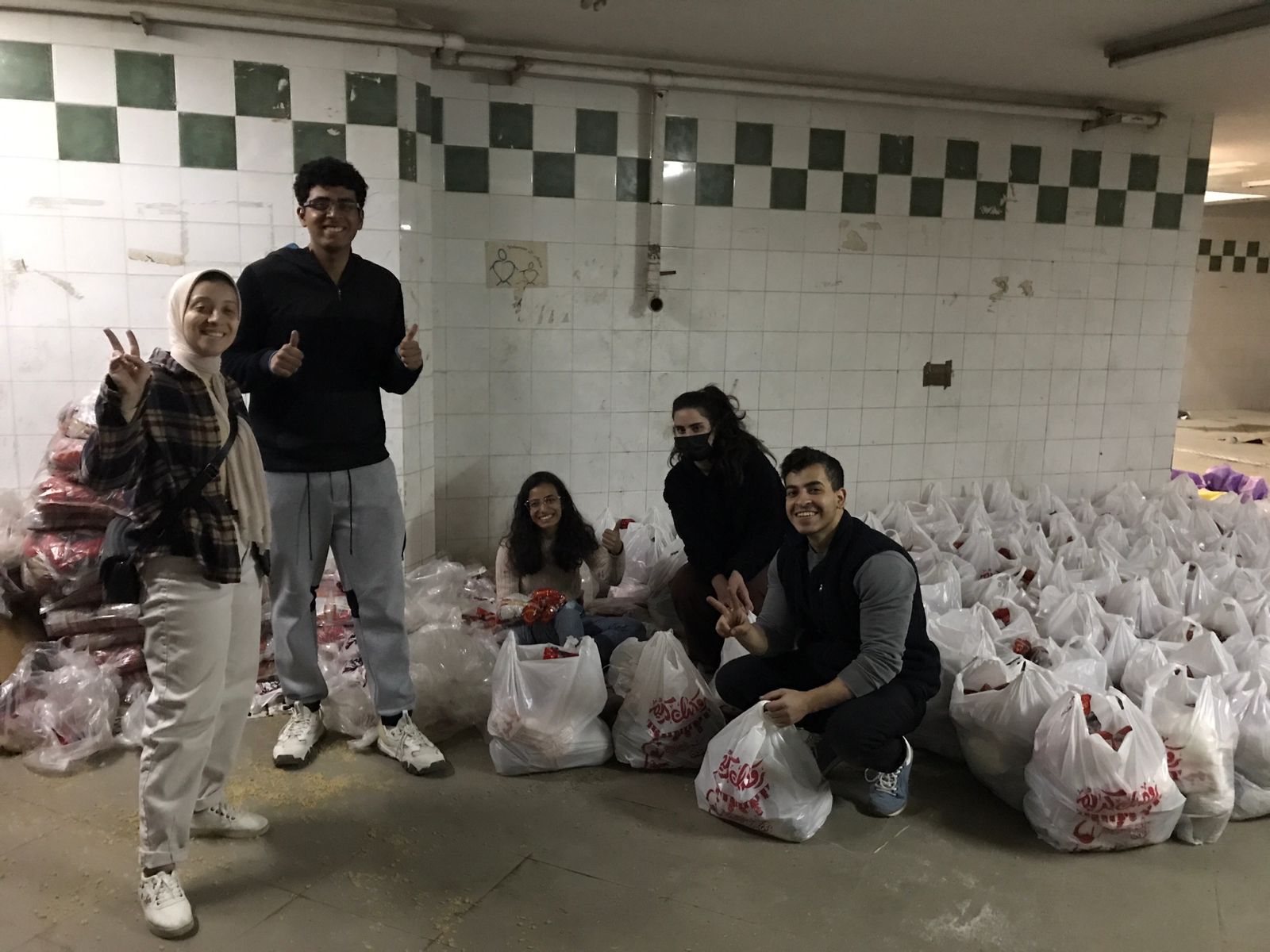 Planning for such a large quantity takes time and precision, explained Osama. "We create a massive excel sheet that includes our target areas and donor information."
VIA also oversees the handout of 30 fresh meals to different orphanages around Cairo each day during the holy month.
The Gift of Choice
In addition to giving out Ramadan packs, prepping fresh meals and spreading awareness through a booth in Bartlett Plaza, student club Mashroo3 Kheir (The Goodness Project) is also continuing an almost decade-long initiative modeled after the tradition of buying new clothes to celebrate Eid.
The club organizes a shopping day for children from orphanages and other institutions, during which they get to pick out a brand-new outfit for themselves. Club President Amina Khedr, a senior majoring in business marketing and minoring in psychology, notes the importance of this program.
"Usually, these children do not get to choose what is given to them," she explained. "We want to give them the experience of choice."
Giving and Sustaining
The University's Hand in Hand club, which is dedicated to helping orphaned children, the elderly and women in prison due to debt, are planning a major improvement project in Giza's Zawiyat Abu Musallam for the month of Ramadan. According to President Ahmed Seif, a business finance senior, the club is giving the gift of water to the community—that is, adding a water system to the small community.
"This year, we wanted to give something to the community that would live on for a long time," Seif said.
Additionally, the club is making and distributing Ramadan packs, but with the help of local high school students. "When I was a child, I did not enjoy charity work when it was forced," Seif admitted. "That's what gave me the idea to teach high school students the value of service, while stressing that it is not an obligation. This in turn changes students' perceptions around the work."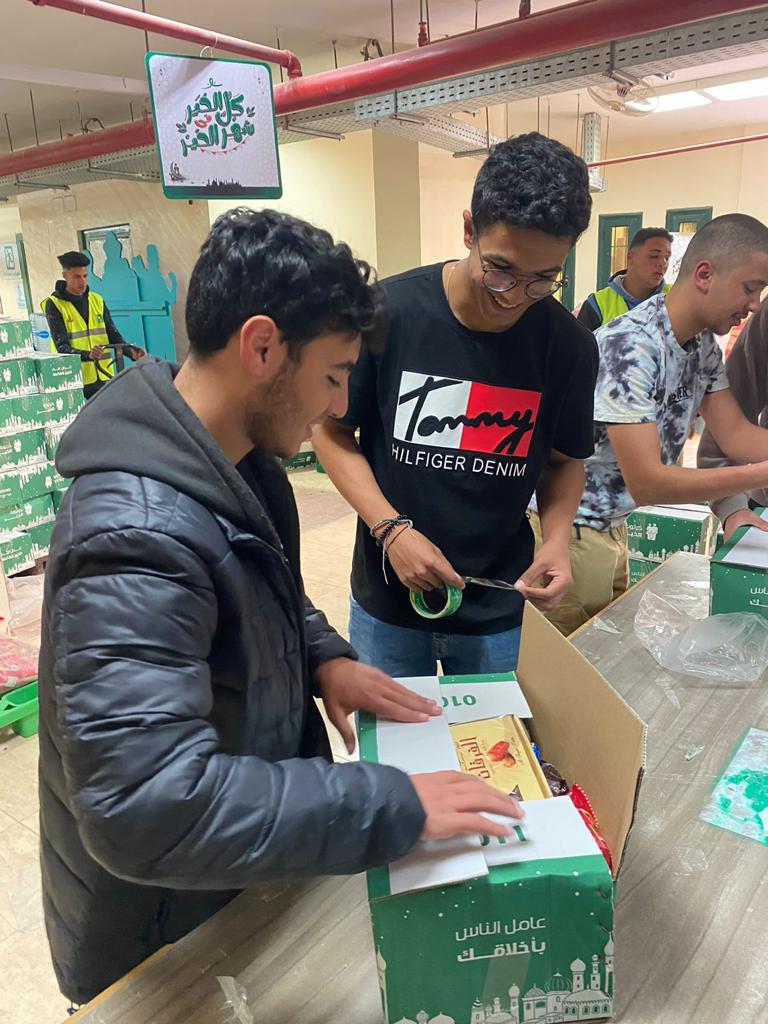 Mashroo3 Kheir is doing something similar, Khedr added. "We are integrating the orphaned children we work with into everything we do. Right now, we are empowering them to give back to their communities through teaching them to pack meals."
Getting Back
People donate money, time and other resources to charitable causes for a number of reasons—feelings of social responsibility, religious obligation or because they see others doing the same—but the most common reason among AUC's club presidents was simply, "It feels good."
And they're not wrong. Studies show that giving to charity stimulates dopamine in the regions of our brains connected with feeling reward and pleasure.
Hussein and Osama have felt this feeling a number of times throughout their service with VIA.
"Helping people makes me happy and gives me the feeling that I'm doing something good," said Osama. "That is what I love about this work—the impact."

Hussein added: "This is my fifth year with VIA, and since day one, I have loved the feeling of seeing happiness on someone's face. Doing this work has made me aware of the positive impact I can have on others, whether big or small."
On a similar note, Khedr's favorite part of Mashroo3 Kheir's Ramadan activities is the distribution.
"It's very touching," she said. "We always strive to do our best to supply [our beneficiaries] with everything they need, and seeing the happiness on their faces makes me very happy."
Promoting Unity
"We want the campus to be alive throughout Ramadan," said Asmaa Tantawy, a business administration senior minoring in psychology and member of AUC's Student Union (SU) responsible for outreach, noting that promoting civic engagement and inclusion are top priorities for the union this month under a larger SU initiative called Student Social Responsibility.
This initiative includes on-campus engagement activities for students, security guards, maintenance and housekeeping staff, an iftar for those working on campus and the distribution of Ramadan packs for some of AUC's employees.
"Ramadan is a time for us all together, which is what our social responsibility campaign is working toward," Tantawy said. "It is our duty to provide services for AUC students and workers alike, and there's no better time to do so than in Ramadan."
Another major goal for the SU this Ramadan is spreading happiness through a program called Re7let el Sa3ada (Trips of Happiness), according to Tantawy. Under this, the SU is organizing a number of trips for AUC students throughout the month to disadvantaged communities in Egypt, where they will engage with locals through activities such as house painting, lantern-making workshops and other activities for children.

On top of giving Ramadan food packs to 2,500 families in Masr El-Adima (Old Cairo) and Upper Egypt, AUC's Help Club is also focusing on spreading "Ramdan vibes" throughout the AUC campus, according to Salma Hany, a psychology junior minoring in education studies and the club's multimedia director.
To get people excited about the holy month and spread awareness for their cause, the Help Club set up a giveaway booth in Bartlett Plaza in late March.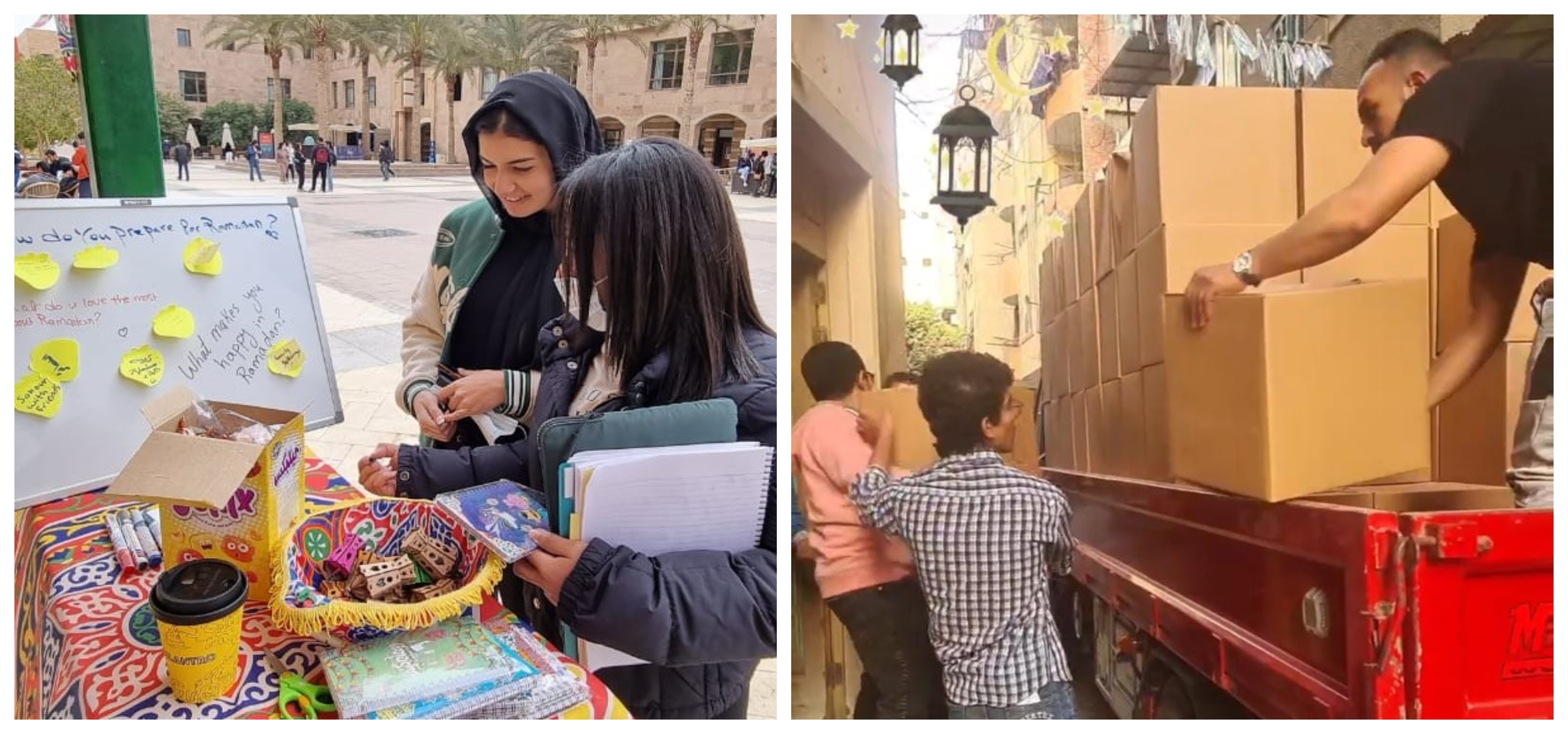 "We want to promote good deeds and Ramadan vibes," Hany stated. "Throughout this process, the community bonds together, and we all feel that we're doing something good for others."