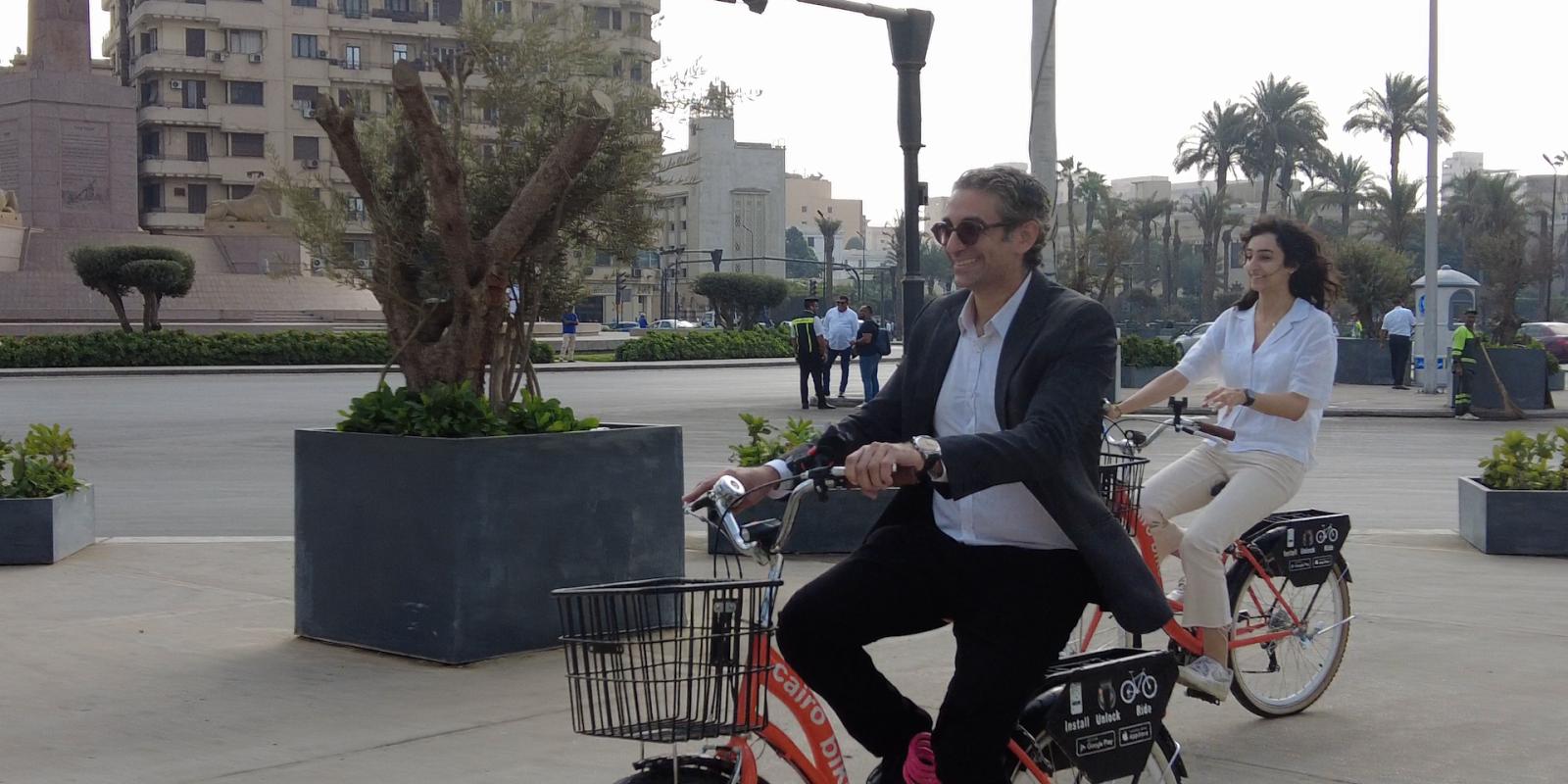 AUC, University of Sheffield Students Collaborate to Boost Egypt's First Bike Share Program
AUC, University of Sheffield Students Collaborate to Boost Egypt's First Bike Share Program
Downtown Cairo is many things: a hub for Egyptian history, a home of historic and modern restaurants and shops, and the heart of a massive transportation network that extends all the way to the city's desert suburbs.
It is not, however, a haven for cyclists.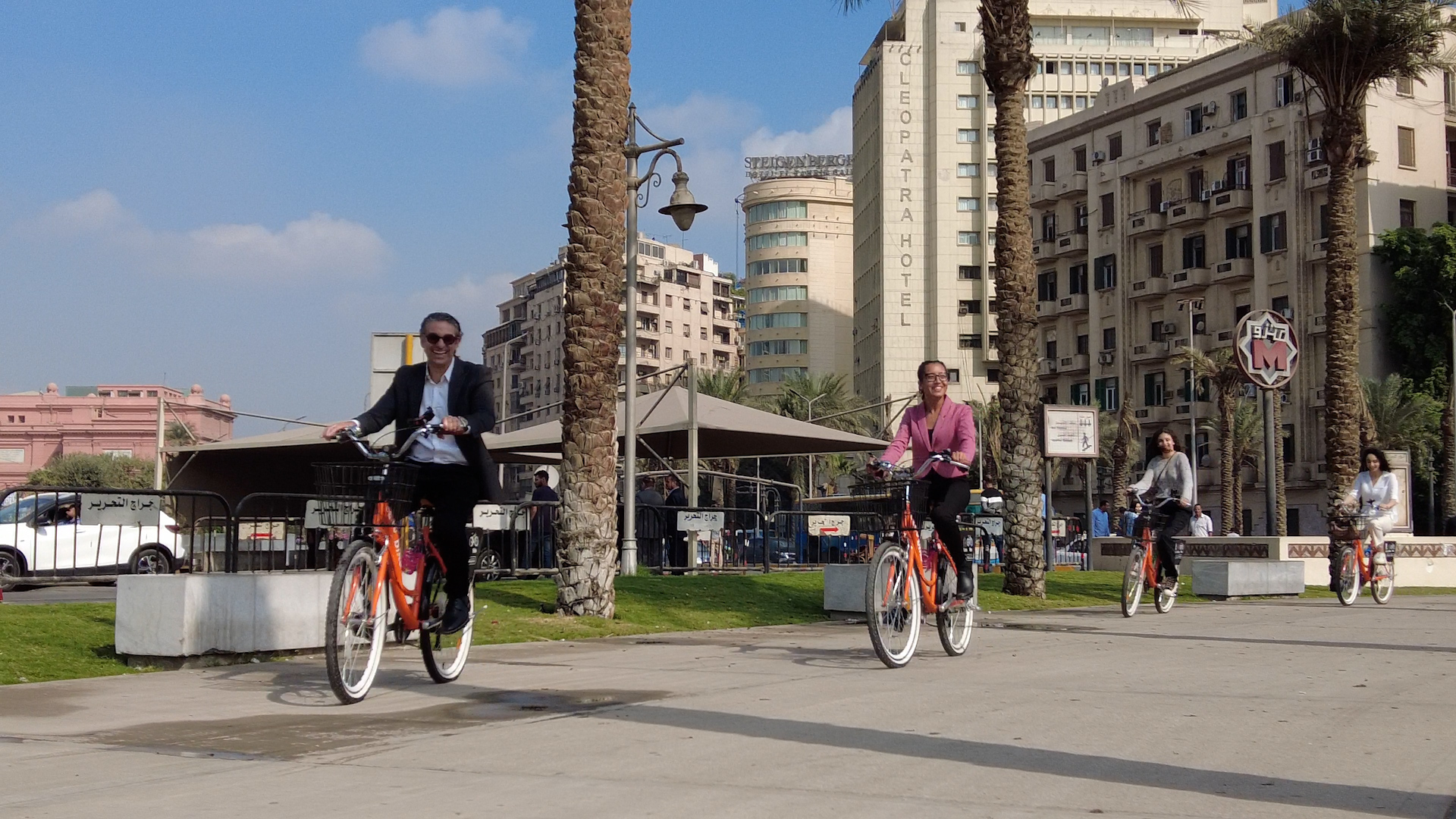 A major collaboration between AUC, UN-Habitat, the University of Sheffield, Sereira Creative Arts Academy and Cairo NGO Alwan-wa-Awtar is trying to change this.
Launched last month, Cairo Bike is Egypt's first public bike share project organized by the Cairo governorate in collaboration with UN-Habitat and the Drosos Foundation. The bikes offer a low-cost alternative for commuters and joyriders alike, whether they are zipping through traffic to work or leisurely touring the area's historic and cultural sights.
Cairo Bike is unique from other bike and scooter-sharing systems in Cairo because its launch has challenged the city to re-examine its infrastructure and make changes to reduce traffic and improve air quality. A stroll down one of the city's main arterials, Talaat Harb, shows that such changes are happening: the street has a newly established bike lane.
With the city invested, the bikes on the ground and the lanes growing each day, the project appears to be a success. What still needs improvement, according to project owners, is critical buy-in from Cairenes that will increase the project's longevity in comparison to other bikeshare programs in the MENA region. Cue AUC's entrance, with students working to enhance the project's impact, safety and inclusivity as part of an Urban Design course taught by Momen El-Husseiny, assistant professor in the Department of Architecture. This work included a weeklong international workshop developed by the University of Sheffield's Live Projects program, with master's students from Sheffield's architecture program joining El-Husseiny's students.
"We are examining how we can encourage more people to ride bikes, as well as how to create a judgment-free zone for women to comfortably use the bikes without experiencing harassment," said Nayer Salah, an architecture senior at AUC and student in El-Husseiny's course.
Better Together
Using AUC Tahrir Square as a main hub, Salah took part in a three-day exploration of downtown Cairo alongside master's students from the University of Sheffield and young people representing Alwan wa Awtar NGO. Together, the groups conducted interviews with local residents and shop owners to gather their input and insights on the bike share project.
The groups were guided by AUC's Center for Learning and Teaching, which led pre- and post- sessions on design thinking, a creative problem-solving approach that seeks to effectively address complex issues.
"This is not just about bikes or bike stations; it is about community engagement, civic outreach and connection," El-Husseiny explained. "We focus on developing areas that can become magnets for social and economic development, creating job opportunities and possibilities for the people. This is a city for all."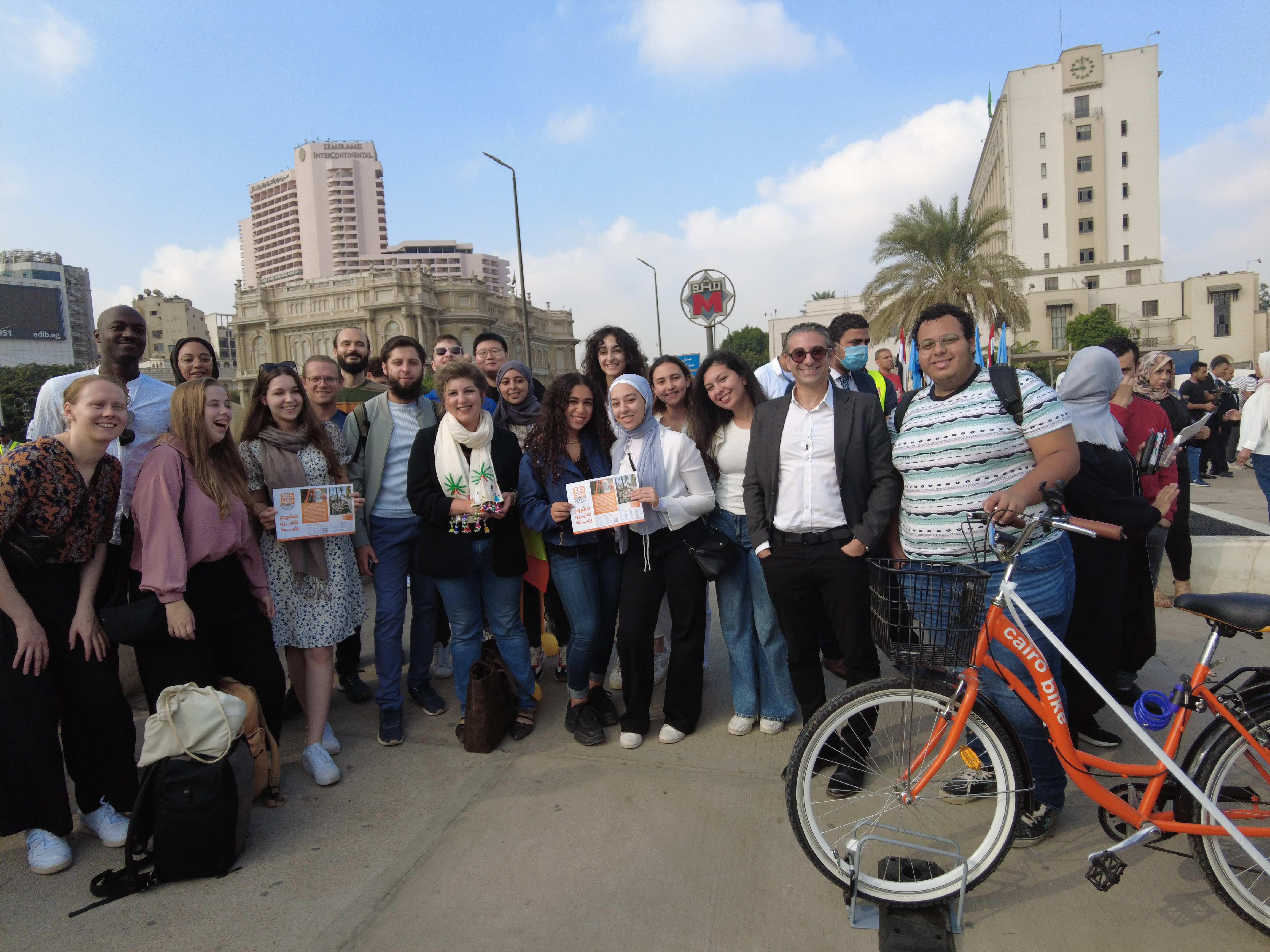 Later, at AUC New Cairo, the groups convened to reflect and make recommendations for convenient, inclusive and safe bike paths for users.
"This project is another example of how our AUC students are capable of confronting difficult situations and real life projects," ElHusseiny said. "They're amazing, they're superb and their steadfastness is incredible. We are so proud that they are being upfront and taking the lead. This is how we aspire to make a change."
The collaboration's efforts were realized in late October at the official launch of Cairo Bike in Tahrir Square, where AUC and Sheffield students, along with their professors, took the orange bikes for a celebratory spin.
"Working on this was spectacular," Salah said. "It was great to add to this project, and even better to see our effort and research pay off. It's just a dream come true.