AUC-UNESCO Webinar Series: Combating COVID-19 Misinformation
AUC-UNESCO Webinar Series: Combating COVID-19 Misinformation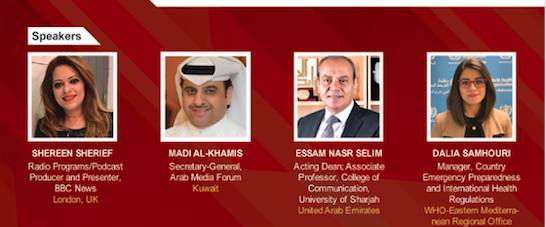 AUC's Kamal Adham Center for Television and Digital Journalism will hold the first of a series of training webinars for media professionals on combatting misinformation and disinformation in the context of COVID-19. The training webinars will be held in collaboration with the United Nations, represented by UNESCO, WHO and the UN Information Centre in Cairo. 
The first webinar: "Truth, Trust and Journalism: Why They matter in the Time of COVID-19?" will take place on Wednesday, September 16, 2020, at 3:00 pm. 
The series will be held weekly throughout September and October to address misinformation and disinformation during the COVID-19, a phenomenon which exacerbates the crisis. The whole world is working together to get through this pandemic and media professionals play an essential role in shaping the information ecology, the general debate and public awareness.
The virtual webinars feature a wide range of media and health communication experts in the Arab region and representatives from WHO and other international organizations.
Sessions will be held on Wednesday every week from 3:00-5:00 pm Cairo Local Time (GMT +2) to address the following topics:
Truth, Trust and Journalism: Why They Matter in the Time of COVID-19

Thinking About Disinformation Disorder; Formats of Misinformation and Mal-information

New Industry Transformation: Digital Technology, Social Media Platforms and the Spread of Disinformation and Misinformation

Combatting Misinformation and Disinformation through Media Information Literacy

Fact Checking

Social Media Verification: Addressing Sources and Visual Content

Ensuring Journalists Safety When Reporting on COVID-19

Final Discussion: Developing a Unified Action to Address COVID-19
Panelists of today's webinar are Shereen Sherif, radio programs/podcast producer and presenter, BBC Arabic, London, UK; Madhi Al Khamees, secretary-general, Arab Media Forum, Kuwait; Essam Nasr Selim, associate professor and acting dean, College of Communication, University of Sharjah, UAE; and Dalia Samhouri, manager, country preparedness and International Health Regulations- WHO EMRO. The session will be moderated by Hussein Amin, director of the Kamal Adham Center for Television and Digital Journalism, AUC. The webinar will be held in Arabic. Simultaneous interpretation in English and French will be provided.
If you are interested, please register through this link to attend: 
https://unesco-org.zoom.us/meeting/register/tJUpcu6rqzMoGdKgtsGTUZUkHz9DHfGzJY0j 
You will receive confirmation and connection details on your email upon registration.
For any inquiries, please contact Rehab Saad at +202.2615.3705, +2.01068815048, rehabsaad@aucegypt.edu.