AUC Team Wins First Place at International Robot Competition
AUC Team Wins First Place at International Robot Competition
After three months of hard work, five AUC students won first place at the Student Mechanism and Robot Design Competition, held by the American Society of Mechanical Engineers, in Anaheim, California in August.
AUC's campus practically became home this summer to Mostafa Sedky, Fares Fawzi, Sarah Elfeqy, Mohamed Samy and Mariam Hegazy, all mechanical engineering seniors who spent countless days running between labs and workshops and late nights working on the first-place robot.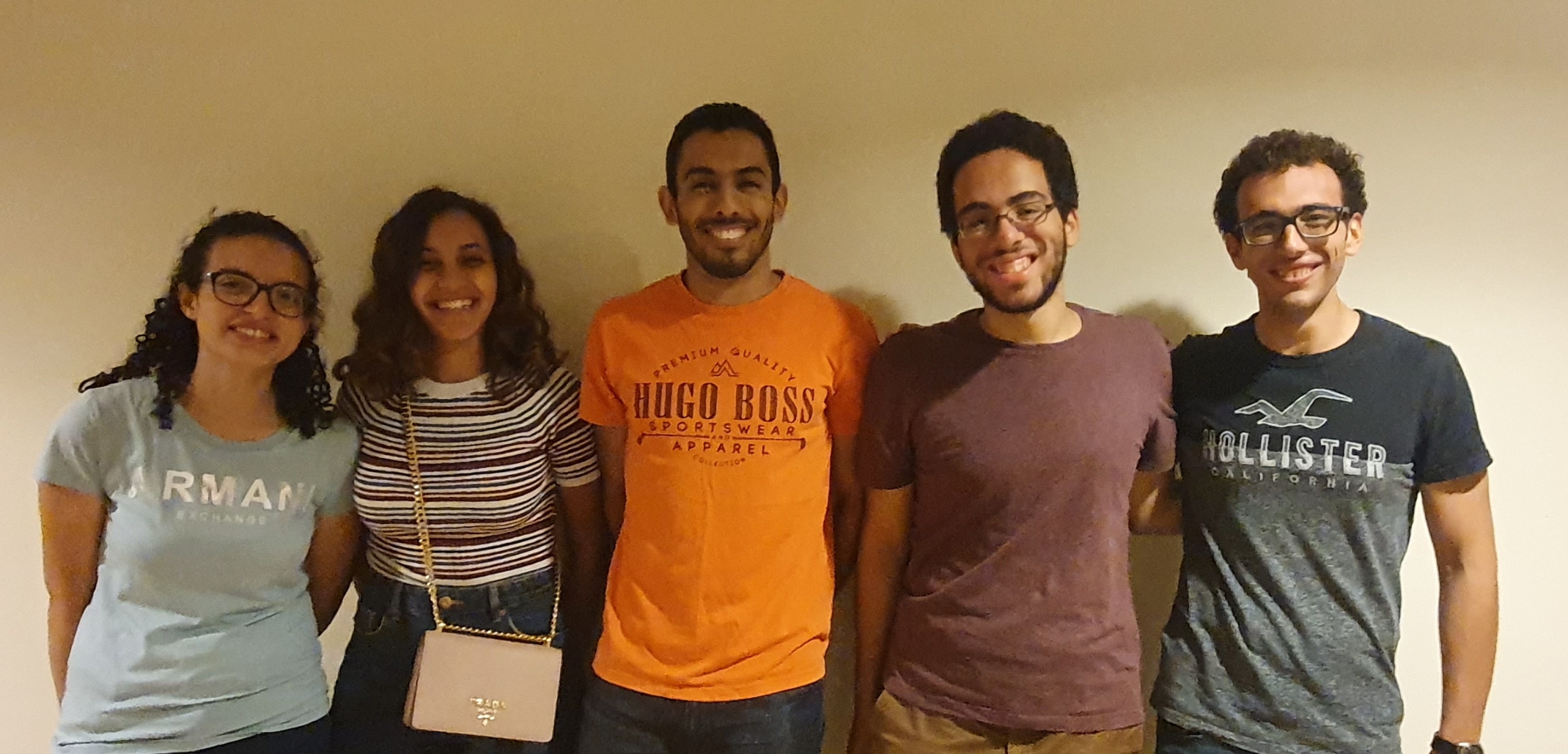 Out of four selected teams from around the world, AUC was represented by two teams as finalists in this competition. The AUC teams were the only ones selected from Egypt and were the first to make it to this level of the competition in 10 years.
"Our hard work paying off is an amazing feeling," Samy said. "We're all so happy." 
Initially creating the robot for a class, the team designed it to ascend stairs so that it could help people with physical disabilities climb stairs without the help of others. After being accepted into the competition, and under the supervision of their faculty adviser Mustafa Arafa, professor and chair of the Department of Mechanical Engineering, the team modified the robot to be able to walk, granting it the ability to be used for a wide number of applications. The technology of the robot provides the base for extending its function to surgical robotic arms or using it as a search and rescue machine. The team focused on stability and efficiency to stand out among the other competitors. 
"We shifted the whole idea from just being able to climb stairs to something we can continue to innovate," Sedky said. 
It took two months of designing, creating parts and prototyping, then one month of building before the final prototype was ready.
"The workshop for mechanical engineers had everything, and we used the Robotics Club for late-night stays. We had everything we needed on campus," Elfeqy said. 
With a fully functioning walking robot, the team headed to California in late August to compete. However, once they reached their hotel room and pulled out the machine, they found that all its parts had been fried due to scanners at the airport. In a city they were unfamiliar with, they scrambled to find parts and rebuild the prototype. They spent the whole day gathering pieces and eight hours at night rebuilding, finishing just in time for the competition the next day. 
Nonetheless, they built it just as well the second time as they did the first. When they found out they won first place, the team members said it felt surreal. They expressed their gratitude to the Undergraduate Research Program for funding and to AUC for making everything they needed accessible.
"It was hard at times, but we had a lot of fun, and we're so excited," Sedky said.