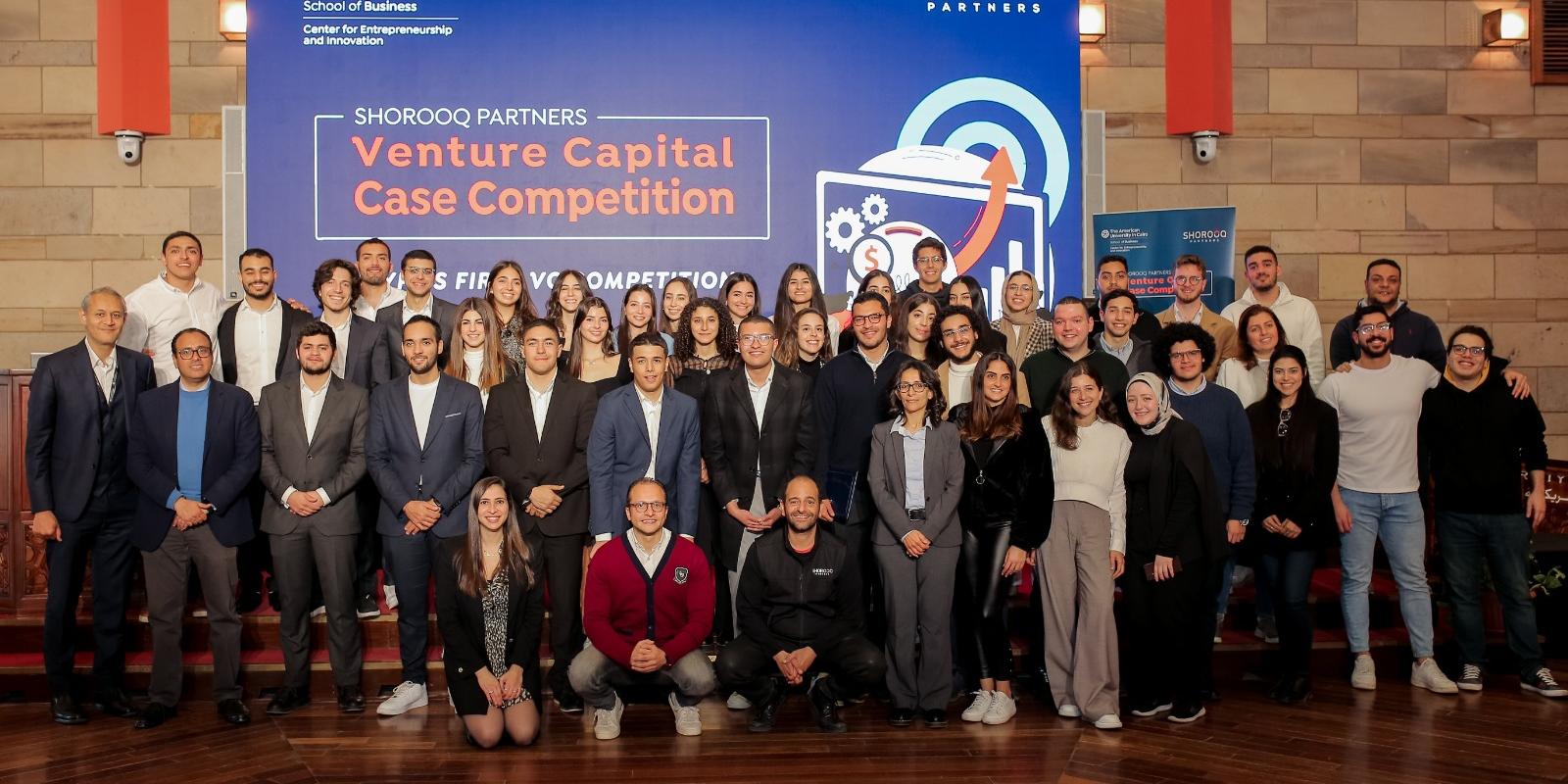 AUC Students Get Industry Experience at Egypt's First Venture Capital Competition
AUC Students Get Industry Experience at Egypt's First Venture Capital Competition
While a business school education can be the foundation for a young entrepreneur's career, nothing matches hands-on industry experience. Courtesy of AUC's Center for Entrepreneurship and Innovation (CEI) and Shorooq Partners, one of Egypt's leading investment firms, AUC students were invited last month to test their mettle in a competitive venture capital investment simulation, the first of its kind in Egypt, and likely the entire Middle East.
The competition was designed to accurately simulate the tough, high-stakes world of private investment. Although most competitors were from AUC's School of Business, ultimately it was Ghoroub Partners, a team of computer scientists from the School of Sciences and Engineering, who took first prize, winning an impressive $2,000. If they are as talented with computers as they are with investments, all members (Nourhan Nada, Ahmad Ashraf, Lobna Aboudoma, Tamer Osman, and Mohamed Moghazy) have bright futures ahead of them.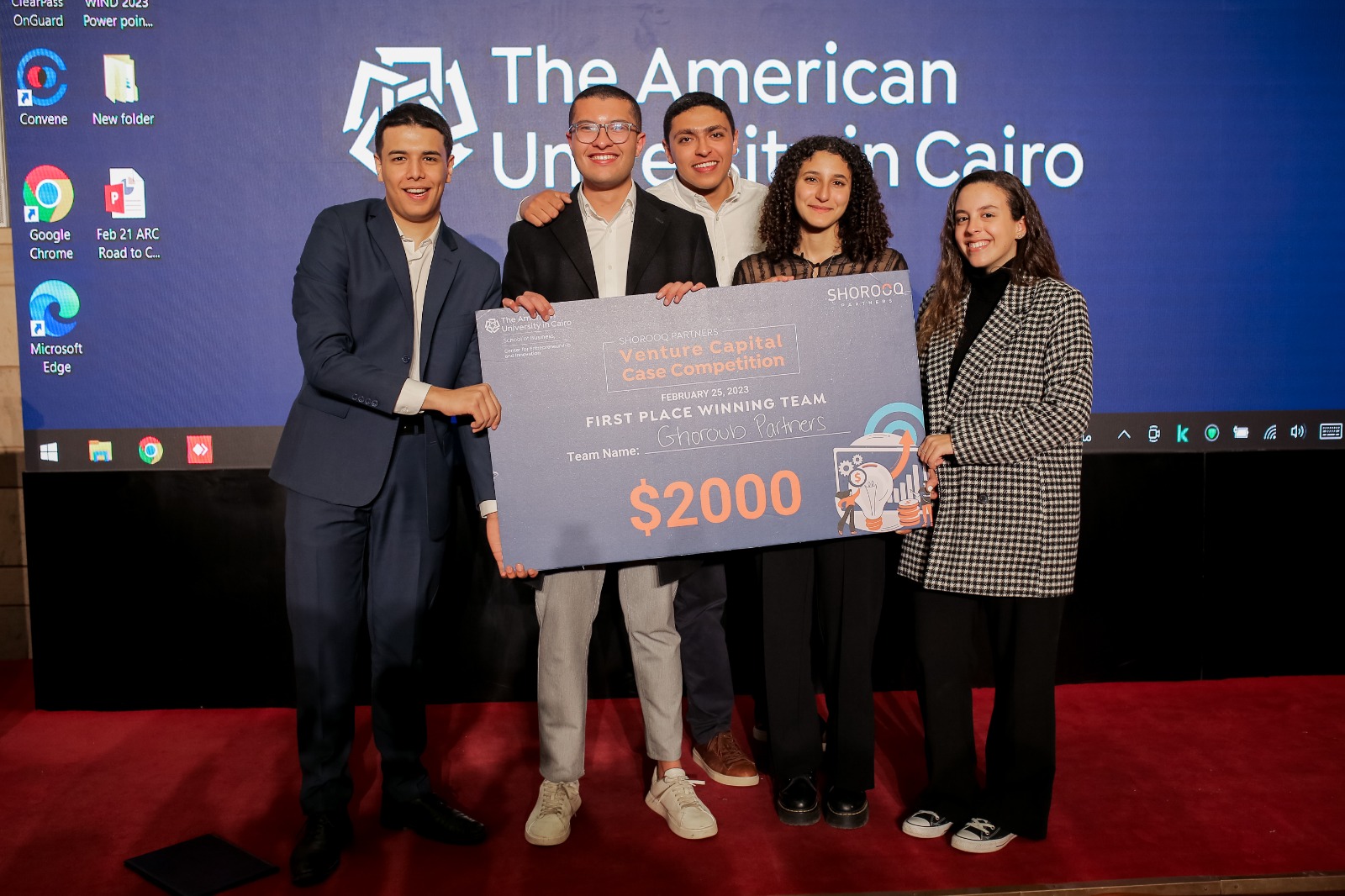 "It was an honor to win first place in this competition," said Nada, a computer engineering student and Ghoroub Partners team member. "Our team conducted thorough research and analysis on the startup we were investing in, putting in a lot of hard work and effort. It was incredibly rewarding to see that pay off."
Nada attributed her team's success to the experience and ability of each member. "We have participated in more than 12 competitions and have won several of them, which gave us a competitive edge," she added.
Honorable mentions went to the second and third-place competitors, Alpha Team and Agora, who took home $1,500 and $500 respectively.
Following the announcement of the competition in January, students were invited to form teams and tasked with hypothetically investing $100,000 in real startups, just as Shorooq investors deal with in the real industry. These were summarized into memos for judges. Although the investment risks for students were merely hypothetical, the rewards were not; $4,000 in cash prizes were up for grabs for the three most talented teams.
All in all, 27 teams and four individuals, some 122 AUC students from various departments submitted memos to participate. Students had to perform their due diligence, analyze the investment prospects and devise investment plans just like any investment fund does in the real business world. Over successive rounds of elimination, students were offered industry training by professional investors at Shorooq Partners, met with real startups, and narrowed the field to 22 teams, then 16 and finally eight for the final round. At this stage, the finalists presented and negotiated their investment proposals with judges.
"Being a part of this competition was a new experience for me," says Nada. "It pushed me to expand my knowledge of the entrepreneurial ecosystem and venture capital, and I'm grateful for the opportunity."
Aside from being the first of its kind in Egypt, the CEI-Shorooq VC competition provided fantastic professional experience for students. Risk assessment; management of time, money and people; data analysis and decision making were all necessary ingredients of success for participants, just as they are for professional investors. "We were treating them as real venture capitalists like those who are hired at Shorooq Partners," says Nadine Ramadan, senior officer of performance optimization at CEI and the competition's manager. "Accordingly, this competition gave them a chance to experience how this ecosystem works and what could be their role and daily work as venture capitalists if they are interested in pursuing their careers in that field."
AUC's liberal arts approach to education, allowing students to pursue interests and classes across disciplinary boundaries, "enables us to know something of everything," says Ramadan. Well-rounded students like those of the competition's winning teams were able to adapt what they learned in their studies, whether in business, engineering or psychology, to new contexts and practical problems.
The 2023 CEI-Shorooq VC competition is what venture capitalists might call the "initial public offering" for something much larger and much more exciting. Organizers plan to open up the competition to public and private universities across Egypt in 2024 and beyond, bringing together more teams and more young business professionals to hone their skills, and of course, compete for the top prize.
If the competition's first edition at AUC is any indication, it will be well worth their time.
"This competition not only honed our venture capital skills," says Nada, "but also deepened our passion for entrepreneurship. It was an incredible experience overall."