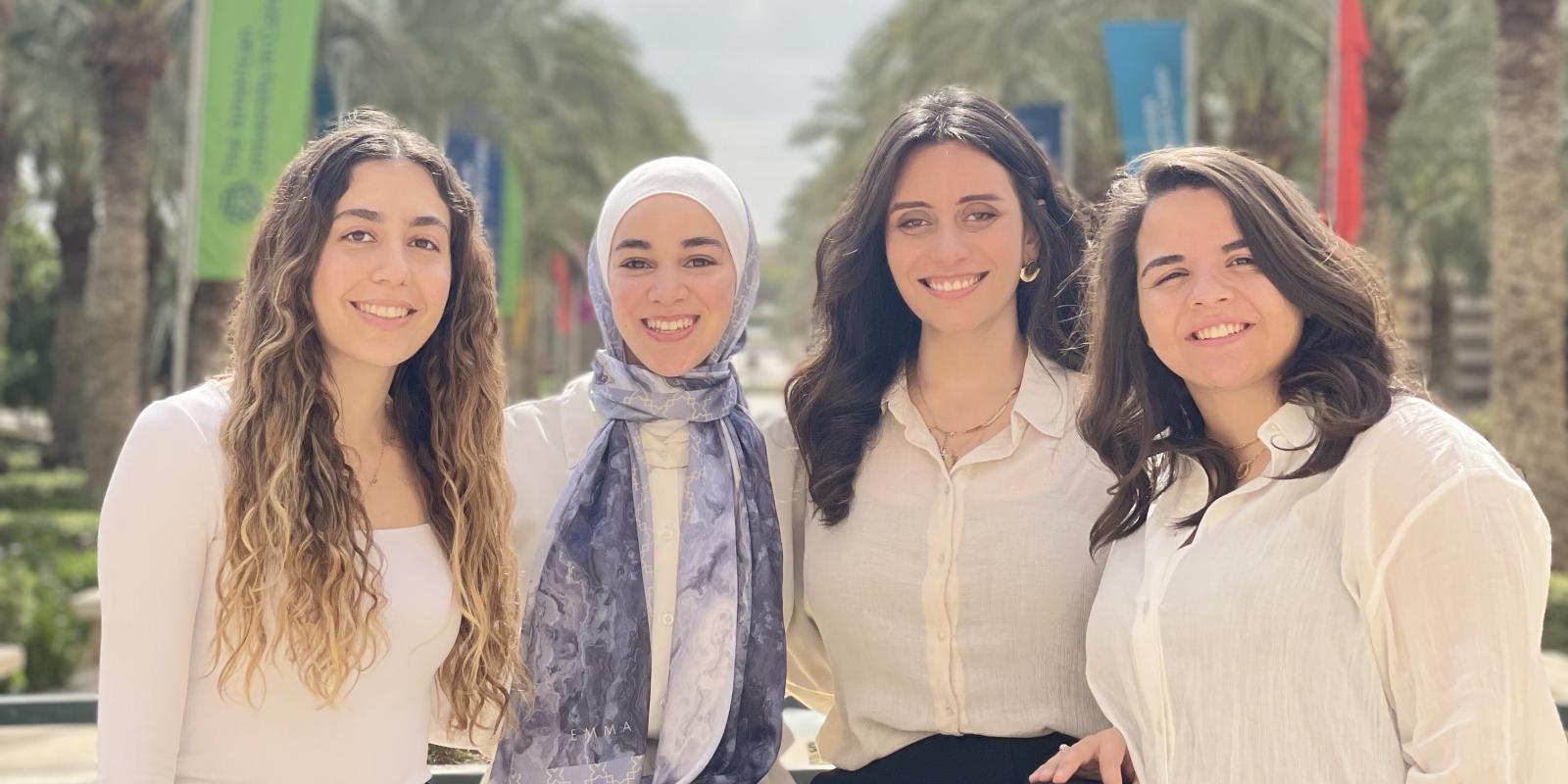 AUC Students Craft Sustainable Fishing Nets to Revive Local Village Economy
AUC Students Craft Sustainable Fishing Nets to Revive Local Village Economy
Armed with fruit and a desire to help the small Egyptian village of El Bahtiny in Ismailia, seniors Yara Yousry, Heidi Mahmoud, Aliaa Moussa and Mariam El-Halabi are working to fashion biodegradable fishing nets out of locally sourced, cost-effective banana fibers in order to revive the village's ailing economy.
The four AUC students will be setting sail in Norway this fall after being selected among 15 teams for the World Federation of United Nations Associations (WFUNA) program, Under the Starry Sky. The project also placed second in this year's Student Union Real Life Competition at AUC.
The nine-month WFUNA program aims to empower young people who want to help promote the United Nations Sustainable Development Goals (SDGs) by helping them implement an innovative and impactful project.
"El Bahtiny village is beautiful but underprivileged. Our project aims to revive the village's fishing community," Mahmoud said.
Traditionally, fishing nets are made from nylon and silk — costly materials that recently, due in large part to the devaluation of the Egyptian pound, have become too expensive for the local community to purchase and use. "Sixty percent of the biomass of a banana tree goes to waste. It's locally available and a great solution to Egypt's import and export issue," said Moussa.
Transforming a Village
Beyond developing the nets, the quartet is handling the logistics of sourcing banana fibers from the city of Sohag in Upper Egypt, as well as providing training for men and women alike in weaving the nets. "We especially want to incorporate women into our project," Moussa said. "The village is very conservative, so teaching women how to make the nets at home will allow them to join the economy without breaking social norms."
Down the road, the women hope that El Bahtiny will become an eco-tourism hotspot, similar to Fayoum's Tunis Village. "We want it to become a place where people can spend the day fishing and getting to know the hospitable local community," Moussa said.
With Mahmoud, Moussa and El-Halabi representing AUC's mechanical engineering program and Yousry hailing from architecture, the group has received support from AUC faculty from both disciplines on the project, including Sherif Goubran, Momen El-Husseiny, Salah El Haggar and Hanadi Salem. Additionally, the program itself held an intensive four-day training in January to boost the team's project management skills.
"When I found out that we were selected, it felt like my future had just started – like this is what I'm gonna be doing for the rest of my life," Moussa said.
Currently in the design and testing phase, the team will present the project at sea in Norway this September, with plans to create different types of nets for different fish down the line.
"Working on this project has made me feel more ambitious in enacting change and impact within my community as an Egyptian," Mahmoud added. "I am eager to seek more opportunities."