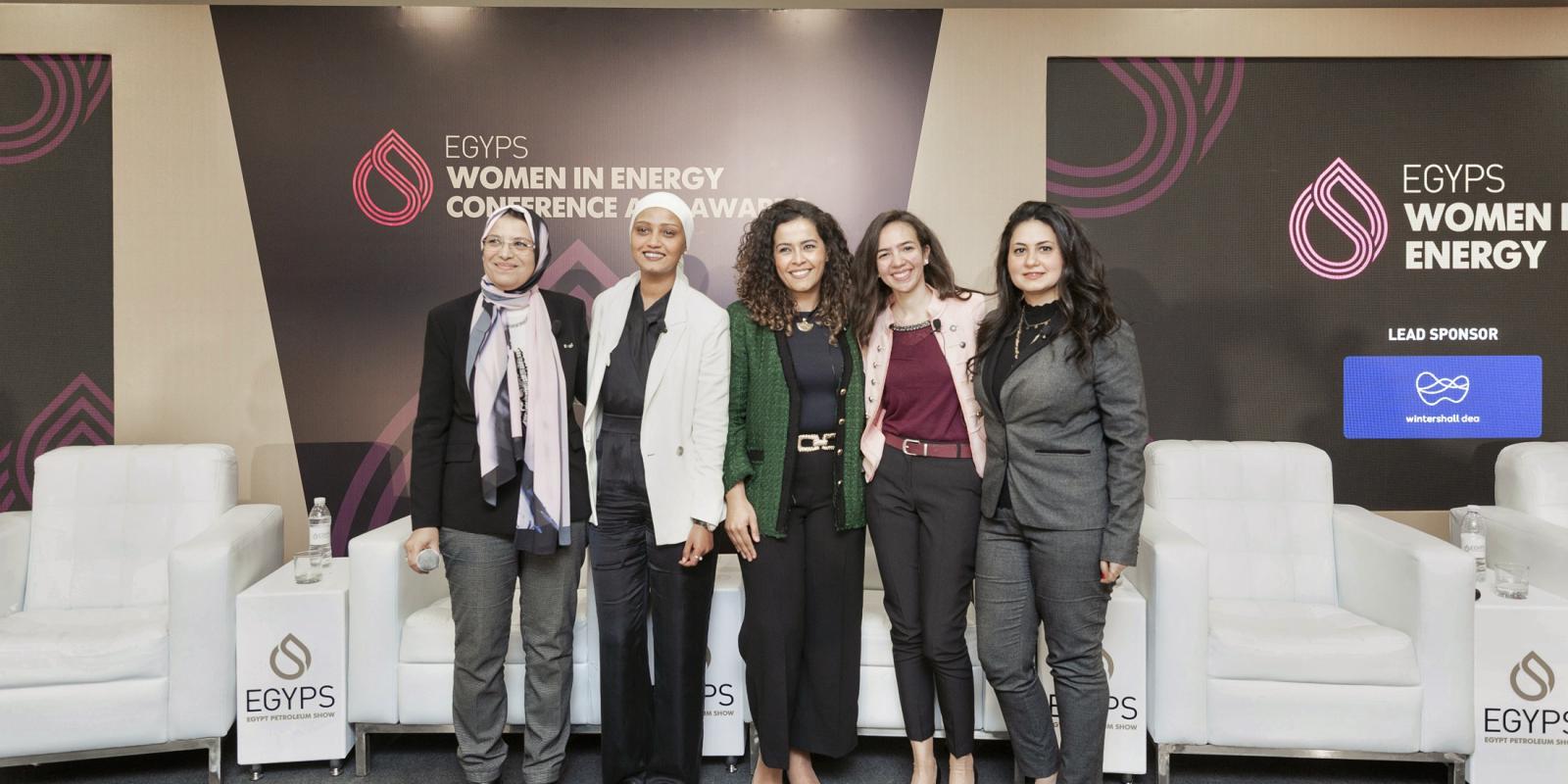 AUC Students Awarded at Women in Energy Conference
AUC Students Awarded at Women in Energy Conference
Amira Mohamed, a graduate student in environmental engineering, received the STEM Star of the Year award at EGYPS [Egypt Petroleum Show], and the Highly Commended award in the same category went to Farida Elharouni, double major in mechanical engineering and physics. Both students were also panel speakers at the event.
The recognition is part of the Women in Energy Awards that the "celebrate achievements and contributions of exceptional women leaders, and recognize younger talent within Egypt, North Africa and Mediterranean energy sectors." A jury made up of regional consultants as well as chairman, vice presidents and general managers of international petroleum companies selected Mohamed and Elharouni among 117 candidates.

"This is one of the highlights of my career — not only for the opportunity it offers me on a personal level, but also for the support it shows and the effort it reflects from the government's side to encourage women's empowerment in the oil and gas industry," said Mohamed.
Echoing the same sentiment, Elharouni noted, "Demonstrating my ideas and projects in front of energy leaders across the globe in EGYPS is definitely a step worth taking, and being a panel speaker was my absolute pleasure. I was the youngest female awardee and youngest woman at the conference. Winning this award not only means that my contributions matter, but also that the energy industry in the Middle East and North Africa is looking for young women to present how they see the future."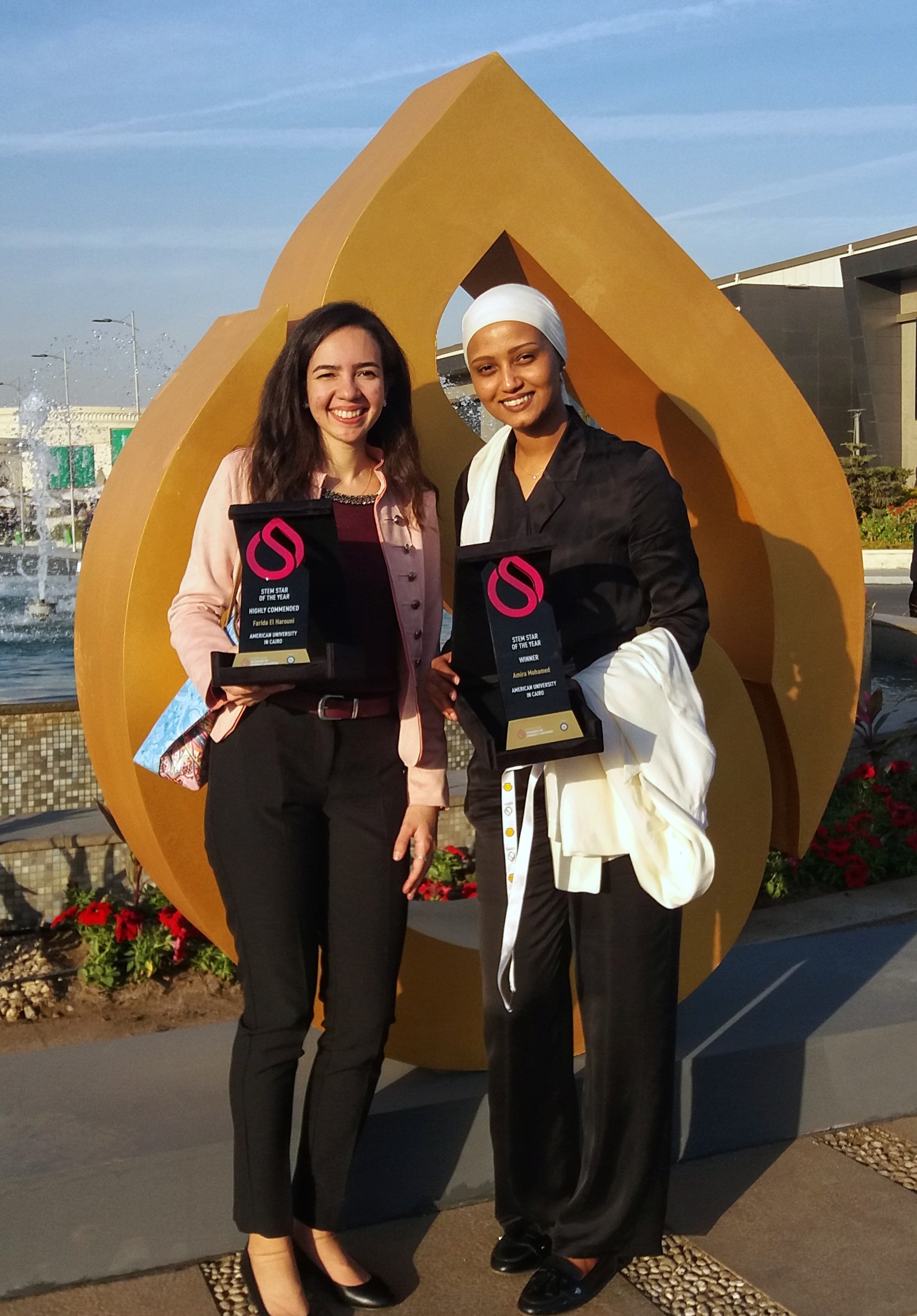 Elharouni has been passionate about finding energy solutions for Egypt for a long time, and her undergraduate studies and research at AUC augmented that desire. "Throughout our lives, there are many projects and daily needs that urge us to design new products, discover new materials and research new solutions," said Elharouni. "Along with technology and user-centered products, it is important to think more about the environment and energy-centered solutions. At AUC, I learned that every idea deserves to be showcased. Currently, I am working with a group of students as part of my senior project to create an energy harvesting device that harvests energy from walking."
Elharouni previously represented AUC at the Young Future Energy Leaders program in the United Arab Emirates, where she had the chance to attend the World Future Energy Summit. "I was the only Egyptian representing AUC and Egypt, and I got to meet young people from all over the world from top universities like MIT who shared the same interests. I started learning how debates worldwide can solve everyday problems in our modern world to help build a better future. Every small dream makes a difference, and every step we as young energy leaders take leaves a footprint for future generations."
Likewise, Mohamed has long been passionate about giving back to Egyptian society, which led her to pursue a master's at AUC, where she also works as a teaching assistant, after working for the Egyptian General Petroleum Corporation.
"In 2017 and with the water scarcity problem the entire world is facing, I felt that I wanted to do something more in order to contribute and give back to society," Mohamed said. "That's when I heard about the environmental engineering program at AUC. I joined the program without hesitation."
Even before this award, Mohamed has been receiving recognition for her work, as she was chosen to represent her work at the African Refineries Association meetings. In 2018, Mohamed was selected to attend a China environmental program, where she had the chance to gain insight into China's water treatment facilities.