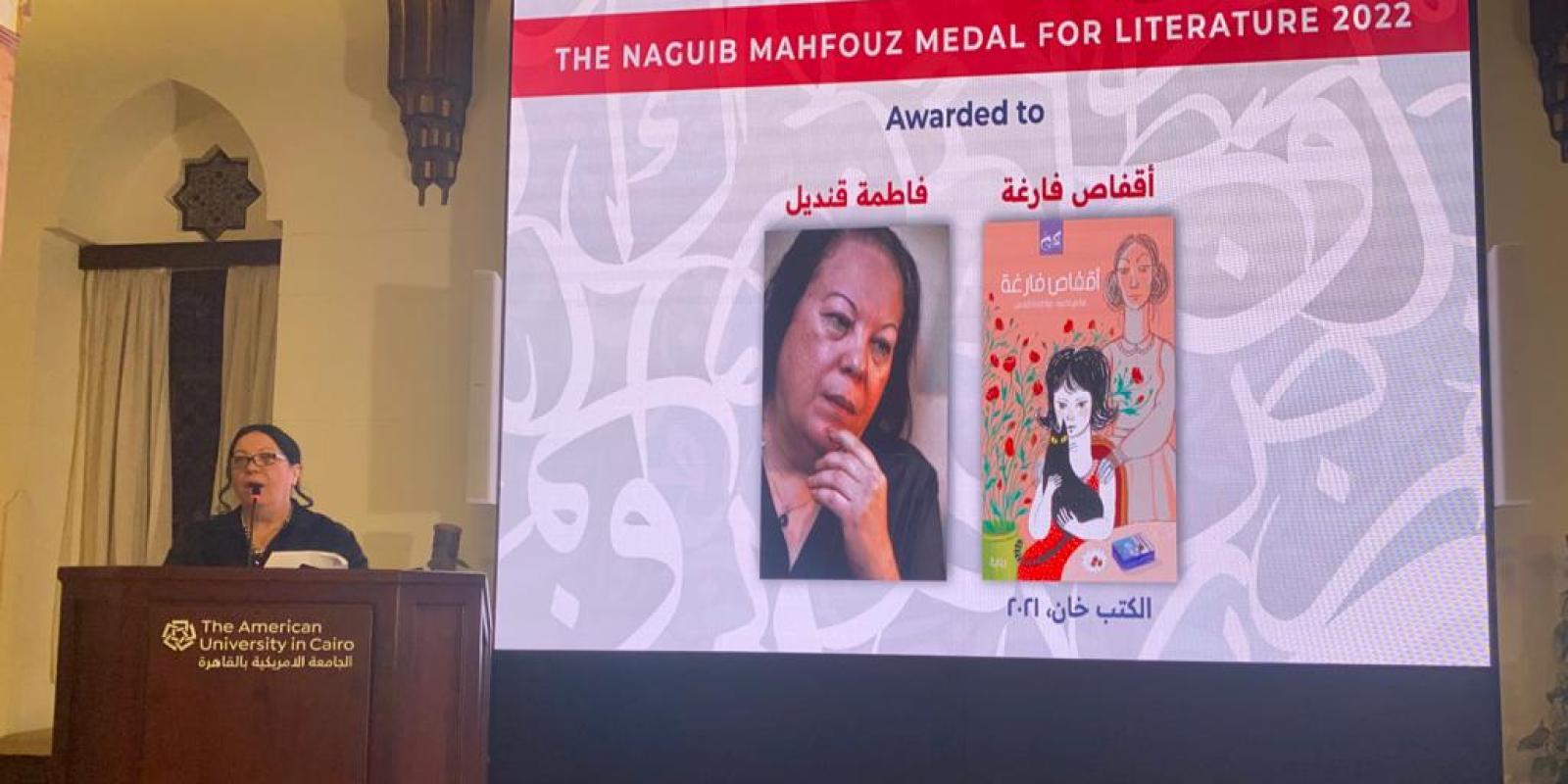 AUC Press Awards Fatma Qandil the 2022 Naguib Mahfouz Medal for Literature
AUC Press Awards Fatma Qandil the 2022 Naguib Mahfouz Medal for Literature
AUC Press awarded the 2022 Naguib Mahfouz Medal for Literature to Egyptian author, poet, playwright and translator Fatma Qandil for her debut novel, Aqfas farigha (Empty Cages).
In their citation for the award, the judges described Aqfas farigha as "an unflinchingly honest portrayal of the relationships of violence that lie beneath the surface of an ordinary middle-class Egyptian family; relationships of gendered power," continuing: "Confidently weaving the reader into the psychological texture of intimate and fraught relationships, Qandil tells a story of womanhood, family and loss, which will stay with the reader long after the final page."
A longtime fan of Mahfouz, Qandil expressed her gratitude for receiving the award. "I consider myself fortunate to be part of a generation that had the privilege of waiting for Naguib Mahfouz's latest book," she said. "We got to read them when they were still fresh, and they changed my life. They were like letters written for me and me alone. I used to read them by myself, circling the treasured lines and writing in the margins. Each book became a part of my soul."
Qandil dedicated the award to Arab female writers and young women. "They have many battles that they are destined to take up - against themselves, against the world, against their texts," she said. "|Perhaps this prize will show them that recognition always comes in the end. This celebration is the true compensation for the price that we, women writers in this part of the world, have chosen to pay for the sake of the euphoria of writing and nothing else."
The Naguib Mahfouz Medal for Literature was established by AUC Press in 1996 and is awarded to the best contemporary novel published in Arabic in the previous two years. The winning novel is selected by the five jury members who make up the Mahfouz Award Committee: Shereen Abouelnaga, Thaer Deeb, Hussein Hammouda, Dina Heshmat and Adam Talib.
The award, recognized as a major contribution in support of contemporary Arabic literature in translation, consists of a cash prize of $5,000, as well as translation of the winning novel into English and publication under AUC Press's fiction imprint Hoopoe.
At the award ceremony, which was attended by writers and other distinguished personalities of Egyptian cultural life, AUC Press also celebrated the publication of the English translation of the 2021 winner of the Naguib Mahfouz Medal for Literature, The Disappearance of Mr. Nobody by Ahmed Taibaoui translated by Jonathan Wright.
Fatma Qandil was born in 1958 She is associate professor (emerita) in the Department of Arabic at Helwan University in Cairo and deputy editor-in-chief of Fusul, a magazine of literary criticism. She has published numerous collections of poetry, works of literary criticism and translations into Arabic, and her work has been translated into many languages worldwide.