AUC PhD Student Wins L'Oréal-UNESCO For Women in Science Award
AUC PhD Student Wins L'Oréal-UNESCO For Women in Science Award
Sarah Halawa '11, '14, PhD student in applied sciences at AUC, with a specialization in biotechnology, received the L'Oréal-UNESCO For Women in Science Award for her PhD dissertation, which focuses on the genetics and epigenetics of cardiovascular diseases, helping to improve our understanding of valve biology, with potential implications on valve tissue engineering approaches. The research is a joint venture between AUC and the Magdi Yacoub Foundation.
"I feel extremely humbled and honored to be awarded the L'Oreal Unesco for Women in Science fellowship," Halawa said. "Being awarded this fellowship makes me feel recognized and appreciated as a woman in science. Additionally, I am so happy to know that my research is well received, valuable and valued. This gives me more motivation and encouragement to continue to excel at my research."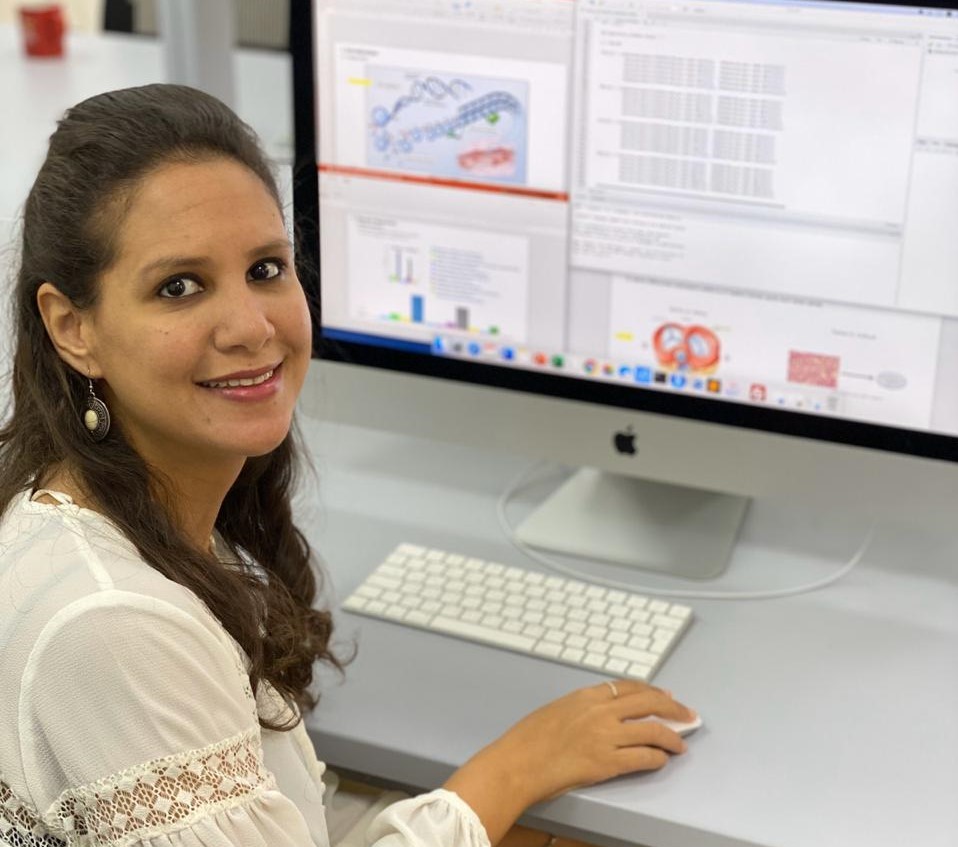 The L'Oréal-UNESCO For Women in Science Egypt fellowships program aims to promote the participation of young women in science coming from Egypt. This program identifies and rewards talented young female scientists in the field of life sciences (such as biology, biochemistry, biophysics, genetics, physiology, neurosciences, biotechnologies, ecology and ethology) as well as physical sciences (such as physics, chemistry, petroleum engineering, mathematics, engineering sciences, information sciences, Earth and Universe sciences).
Halawa received the award for her PhD research pertaining to "Profiling Genome-Wide DNA Methylation Patterns In Human Aortic and Mitral Valves," which assesses the methylation profiles of human aortic and mitral valves. It is a multidisciplinary project relying on the integration of translational bioinformatic techniques into genetic and clinical research to improve health outcomes for patients. Halawa's PhD supervisor is Ahmed Moustafa, associate professor in the Department of Biology.
In 2017, Halawa won first prize for her project on the genetic basis of cardiovascular disease in the Egyptian population, submitted to the Rheumatic Heart Disease: From Molecules to the Global Community conference, co-organized by the Magdi Yacoub Foundation and Aswan Heart Centre as well as the Pan-African Society of Cardiology. Halawa and her team were also awarded the Young Investigator award for the same project.
"I always wanted to pursue a research topic that would benefit my country, Egypt," Halawa explained.
Halawa's conference project concentrated specifically on valve interstitial cells, which play a major role in physiological conditions of the heart including rheumatic heart disease. Halawa and her supervisors worked primarily on the analysis of DNA data, partnering with the Harefield Heart Science Centre at Imperial College London.
Halawa earned her bachelor's in electronics engineering with a minor in mathematics and was presented with the President's Cup in 2011, awarded to the top-performing student in the graduating class. She also earned her master's in physics from AUC in 2014, graduating with highest honors. During her time at AUC, she participated as a Micro-projects Committee member with the former student club, Alashanek Ya Balady, which sought to help in sustainably achieving social and economic development in Ain El Seera. She also previously helped in organizing a blood donation campaign with the Help Club. She then decided to pursue her PhD in applied sciences with a specialization in biotechnology.
"I'll always be grateful for Dr. Ahmed Moustafa for encouraging me to join the PhD program in biotechnology, for putting me on the right track and for always encouraging me and having faith in me" said Halawa.
"I would also like to thank Dr. Yasmine Aguib, my PhD co-supervisor from the Magdi Yacoub Aswan Heart Centre and without whom I wouldn't have done it, AUC, Magdi Yacoub Aswan Heart Centre (AHC), all my colleagues at AHC, the Alfi PhD Fellowship for Applied Sciences and Engineering, my family, especially my late grandfather, and last but not least Professor Magdi Yacoub for all his help, dedication and support. I am and will be forever grateful and indebted to all of them" added Halawa.
Looking to the future, Halawa aspires to establish a research program to better understand the genetic basis of other major diseases in Egypt. "I wish to promote translational medicine in Egypt, where we can take scientific research to the clinic with the goal of improving the public health of the Egyptian people," she said.