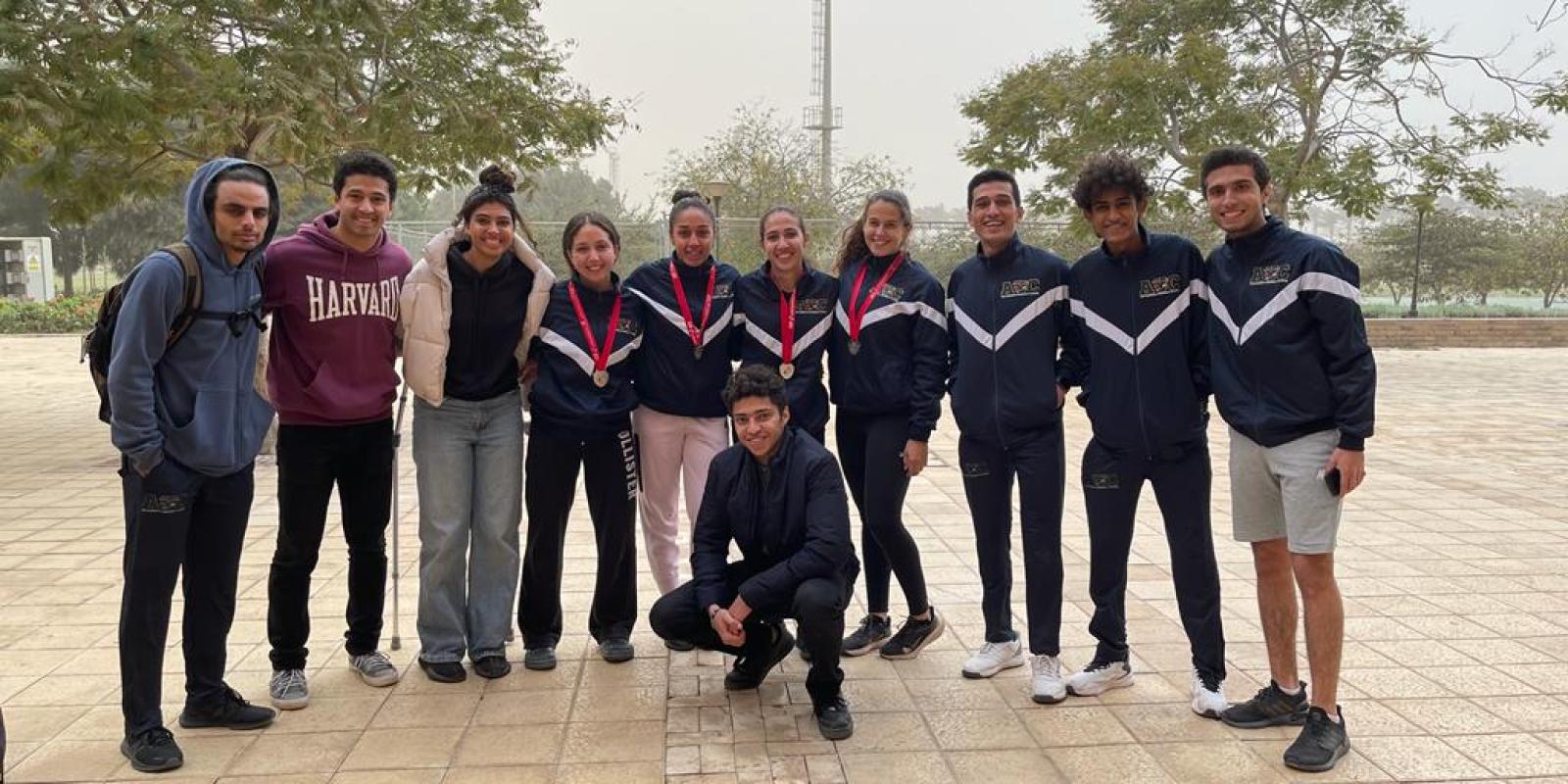 AUC Athletes Among Top Performers in 49th National Universities Tournament
AUC Athletes Among Top Performers in 49th National Universities Tournament
AUC athletes have returned to campus stronger than ever, winning three gold, fourteen silver and two bronze medals in the ongoing 49th National Universities Tournament, which kicked off in November and includes athletes from over 50 universities in Egypt.
In addition to the tournament, the University's Futsal teams competed in the National Arab Academy tournament, taking third place (men) and second and third place (women).
Of the 19 medals awarded, five of them went to athlete Haydy Morsy, the three-time Olympian who won two silver medals in the modern pentathlon (one for individual and one for teams), a bronze medal in swimming and silver medals in fencing and track and field.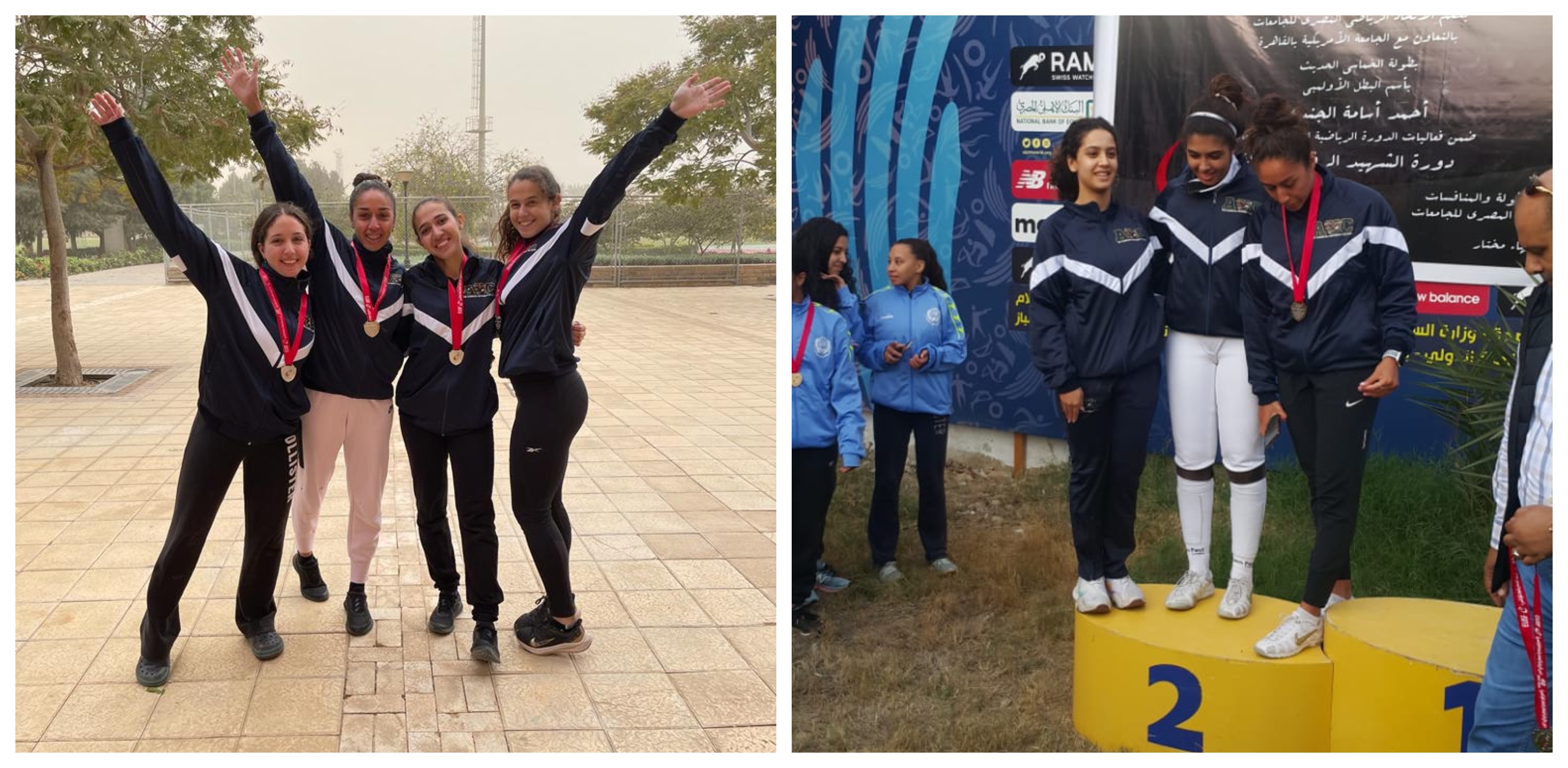 "I was very excited to compete after almost a year and a half without any activities due to COVID-19," she said, expressing her gratitude to be able to compete across four different events with four different teams.
During the tournament, Mariam Amin, a double medal recipient, managed to qualify for the African Olympic University Championship, despite recently recovering from an injury. "I'm grateful I was able to compete and put myself out there mentally and physically," she said, expressing her excitement for a continued comeback next season.
After winning two silver medals in the track and field event of the tournament (400 meter sprint and 4x100 relay), Amin also received two additional medals — one gold and one bronze — during the Egyptian National Competition in late December.

Swimmer Mostafa Tarek took home two medals during the tournament — a silver medal in the 200 butterfly and a bronze medal in the 1500 freestyle.
"The moment I won, I was relieved that all of the effort I put into my training hadn't gone to waste," he said. "I felt honored to be representing a prestigious university like AUC on the podium."

___
Full Results
Sport
Athlete Name
Achievement
Cross Fit
Nour Attia
2nd place
Miran Harfoosh
2nd place
Table Tennis
Mahmoud Ashraf Helmy

1st place (team), 1st & 2nd (individual) 2nd (doubles)

Marwan Abdel Latif
Omar Allam
Swimming
200 M Fly
Mostafa Tarek
2nd place
Women's Relay 50M
Rawan Abo EL Fadl

2nd place

Malak Rabie
Yasmin Sherif
Hanna Moataz
50M Back
Lina Walid
5th place
50M Butterfly
Amar Hossam
5th place
Kenzy Sherif
6th place
200 M Crawl
Zeyad Ahmed
2nd place
800M Crawl
Yasmin Helmy
8th place
50M & 100M events
Aya Ayman
1st place
100M & 50M
Malak Rabie
2nd & 3rd place
400M Crawl
Zeyad Ahmed
5th place
100M Butterfly
Amar EL Trnisy
2nd place
100M Back
Lina Ghataty
4th place
1500M Freestyle
Mostafa Tarek
3rd place
50M Crawl
Rawan Abo EL Fadl
4th place
Fencing
Haidy Adel
2nd place
Selim Hani
12th place
Joudy Ali
5th place
Pentathlon
Haidy Adel
2nd place
Yasmin Helmy
2nd place
Joudy Abdel Razek
2nd place
Zeyad Ahmed
5th place
Selim Hani
5th place
Aly Abdelnaser
5th place
Track & Field
400M Relay
Mariam Amin
Haidy Adel
Dahab Sherif
Farida Sherif
2nd place
200M Sprint
Mariam Amin
2nd place