Al Ghurair STEM Scholars Laud AUC Journey, Contribution to Career Growth
Al Ghurair STEM Scholars Laud AUC Journey, Contribution to Career Growth
Since early in his childhood, Fadi Abdel Dawoud '21 had always been interested in pursuing a STEM career – a lifelong dream made possible by the Abdulla Al Ghurair Foundation for Education via its STEM Scholars Program. Today, he is a software engineer at Microsoft, after previously being employed as a consultant for MasterCard.
"The most important thing about the program is that it enables ambitious students who most likely would not have been able to attend AUC to actually go there, experience an impact and change their lives," says Abdel Dawoud.

Part of the program's first cohort at AUC, Abdel Dawoud majored in computer engineering with a minor in mathematics. During his years at the University, he was able to secure an internship as a software engineer with the UAE-based start-up Nabta Health –– an experience he describes as foundational for his career.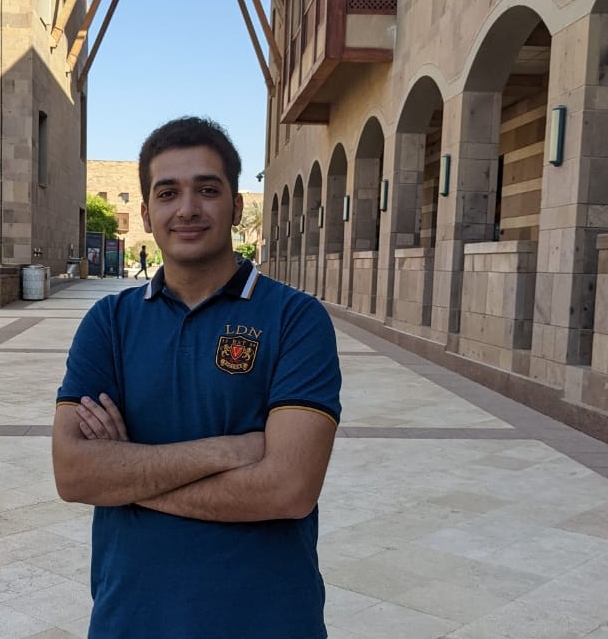 For several years, the foundation has helped high-achieving, underserved Arab youth access higher education in Science, Technology, Engineering, and Math (STEM) fields through a partnership with some of the region's best universities, including AUC. Through this work, the foundation aims to support 200,000 Emirati and Arab Youth with pathways to sustainable, elevated livelihoods by 2025.
Since its inception in 2016, the program has financed the studies of more than 600 students from the region, impacting an entire generation of future STEM field leaders. At AUC, nearly 100 students have benefitted from the scholarship, with 75% of Al Ghurair alumni moving on to pursue further studies or work for major companies such as Dell Technologies, Siemens and Nestle.
AUC's Al Ghurair Scholars hail from all parts of Egypt and the region, representing 18 of Egypt's 27 governorates and five nearby countries, from Sudan in the West to Bahrain in the East.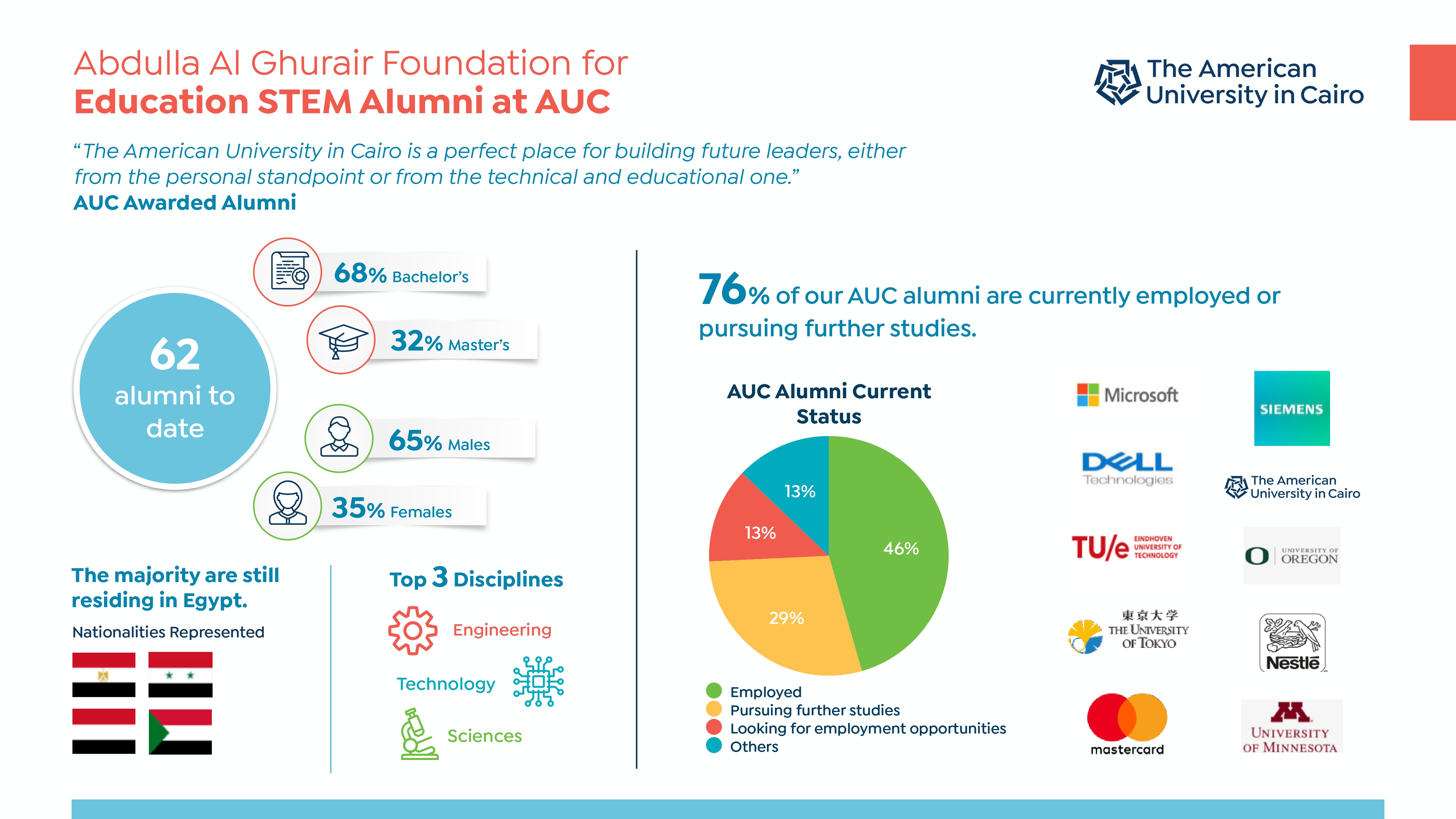 For Yousif Adam (MSc '20), who graduated with a master's in environmental engineering and was a recipient of the Medhat Haroun Award for Scholarly Excellence, the program helped him shine in the development sector.
Adam is the co-founder of The Youth for Development and Leadership Foundation to address social justice and human development in Cairo and Khartoum. Right after graduation, he began working as a research assistant with his master's supervisor, tackling issues pertaining to the sustainable management of water resources. He also works at AUC's Center of Excellence for Water.
"One thing that's really amazing about the scholarship is that it gave me the opportunity to gain a lot of insights regarding sustainable development and how it can make positive social change," says Adam. "In the past, I didn't know a lot about sustainability; a lot of the knowledge I use in my work now comes from my experience at AUC."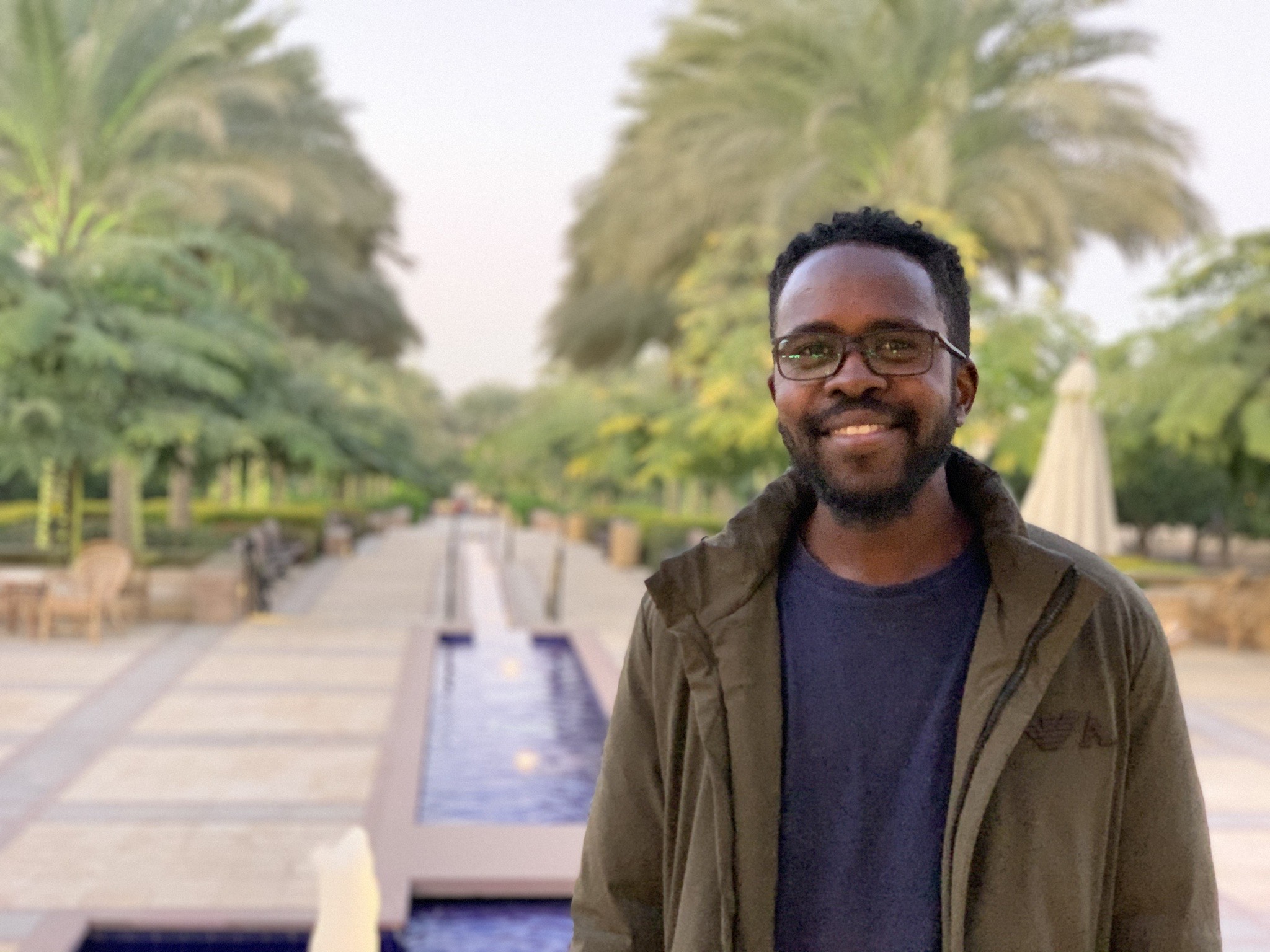 Adam also lauds his time at AUC for offering him the opportunity to conduct research in English, his second language, for the very first time, as well as the extraordinary support he received from supervisors and the opportunity to mingle with other students from around the world.
"When you meet other students from different backgrounds, you are going to engage with them in critical discussions or debates about different issues, how they see the world and how you see the world, and this also plays an important role in intellectual stimulation," Adam affirms.
More than 50 Al Ghurair Scholars remain at AUC and are slated to graduate within the next two years. Though they may leave the University and program behind, their experience, network and impacts will forever remain, as Abdel Dawoud explains: "I carried that with me; even after graduation, I'm always looking for ways to improve and develop myself. My network from AUC still stands and is often a great source of support."