Ahlan wa Marhaba: Classes Begin at AUC
Ahlan wa Marhaba: Classes Begin at AUC
AUC New Cairo was a sea of smiles from Bassily Auditorium to the Center for the Arts on Sunday as the fall semester kicked off.
Laughter, excitement and surprise were palpable as old friends met again and new acquaintances joined forces to navigate campus.
Life on campus began its revival last week, with new faculty members and students attending orientation, where they got to know each other and their new locale.
This year's incoming class includes 1,161 undergraduate and 315 graduate students—82 of which are international students hailing from 35 countries, including the U.S., China, Australia, Cuba and Nigeria. The remaining Egyptian students represent 21 of Egypt's governorates.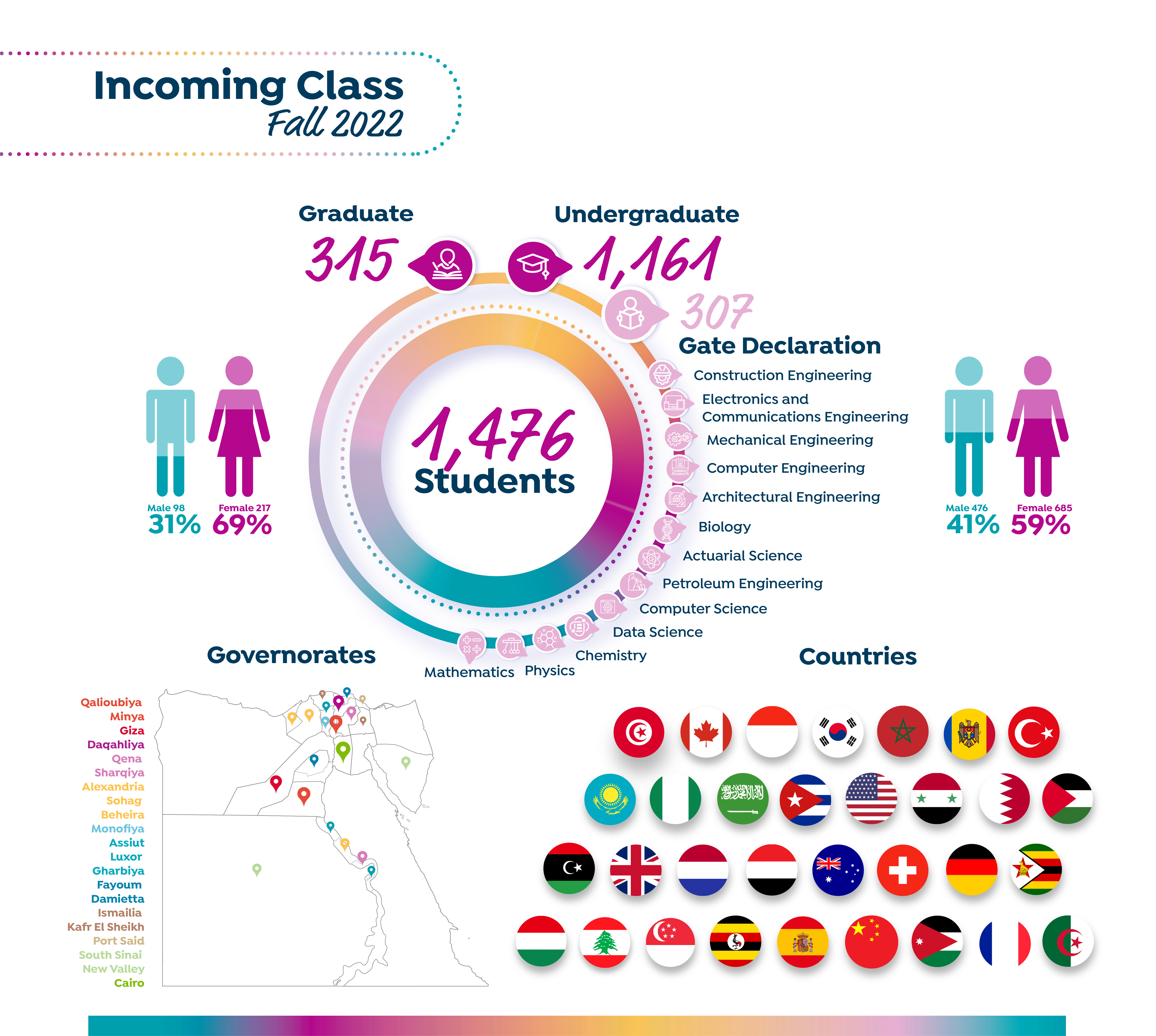 Also new to AUC this semester are more than 200 study abroad students. Arriving in Cairo from the United States in mid-August, Lucas Yantis, a senior studying aerospace engineering, and Andrzej Buniowski, an operations research senior, immediately dove into a two-week intensive Egyptian Arabic course at AUC Tahrir Square.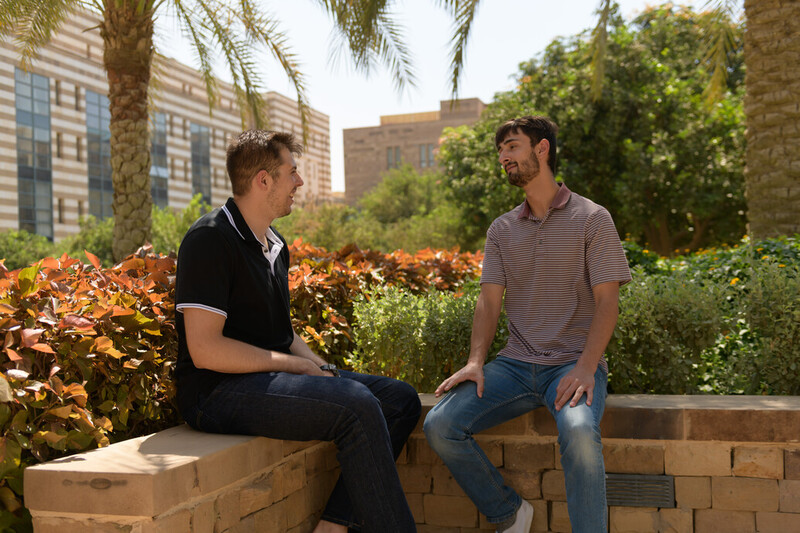 They also visited the city's numerous attractions such as the Cairo Tower, Egyptian Museum, Hanging Church, Citadel, Al-Azhar Mosque, Khan el-Khalili, and of course, the pyramids.
"It was my first time visiting the pyramids and I was shocked at how large the stones were," Buniowski said. "I am about 2 meters tall, and some of the stones were half my size."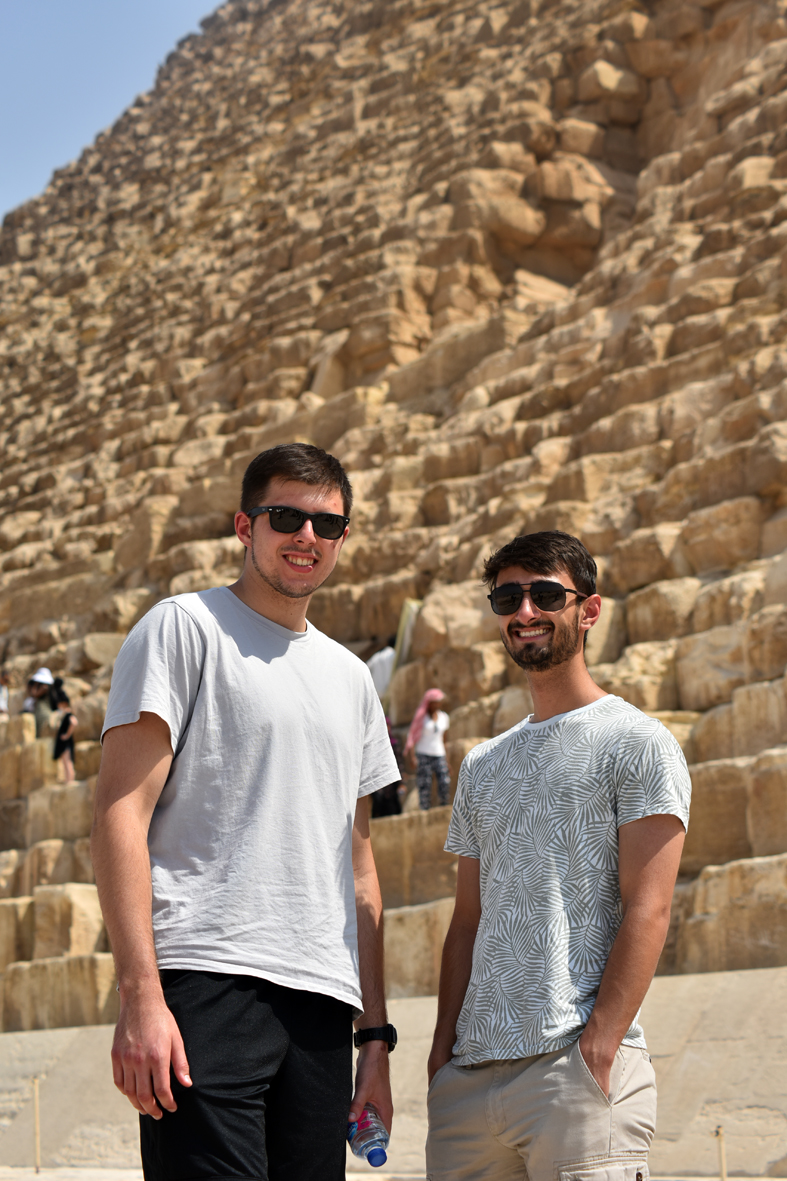 "Immersing myself in more authentic environments—such as the backstreets of Khan el-Khalili and Zamalek—have been my highlights so far," Yantis said.
Buniowski shared the same outlook: "I enjoy the busyness and vintage feeling of Khan el-Khalili."
As for most on their first visit to Egypt, the two friends noticed a few stark differences between life in their home country and life in Cairo. "One of the biggest shocks for me was the Egyptian relationship with the sun," Yantis said. "In my hometown, people flock outside when the sun is shining, but here, people run for the shade!"
Buniowski was equally surprised the first time he rode in a car. "It was a big culture shock to see people not using lanes," he said.
Nevertheless, the duo is looking forward to exploring more of the city and meeting more new people from different cultures. So far, they have appreciated AUC's help in getting situated. "Orientation was very helpful to get us acquainted with life in Cairo," Buniowski said. Yantis added: "At AUC, we're excited to form relationships with the Egyptian students, as this is where we're going to learn the most about the language and the culture."