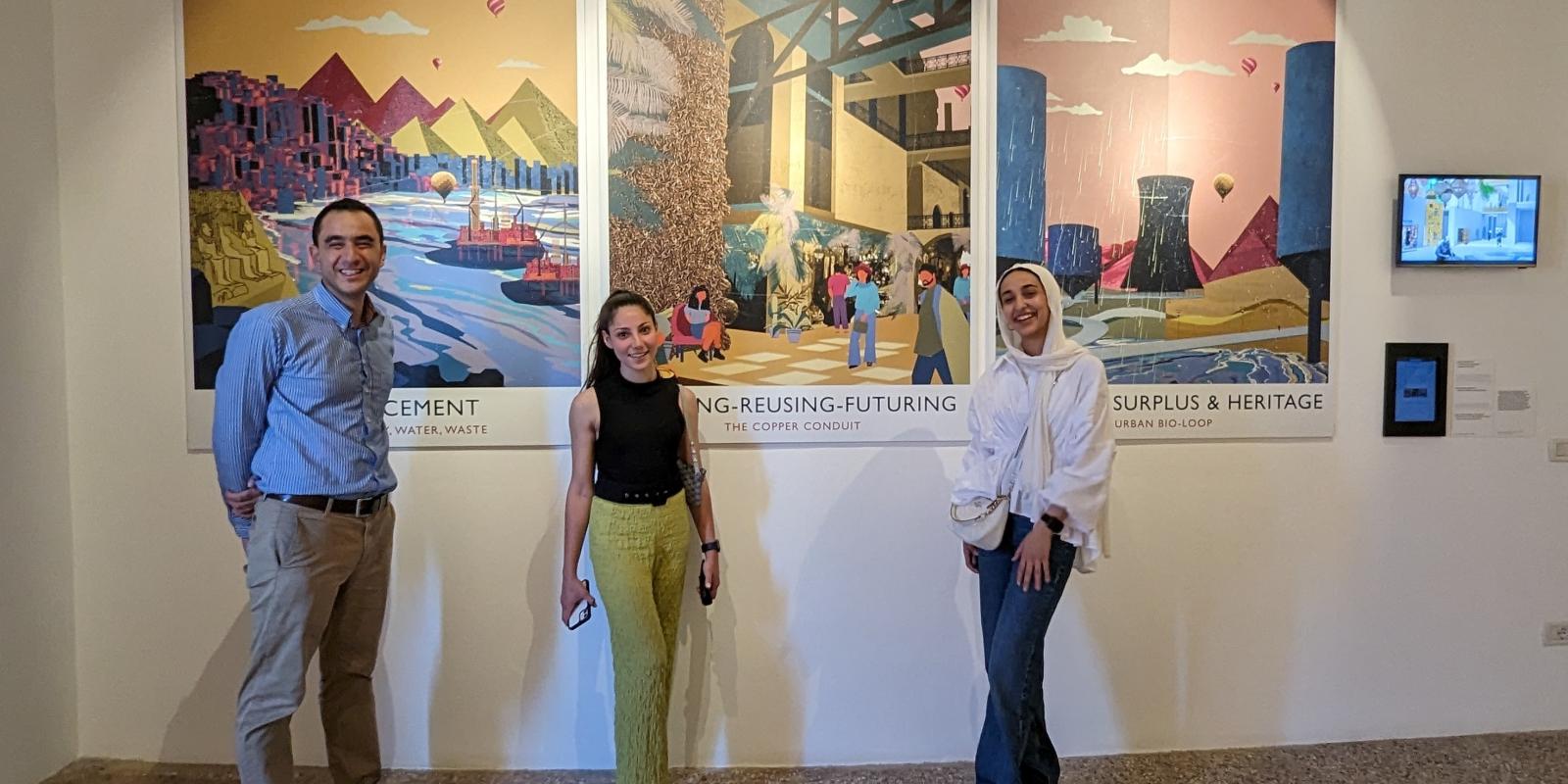 The Zero-Carbon Future of Cairo's Heritage: AUC Architecture Graduates Showcase Sustainable Design at the Venice Biennale
Recent architecture graduates at The American University in Cairo (AUC) are presenting their graduation thesis projects on sustainable restoration and adaptive reuse of heritage buildings in Egypt's historic neighborhoods at the 2023 Venice Architecture Biennale, "Time Space Existence," hosted by the European Cultural Center (ECC) in Venice (running from May to November 2023). Laila Hany '23 and Heba El Kammah '23 and their thesis projects supervisor, Sherif Goubran, assistant professor of sustainable design at AUC's School of Sciences and Engineering, traveled to Venice last month to present the team's work. The project team also hosted a series of events, including a roundtable discussion regarding their work currently exhibited as part of the Biennale. The work exhibited at the ECC is a collaborative effort by members of AUC, Queen's University Belfast, Northern Ireland, and the University of Salford, England, made possible through a British Council's Going Global Partnership grant.
For a year, AUC, Queen's University Belfast and the University of Salford were connected through a transnational design studio, which utilized architectural design principles to reassess decarbonization strategies in various contexts, including different scales, cultures, and climates. In collaboration with students and academics from Queen's and Salford, AUC's Laila Hany '23 and Heba El Kammah '23, along with Mostafa Zahran '23, Saja Sameh '23 and Amgad Abdulgawad '23 worked together to explore zero carbon future heritage landscapes and urban environments.
Goubran explained that this project sparked the conversation on the future of heritage spaces in a more sustainable future. "Beyond the complex architectural forms of the students' projects, the outcomes show that heritage spaces have to be part of our sustainable future; that surgical intervention, in spaces, economies and communities, could result in futures drastically different from our business as usual approaches," he said.
During the project, the team worked in groups to analyze different sites like Historic Cairo, Downtown Cairo, and Alexandria before working on their individual design projects. The project enabled the students to think of heritage spaces as full ecosystems and consider reviving, reusing, and futuring their sites through building proposals while ensuring they meet sustainability goals, with adaptive reuse as their focus.
With the increasing economic pressures in many historic locations, students found that many crafts and traditions were at risk. Hence, in the studio, students explored how crafts can serve as the foundation for innovative and sustainable professions that contribute to a low-carbon future for the residents of heritage locations. They also tackled means to utilize tradition and culture to inform the development of new communal, sustainable, and resilient civil and societal practices.
In Hany's project, in Al Khalifa, she saw another world beyond the landmarks in Islamic Cairo. "The main objective of this project was to shatter all boundaries in the area by reviving stained glass culture to bridge the spatial, cultural, social, historical, and environmental gaps between the fragile past and the dynamic future," said Hany.
Zahran, who chose Haret Bergwan as a sustainable urban heritage landmark in Cairo, focused on utilizing copper crafts, repurposing as many buildings, and preserving heritage landmarks in the area while offsetting carbon concurrently. "The main challenges were finding solutions that balanced heritage conservation, zero-carbon sustainability, revival of traditional crafts, and tourism in an eco-friendly manner," he said, "with extensive research, the group was able to find the connections between these different factors to create viable solutions to these issues simultaneously."
Throughout this project, Zahran realized how contemporary architecture is detached from centuries of tradition. "We have a lot to learn from the past that can be applied to the future. We already have the technology to help societies and the planet thrive and flourish. We can revive the Fatimid Cairo artisans' hope through innovation that suits modern needs while maintaining their crafts' essence. Working in environments with fresh air and natural materials promotes residents' and workers' well-being and comfort as it improves their health and productivity. Not to mention that energy saving and water recycling will significantly cut down cost and carbon emissions."
The students' projects revealed the numerous hidden layers of the heritage fabric. "As an outcome, presenting at COP27 and then displaying our work in Venice at the ECC Venice Biennale space is something we are all proud of and excited about. The responses we got in all external exposure opportunities showed how important and timely our work is," said Goubran.
Looking forward, Goubran believes that future work should focus on institutionalizing these explorations. "Even if these explorations remain conceptual, it is useful to imagine, explore and study what other potential or possible futures for these buildings and urban areas could look like: this can be used to challenge and change the status quo."