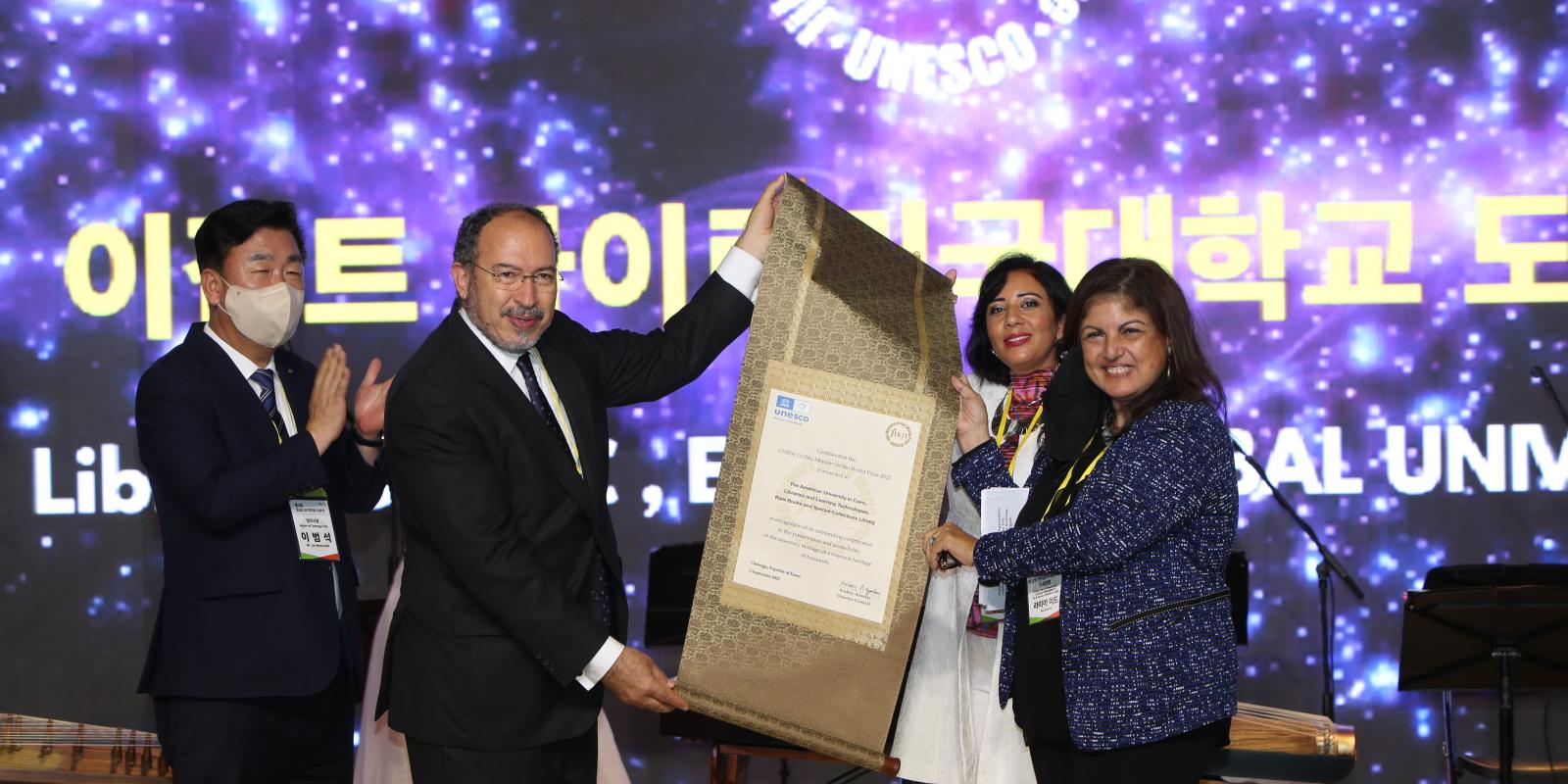 AUC's Rare Books and Special Collections Library Accepts 2022 UNESCO/Jikji Memory of the World Prize in South Korea
At a prestigious ceremony held this month at Cheongju city in South Korea, The American University in Cairo (AUC) Libraries and Learning Technologies (LLT) accepted the 2022 UNESCO/Jikji Memory of the World Prize for the decades of preservation work carried out by the Rare Books and Special Collections Library (RBSCL). Representatives from AUC's LLT accepted the prize at the ceremony in the presence of the Egyptian Ambassador to the Republic of Korea, Khaled Abdel Rahman.
The Prize was created in 2004 to commemorate the inscription of the Buljo jikji simche yojeol — the oldest known book of moveable metal print in the world — on the Memory of the World International Register. The prize honors an individual or institution for their contributions toward preserving and making accessible recorded history, known as "documentary heritage" — which is the quintessential function of the RBSCL at AUC.
"AUC's LLT is deeply honored to be the recipient of the Jikji Prize, which recognizes the obligation to seek, find and nurture the records of all groups, people and institutions, creating a ripple effect globally," said Heba Sayed, planning, assessment and business development director of LLT.
Founded in 1992, the RBSCL has preserved an outstanding number of records and artifacts, making them accessible to AUCians and the public alike. The library also boasts a vast digital collection of videos, photographs, maps and more that anyone can access free of charge.
Working alongside the AUC Digitization Center and the Conservation Lab, the library's team is currently tackling the task of digitizing thousands of items of documentary heritage to share with the world.
"Receiving the prize highlights the spirit of teamwork that's at the heart of the Rare Books and Special Collections Library and AUC Libraries and Learning Technologies," said Stephen Urgola, University archivist and associate dean.
Urgola expressed his gratefulness for all friends of the library. "This recognition was made possible through the efforts of our current and past librarians, staff, and library leaders, support from the AUC community, and partners beyond the University like donors and researchers, who all make it possible to preserve and celebrate the documentary heritage of Egypt and the wider region," he said.