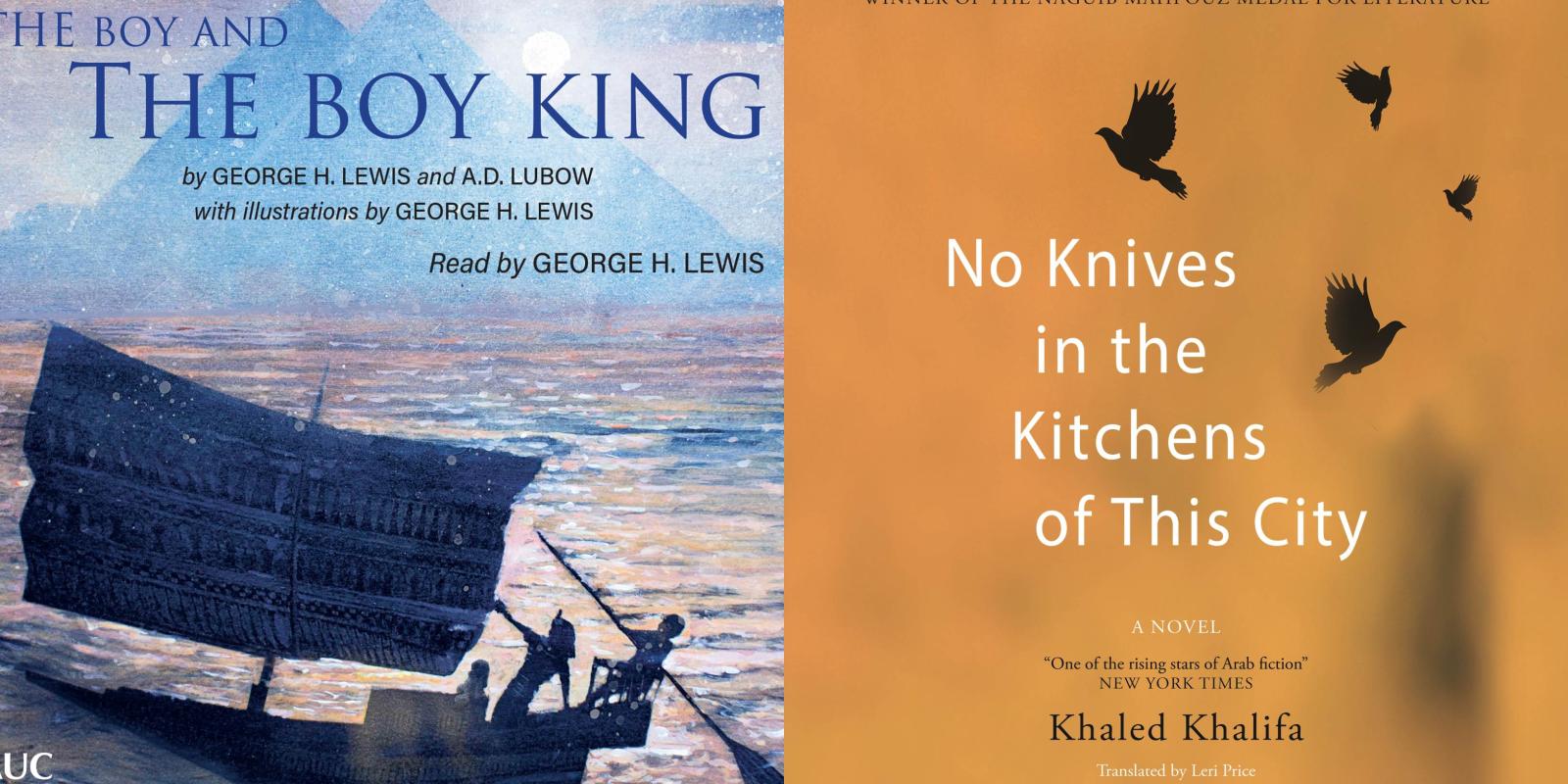 AUC Press Releases First Two Audiobooks External
The American University in Cairo Press (AUC Press) inaugurated its audiobook publishing list with two internationally acclaimed books in the children's literature and fiction categories. Children's literature title, The Boy and the Boy King by George H. Lewis and Arthur D. Lubow, and No Knives in the Kitchens of This City: A Novel by Khaled Khalifa, translated by Leri Price were recently released in audio format. Both editions are available at audio book retailers worldwide including Audible, the leading American online audiobook and podcast service.
The audio edition of The Boy and the Boy King is read by co-author George H. Lewis. "It is meant to be enjoyed side by side with the illustrated book," said Lewis, referring to their lavishly illustrated children's picture book, a 2021 International Book Award Finalist. "George's reading, complete with the seven voices of the various characters in the book, is stellar," said co-author Lubow about Lewis, a British-born painter, healer, and artist, who also created the illustrations for the hardcover volume.
A magical story, coinciding with the centenary of the discovery of King Tutankhamu's tomb, The Boy and The Boy King is an inspirational voyage of a New York City boy and a stuffed bunny Bun-Bun, his imaginary friend, as they travel through the Temple of Dendur at the Metropolitan Museum, to another time and place, where they befriend the lonely boy king, Tutankhamun.
The second audiobook, No Knives in the Kitchens of This City by the internationally acclaimed Syrian novelist and screenwriter Khaled Khalifa, is narrated by Stephen Lee, an English actor and poet.
No Knives in the Kitchens of This City, Khalifa's fourth novel and described by Barnes & Noble Review as "magnificent," is set in the once beautiful city of Aleppo, between the 1960s and 2000s. With eloquence and startling honesty, it tells the story of Sawsan, her siblings, and her mother, who suffer under Assad's Baathist rule.
No Knives in the Kitchens of This City was awarded the Naguib Mahfouz Medal for Literature in 2013, shortlisted for the International Prize for Arabic Fiction (IPAF) in 2014, and shortlisted for the American Literary Translators Association's National Translation Awards in the prose category in 2017.