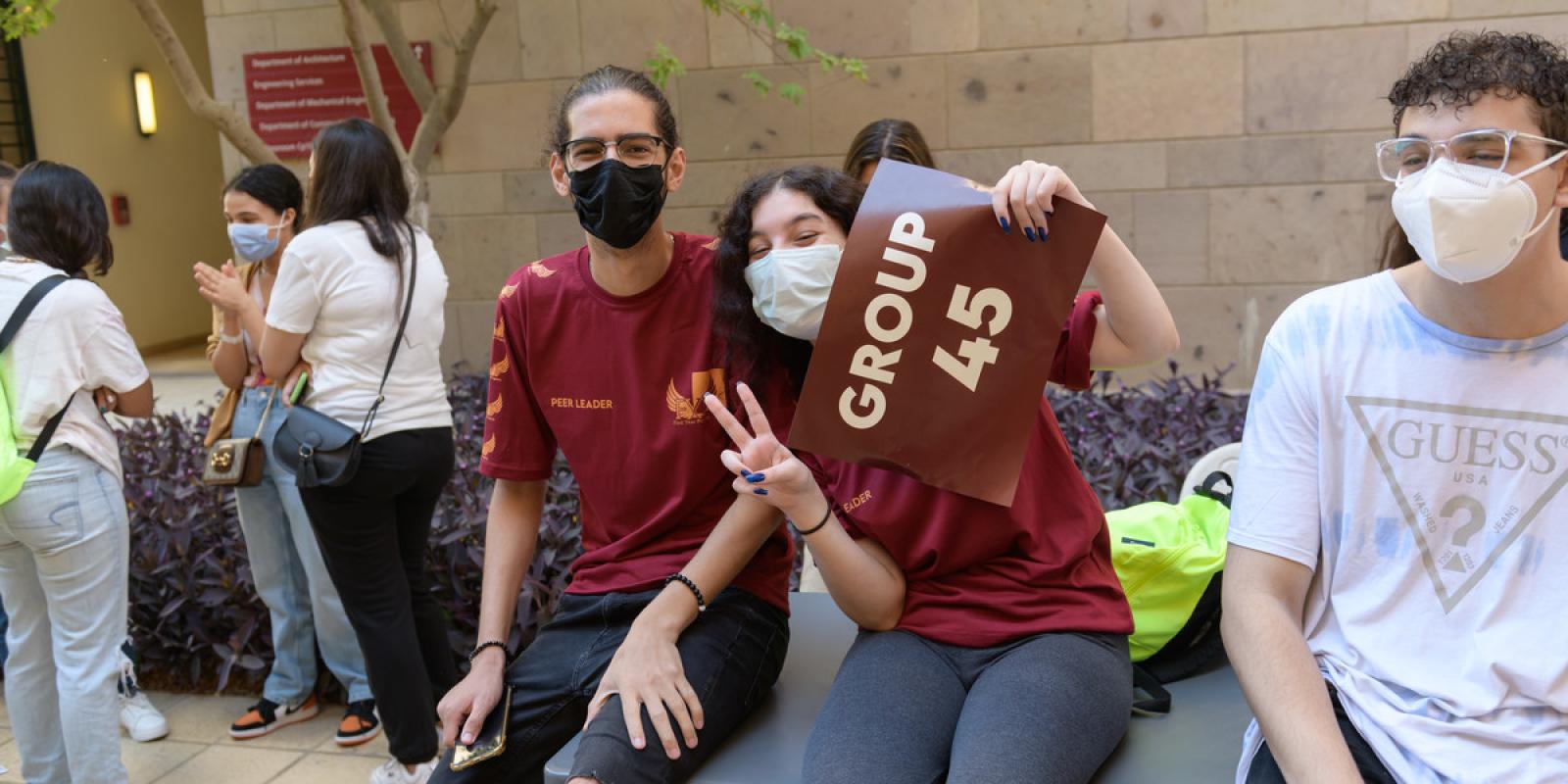 10 Facts About the Return to Face-To-Face Instruction at AUC
The American University in Cairo (AUC) begins the Fall 2021 semester on September 5 with full face-to-face instructi

on

after more than a year of hybrid and remote instruction due to the COVID-19 pandemic.
As the first University in Egypt to resume face-to-face instruction for the Fall 2021, AUC has a rigorous plan for the return of its students, faculty and staff members to ensure a safe campus and safe community. The plan includes facilitating vaccinations for AUC community members, a weekly antigen testing program for those who are not vaccinated, mask wearing and social distancing in all classrooms and spaces.
To

guarantee that

its community members (students, faculty and staff) are vaccinated

,

AUC started mass vaccinations

early in

June in coordination with the Ministry of Health.

Several

mass vaccination

rounds for st

udents, faculty and staff took place. The first was in the convention center at Nasr City. Following rounds have been on AUC New Cairo campus, in coordination with the Ministry of Health.
To ensure the safety of the minority of the members of the campus community who are not vaccinated — some due to medical exemption or because they are under 18 — the University adopted a weekly mandatory antigen testing program for the non-vaccinated.
All classes will run face to face, with social distancing and mandatory masks for everyone.

AUC

utilizes enhanced cleaning and disinfection protocols across campuses, inside and outside the classrooms.
All AUC facilities will operate at total capacity, including on-campus residences, AUC libraries, athletic facilities, food outlets, the clinic and AUC Press bookstores. Safety measures will be applied in all facilities, including wearing masks, social distancing, cleaning and disinfection.
Preparing new students for their campus life, freshmen s

tudent orientation kicked off

this week under the theme "Back to Life." The students were

engag

ed

in

action-packed activities

, including

information sessions

,

campus tours

,

competitions and outings in Cairo.
To

limit the spread of COVID-19 through cash transactions

, AUC

activat

ed

the new Parking Access System for Fall 2021

, a cashless system that

provides access control measures to the campus and the collection of the parking subscription fees.
To restrict the numbers on campus, visitors and events on AUC campus are limited, except those with a business-critical reason. Visitors should abide by all precautionary procedures set by AUC.
The University developed its own daily self-check app. Each member of the community does a daily self-check for symptoms. Based on the results of the symptom checker and the individual's vaccine status, the app displays whether they have access to campus that day. AUC also has a contact tracing system in place to help inform cases who have been in contact with an infected person to limit the spread of the virus.