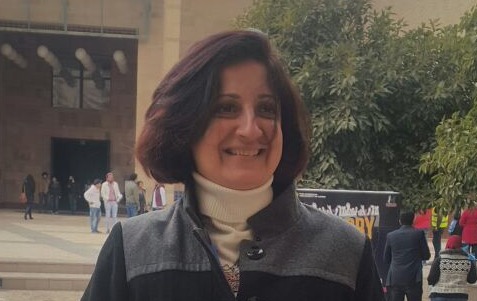 Yasmin
Salah El din
Position
Senior Instructor II
Department
Department of English Language Instruction
Profile
Brief Biography
Yasmine Salah El-Din is a senior II English language instructor at The American University in Cairo and a part time associate professor of linguistics at Cairo University. She teaches academic reading and writing to pre-freshman students, linguistics to undergraduates, and sociolinguistics to graduate students. Her research interests include sociolinguistics, discourse analysis and professional development. She is also interested in service-learning as a pedagogy of engagement.
Education
BA in English language and literature from the Faculty of Arts, Cairo University (1985)
MA in Teaching English as a Foreign Language (TEFL) from The American University in Cairo (1989)
PhD in applied linguistics, Cairo University (2000)
Selected Publications
• Salah El-Din, Y. (2015). "The Self and the Other: A Critical Discourse Analysis of Leila Aboulela's The Ostrich." HERMES. Cairo: Cairo University Center for Foreign Languages and Specialized Translation.
• Salah El-Din, Y. (2014). "Social media as an instructional tool." In Lawrence Burke (Ed.) Learning in a digital age. Melton, Woodbridge: John Catt Educational Ltd.
• Salah El-Din, Y. (2014) "Lexical innovation in Egyptian young people's language: A Sociolinguistic study." Paper published in Cairo Studies. Cairo: Department of English Language and Literature, Cairo Univiersity.
• Badawi, A. and Salah El-Din, Y. (2013). "Tracking Emotional Upheavals in Egypt during the Revolution: A Linguistic Analysis of Tweets." Paper published in the Proceedings of The Eleventh International Symposium on Comparative Literature, Cairo University.
• Kassabgy, N., & Salah el-Din, Y. (2013). "Investigating the impacts of an experiential service-learning course." In TESOL Journal Special Issue: Engaged Teaching and Learning: Service-Learning, Civic Literacy, and TESOL. September 2013, Volume 4, Issue 3, pp.571-586.
Research Interest
Error corrective feedback
Critical Discourse Analysis (CDA)
Teaching/assessing writing skills
Sociolinguistics
Pragmatics
Teaching and assessing reading
Service-learning as a pedagogy