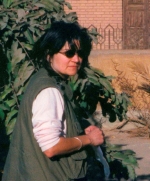 Tania
Kamal-Eldin
Position
Associate Professor of Practice
Department
Department of the Arts
Profile
Brief Biography
Tania Kamal-Eldin is an accomplished filmmaker and educator with an MFA in visual arts from the University of California at San Diego, UCSD, where she was awarded the Jacob Javits Fellowship. Her productions have an international audience and are distributed by Women Make Movies, Inc. and Typecast Film Distribution. Her work has been screened in competitive festivals worldwide and has been broadcast on public television and cable stations.
Education
MFA from University of California, San Diego
MSc from London School of Economics
Creative Work
Egyptian Sons Documentary distributed by Arab Film Distribution, 30 minutes/Color/2014.
Faculty Spotlights—video profiles of Luther College faculty, 2011
AmbiVEILant—video installation, 2008
Traveling art exhibition, The Veil: Visible and Invisible Space, 2008 - 2014
Faces of the Other—short experimental film, 2006
Premiere at the Middle East Studies Association FilmFest, November 2006
Protect Yourself—educational video produced for The United Nations (UNICEF), on the awareness and prevention of HIV/AIDS targeted at Egyptian youth. 10 minutes/Color/2005
Cairo Chronicles—personal documentary—28 minutes/Color/2004
Semifinalist at Boston Motion Picture Awards International Short Film Competition, 2004-05
Hollywood Harems—documentary distributed by Women Make Movies, Inc. 24 minutes/Color/1999
Covered: The Hejab in Cairo, Egypt—documentary distributed by Women Make Movies, Inc. 25 minutes/Color/1995 
Finalist at USA Film Festival, Dallas, TX, 1996.
Finalist at New York Exposition of Short Film and Video, New York, NY, 1995.
Recipient of grant from the Jerome Foundation & National Endowment of the Arts, 1993.
Exes—short experimental film—1998
Recipient of Russell Foundation Production Grant, 1998.
Wild Still Life—short experimental film—1995
Recipient of Midwestern Media Artists Access Center equipment access award and film stock.
Deception—short experimental film—1994
Publications
Co-author of book chapter: "Provocative Pedagogy: The Middle East," in Bennett, Bruce and Marciniak, Katarzyna, eds., Teaching Transnational Cinema: Politics and Pedagogy (AFI Film Readers/Routledge, March 2016).
Amelia (Bakersfield, CA): short story
Arab News (Riyadh, Saudi Arabia): cultural criticism
8 Days (London, England): economic and finance
Egyptian Gazette (Cairo, Egypt): reportage
The Middle East Magazine (London, England): the oil industry
The Minnesota Women's Press (Minneapolis, MN)
Middle East Times (Cairo, Egypt): cultural criticism
Saudi Business (Riyadh, Saudi Arabia): economics
South, The Third World Magazine (London, England): economic development
The North American Review (Cedar Falls, IA): reportage
Aljadid (Los Angeles, CA): reportage
Co-authored a book of short stories:  Countries of the Heart; published by the Association for Textual Study and Production, University of Northern Iowa: 1997.