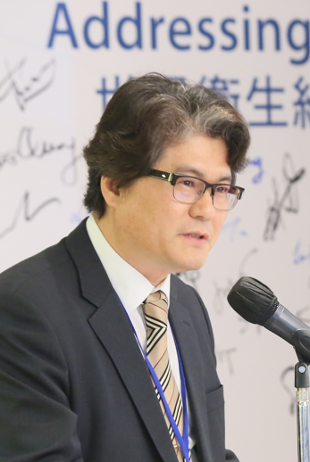 Sungsoo
Chun
Department
Institute of Global Health and Human Ecology
Profile
Brief Biography
Sungsoo Chun is a professor of the Institute of Global Health and Human Ecology at the American University in Cairo. He received his Bsc in pharmacy from Sahmyook University and MPH and PhD in public health from the Seoul National University in Korea. After he got the PhD, he was a Visiting Scholar of the Harvard College Alcohol Study at Harvard School of Public Health.
Before joining AUC, he worked for several academic institutes and developmental organizations, including the International Non-Governmental Organizations and United Nations. He had been a professor and dean of the Graduate School, Sahmyook University and Dean of the Graduate School of Health Science and Welfare, as well as Director of Center for Addiction Science Specialties and Director of Korean Institute of Alcohol Problems at the same institute. He has conducted international comparison researches as a visiting research fellow in many countries, including the US, UK, Canada, Sweden, Scotland, Ireland, Thailand, Vietnam, China, Taiwan, New Zeeland, Ecuador, Kuwait, and Pakistan. Currently, he is a country representative of the International Alcohol Control Study (IAC) and an Executive Board of Global Alcohol Policy Alliance.
He has advised the World Health Organization, and most recently, for the past four years, he has been a Policy Adviser in Health in the United Nations Development Programmes (UNDP) Kuwait.
He was honored with outstanding faculty designation in 2002 from Samyook University. Since then, he received many awards and honors, including 'One of the 33 Men of Ability in Modern Korea (by the Korean Research Institute of Men of Ability, 2009)' and 'One of the 100 Hope Givers (by NewsPeople, 2009).
The scope of his classroom activities, professional contributions, and research balances Health and Medical Sciences with Policy, Health Management, Health Promotion, and Global Health Governance and Development.
PhD in Public Health, Graduate School of Public Health, Seoul National University, South Korea

MPH, Graduate School of Public Health, Seoul National University, South Korea

BS, School of Pharmacy, Sahmyook University, South Korea

PEER-REVIEWED JOURNAL

Salman A, Al-Ghadban F, Sigodo KO, Taher AK, Chun C. (2021) The psychological and social impacts of curfew during the COVID-19 outbreak in Kuwait: A cross-sectional study. Sustainability 2021, 13(15), 8464

Salman A, Sigodo KO, Al-Ghadban F, Al-Lahou B, Alnashmi M, Hermassi S, Chun S. (2021) Effects of COVID-19 lockdown on physical activity and dietary behaviors in Kuwait: A cross-sectional study. Nutrients 2021, 13(7), 2252

Salman A, Al-Hemoud A, Fakhraldeen SA, Alfadhli S, Alhunayan A, Chun S. (2020) Research and development as a moderating variable for sustainable economic performance: The Asian, European and Kuwait Models. Sustainability 2020, 12, 7525: 1-12. https://doi.org/10.3390/su12187525

Salman A, Fakhraldeen SA, Chun S, Jamil K, Gasana J, Al-Hunayan A. (2020) Enhancing research and development in the health sciences as a strategy to establish a knowledge-based economy in the State of Kuwait: A Call for Action Healthcare 2020, 8, 264: 1-11

Salman A, Tolma E, Chun S, Sigodo KO, Al-Hunayan A. (2020) Health promotion programs to reduce non-communicable diseases: A call for action in Kuwait. Healthcare 2020, 8, 251:1-13.

Salman A, Sellami M, Al-Mohannadi AS, Chun S. (2019) The Associations between mental well-being and adherence to physical activity guidelines in patients with cardiovascular disease: results from the Scottish health survey. Int. J. Environ. Res. Public Health 16, 3596.

Alaeze I, Newell M, Yun M, Chun S. (2019) Prevalence and perception of obesity among Sub-Saharan Africans in Korea. Journal of Immigrant and Minority Health, 21(3), 555-562.

Kim SH, Chun S, Choi MS, Yun ME. (2018) Dehydration risk from age, BMI, and disease exposure. Korean Public Health Research, 44(4): 35-49.

Huckle, Taisia; Casswell, Sally; MacKintosh, Anne-Maree; Chaiyasong, Surasak; Viet Cuong, Pham; Morojele, Neo; Parry, Charles; Meier, Petra Sylvia; Holmes, John; Callinan, Sarah; Piazza, Marina; Kazantseva, Elena ; Bayandorj, Tsogzolmaa; Gray-Philip, Gaile ; Halliday, Sharon; Chun, Sungsoo; Sunmee Yun-Welch, Miriam; Graydon-Guy, Thomas; Parker, Karl. (2018) The International Alcohol Control Study: methodology and implementation. Drug and Alcohol Review.

Narcie Faith Amista, Sungsoo Chun, and Mieun Yun. (2017) Relationship between alcohol purchasing time and alcohol use disorder in South Korea. Osong Public Health Res Perspect;8(6):405-414.

Mtwesi MP, Serrano S, Chun S, Ziba PW. (2017) Alcohol Dependence Assessment in South Korea and Mainland China. Health and Social Welfare Review 37(1): 568-589.

Kim SH, Yun ME, Yoo JH, Chun S (correspondent). (2017) Correlation of Dehydration with body mass index and blood lipid levels. J Korean Diet Assoc, 23 (1):27-38.

Yun M, Oh H, Kim H, Jin K, Chun S (correspondent). (2016) Correlation between social support & psychosocial stress and problem behavior after consuming alcohol among college students. The Journal of Korean Society for School & Community Health Education, 17 (3):1-10.

Sim S, Yun M, Chun S (correspondent). (2016) A study on recognition and an adequate plan of dental service providers regarding dental auto insurance medical fee system. Korean Journal of Dental Hygiene 16 (4): 531-538.

Kim J, Chun S (correspondent). (2016) Correlates of depression and perception gap of adolescents' health-related quality of life between parents and children. The Journal of Korean Society for School & Community Health Education, 17 (2):1-10.

Peters BH, Chun S (correspondent). (2015) Drinking patterns among the British: Implications for alcohol policy support. J Addict Res Ther 6:217. Dol: 10.4172/2156-6105.1000217.

Oh H, Song Y, An S, Chun S (correspondent). (2015) Oral health behavior and oral health education experience among Korean adolescents: The ninth (2013) web-based survey of Korean youth risk behavior. Journal of Korean Society of Dental Hygiene, 15 (6): 999-1007.

Sung WR, Chun S (correspondent), Yun M, Lee H. (2015) The effect of alcohol on-premises densities on corresponding local criminal rates in Seoul. Korean Public Health Research, 41 (4): 75-86.

Lee KS, Asante LS, Chun S, Yun M. (2015) Effects of a low-calorie raw juice diet on the level of serum ferritin in Korean adults. The Korean Journal of Community Living Science, 26 (4): 447-456.

Seo S, Chun S (correspondent), Newell MA, Yun M. (2015) Association between alcohol consumption and Korean young women's bone health: a cross sectional study from the 2008 to 2011 Korea National Health and Nutrition Examination Survey. BMJ Open 2015;5:e007914. doi:10.1136/bmjopen-2015-007914.

Lee SH, Yoo JH, Yun ME, Chun S. (correspondent) (2015) Correlate of the drinking behavior and sexual experience between multicultural family adolescents and general family adolescents. The Journal of Korean Society for School & Community Health Education, 16 (2): 45-57.

Kim D, Yun ME, Kim MK, Sung WR, Chun S. (correspondent) (2015) The price elasticity on alcoholic beverages in Korea. Korean Journal of Alcohol Science, 16(1): 41-53.

Lee JR, Kim HT, Kim SY, Yun ME, Chun S. (correspondent) (2015) The effects of college students psychosocial stress, expected drinking effects and reason for reducing alcohol consumption on problem drinking. The Journal of Korean Society for School & Community Health Education, 16 (1): 83-92.

You KY, Yun ME, Lee KS, Kim SS, Yim JE, Chun S. (correspondent) (2015) Effects of juice diet including a lipid improvement program and program attendance on the Korean serum lipid profile. The Korean Journal of Community Living Science, 26 (2): 261-274.

Asante LS, Newell M, Yun M, Yun-Welch S, Chun S. (correspondent) (2015). Comparative study of the impact of intoxication on injuries in China and Korea. Osong Public Health Res Perspect, 6(1): 27-33.

Seo S, Chun S. (correspondent), Newell M, Yun M. (2015) Korean public opinion on alcohol policy: A cross-sectional International Alcohol Control study. Health Policy 119: 33-43.

Bond J, Ye Y, Cherpitel C, Borges G, Chou P, Smith S, Chun S, Sovinova H, Gmel G. (2014) A comparison of two case-crossover methods for studying the dose-response relationship between alcohol and injury. Contemp Drug Probl. 2014; 41(1): 04–13.

Kim JH, Chun S (correspondent), Choi HS. (2014) Reliability and validity of the Korean version scale of impact of weight on quality of life in Kids. The Journal of Korean Society for School & Community Health Education, 15 (3):105-125.

Lee SH, Yun ME, Chun S. (correspondent) (2014) Relationship between Korean juveniles' dietary habits and drinking alcohol. – The result of Korea Youth Risk Behavior Web-based Survey 2012 -. The Journal of Korean Society for School & Community Health Education, 15 (2):23-38.

Kim HT, Yun ME, Chun S. (correspondent) (2014) The influence of adolescents' cognitive stress on their suicidal intention: focusing on mediating effect of physical activity, problem drinking, cognitive depression. Korean J Health Educ Promot, 31 (3): 73-81. https://doi.org/10.14367/kjhep.2014.31.3.73

Kim J, Chun S. (correspondent) (2014) Association between obesity and patterns of alcohol drinking in Korea. Korean Public Health Research, 40(1): 99-108.

Hong Y, Chun S (correspondent), Yun M, Asante LS, Chu C. (2014) A study of high-risk drinking patterns among generations based on the 2009 Korea National Health and Nutrition Examination Survey. Osong Public Health Res Prespect

Asante LS, Chun S (correspondent), Yun M, Newell M. (2014) Social supply of alcohol to Korean high school students: a cross-sectional International Alcohol Control Study. BMJ Open 2014;4:e003462. Doi: 10. 1136/bmjopen-2013-003462.

Kim H, Yun M, Chun S (correspondent), Kim M. (2013) Alcohol policy support by socio-demographic characteristics, life satisfaction, and problem drinking. Health and Social Welfare Review, 33(3): 86-103.

Kim H, Chun S (correspondent), Joung S, Yun M. (2013) Nutrient intake status of Korean drinkers: analysis of data from Korea National Health and Nutrition Examination Survey (KNHANESS), 2011. J Korean Diet Assoc, 19(4): 343-355.

Kim H, Jeon K, Yun M, Seo S, Chun S. (correspondent) (2013) Correlation between alcohol advertising exposure, preferences and drinking. Korean Journal of Alcohol Science, 14(1): 45-60.

Chun S, Easton AR, Yun M. (2013) The association of alcohol drinking pattern and self-inflicted intentional injury in Korea: a cross-sectional WHO collaborative emergency room study. BMJ Open 2013;3:e002469. doi:10.1136/bmjopen-2012-002469.

Sohn A, Chun S, Reid EA. (2012) Optimistic bias toward HIV/AIDs among high and middle school students in Seoul, Korea. Asia-Pacific Journal of Public Health, 24(5):816-25.

Yun M, Chun S (correspondent), Kyungeun Jo. (2012) Effects of disease diagnosis on reducing alcohol consumption behavior in drinkers. Korean Journal of Alcohol Science, 13(2): 27-40.

Yun M, Chun S. (correspondent) (2012) Effects of the workplace alcohol intervention program for recovering blood-liver indicators. Korean Journal of Alcohol Science, 13(1): 97-108.

Casswell S, Meier P, MacKintosh AM, Brown A, Hastings G, Thamarangsi T, Chaiyasong S, Chun S, Huckle T, Wall M, You RQ. (2012) The international alcohol control (IAC) study - evaluating the impact of alcohol policies. Alcoholism: Clinical Experimental Research: DOI: 10.1111/j.1530-0277.01738.x

Chou SP, Chun S, Smith S, Ruan J, Li TK, Grant BF. (2012) Episodic heavy drinking, problem drinking and injuries - Results of WHO/NIAAA collaborative emergency room study in South Korea. Alcohol, 46(5): 407~413.

Chun S, Reid EA, Sohn A, Welch ME, Yun-Welch S, Yun M. (2012) Addiction research centres and the nurturing of creativity: The Korean Institute on Alcohol Problems. Addiction, 108: 675-679.

Chun S, (2012) The social meaning of alcohol consumption in Korea. The Journal of Korean Diabetes: 13(2): 57-60.

Chun S, Nelson TF, Reid EA, Wechsler H. (2011) Cross-national comparison of perceptions to heavy episodic drinking and drinking behaviors among Korean and U.S. college students. The Journal of Korean Society for School Health Education, 12(3): 29-41.

Kim J, Chun S. (correspondent) (2011) Perception of alcohol-related problems and national alcohol policies of the professionals. Korean Public Health Research, 37(2): 87-96.

Chun S, Min K. (2011) Different of attitude of national alcohol policy by problem drinkers and normal drinkers. Journal of Korean Alcohol Science, 12(1): 43-59. G704-SER000008901.2011.12.1.005

Chun S, Ahn B, Kim M, Sohn A. (2011) Cognitive differences of drinking attitude and drinking problems between the normal drinkers and the problem drinkers. Korean Public Health Research, 37(1): 121-130.

Yun M, Chun S. (correspondent) (2011) Dietary habits of hazardous drinkers and heavy episodic drinkers in partial area of Gyeonggi. Journal of the Korean Dietetic Association, 17 (1): 1-17.

Chun S, Sohn A, Yun S, Jung KY, Noh H, Lee SK, Lee JS, Jeon WC, Cho SY. (2010) Analysis of the Socio-demographic characteristics of alcohol-related injury patients in emergency room. Journal of Korean Alcohol Science, 11 (1): 117-125.

Nam EW, Chun S. (correspondent) (2010) Globalization and roles of health education specialist. Korean Journal of Health Education and Promotion, 27 (2): 49-57.

Chun S, Sohn A, Reid EA, Inot R, Kim M. (2009) A comparison of alcohol secondhand effects among Korean and U.S. college students. Korean Journal of Health Education and Promotion, 26 (5): 115-127.

Chun S, Inot R, Kim M, Yun S, Jung H, Yoo J, Lee SS. (2009) Study on drinking problems and alcohol use disorder in Korea. Journal of Korean Alcohol Science, 10 (2): 133-143.

Chun S, Gyuna K, Yun S, Inot R. (2009) Drinking and life span lose. Journal of Korean Alcohol Science, 10 (1): 1-14.

Chun S, Kim J, Shin S, Sohn A. (2008) Discriminatory attitudes towards HIV/ AIDS (PWHAs) Patients by middle and high school students. The Journal of Korean Society for Health Education, 9(1): 63-83.

Chun S. (2008) How can health and human ecology professionals enhance social Influence? Korean Public Health Research34(3): 18-26.

Sohn A, Moon JS, Shin S, Chun S, Kim S. (2008) Discriminatory attitudes towards person HIV/ AIDS (PWHAs) among adolescents in Seoul, Korea. Health and Social Science, 23: 31-56.

Chun S, Percoheles G, Kim J. (2008) The influence of mass media entertainment on drinking. Journal of Korean Alcohol Science, 9 (2): 1-12.

Cho JA, Chun S (correspondent). (2008) A study of drinking prevalence and drinking levels, related social and psychological factors among Korean middle school students. Journal of Korean Alcohol Science, 9 (2): 41-55.

Lee SS, Sohn A, Chun S, Lee WH, Kim SY. (2008) The effect of the elastic band for resistance exercise program on ADL and bone mineral density in arthritis patients at home. J Muscle Joint Health, 15 (1): 88-95.

Chun S, Sohn A. (2008) Alcohol attributable fractions in Korea. Journal of Korean Alcohol Science, 9 (1): 1-12.

Chun S, Sohn A, Cho JA, Lee SS. (2007) Relation between the JOHARI window and college alcohol-related problem. Journal of Korean Alcohol Science, 8 (2): 39-48.

Sohn A, Moon JS, Park JE, Chun S, Ko SD. (2007) HIV/AIDS knowledge and discriminatory attitudes and identifying factors which impact the discriminatory attitudes towards persons with HIV/AIDS among adolescents in Seoul, Korea. Health and Social Sience 22:27-52.

Sohn A, Chun S. (2007) Gender differences in sexual behavior and condom-related behaviors and attitudes among Korean youths. Asia Pacific Journal of Public Health, 19(2): 45-52.

Sohn A, Chun S, Park JE, Yang MY, Lee SS. (2007) An analysis on eating habits, exercise, obesity and weight management among Pajoo citizens in Korea. Journal of Korea Sport Research, 18(4): 567-576.

Chun S, Sohn A, Song C, Park J. (2006) Comparison of alcohol use among Korean and U.S. college students. Journal of Korean Alcohol Science, 7(1): 1-11.

Chun S, Jung E. (2006) Literature review on moderate drinking and hazardous drinking. Journal of Korean Alcohol Science, 7(1):67-82.

Chun S, Sohn A. (2005) Correlates of problem drinking by the alcohol use disorders identification test on Korean college campus. Journal of Preventive Medicine and Public Health, 38(3): 307-314.

Chun S, Oh BJ. (2005) Music and teenagers' drinking behaviors. Journal of Korean Alcohol Science, 6(2): 55-75.

Sohn A, Chun S. (2005) Comparing sexual attitude, sexual initiation and sexual behavior by gender in Korean college students.Health and Social Science, 18: 73-100.

Sohn A, Chun S. (2005) Gender differences in HIV-related sexual risk behaviors among Korean college students. Journal of Korean Society for Health Education and Promotion, 22 (3): 1-15.

Chun S. (2004) Prospective of health and welfare politics for preventing the alcohol-related problems and rehabilitating the alcoholics. Journal of Korean Alcohol Science, 5(1): 75-91.

Chun S, Sohn A., Song CH, Lee JY, Kim SK. (2003) Health and behavioral consequences of binge drinking in college - A national survey of students at 60 campuses -. Journal of Korean Alcohol Science, 4(2): 119-135.

Chun S. (2003) A comparative study on the alcohol laws and policies between USA and Korea. Korean Journal of Medicine and Law, 11(1): 21-34.

Sohn A, Kim SK, Chun S. (2002) Alcohol use and sexual behavior among adolescents. Journal of Korean Alcohol Science, 3(2): 174-187.

Chun S. (2002) Analysis of College student binge drinking and alcohol-related problems. Journal of Korean Alcohol Science, 3(2): 221-233.

Koh MS, Chun S (correspondent), Park YY, Kim MS, Park JS. (2002) A study on the alcohol related crime. Journal of Korean Alcohol Science, 3(1): 159-167.

Chun S, Song CH, Lee JY, Lee YP, Cheong JH, Park JS. (2002) Operation and evaluation of prevention programs for problem drinking in University. Journal of Korean Alcohol Science, 3(1): 53-86.

Chun S. (2001) Analysis to levy the health promotion taxes on beverages. Journal of Korean Alcohol Science, 2(2): 77-97.

Chun S, Lee JY, Lee YP, Park JS. (2001) Development of prevention programs for problem drinking in the University. Journal of Korean Alcohol Science, 2(1): 67-113.

Chun S. (2001) A study on life expectancy by occupation. Journal of the Korean Society of Health Statistics, 26(1): 103-114.

Chun S. (2001) Trends of health information education in the World. Korean Journal of Health Information Education, 3(1): 59-70.

Koh MS, Chun S, Park YY, Kim MS, Park JS. (2000) The study on the relation among problem drinking and criminal acts. Journal of Korean Alcohol Science, 1(1): 60-71.

Chun S, Park JS. (2000) Health and welfare problems of drinking. Journal of Korean Alcohol Science, 1(1): 5-28.

Chun S, Park JS. (2000) Effects of cause death statistics on the trends of loss of the life expectancy. Journal of Korean Public Health Association, 26(1): 46-57.

Park JS, Chun S. (2000) Model of e-health for the elderly by individual needs. Korean Society of Health Information Education, 2(1): 47-61.

Chun S. (1999) A Study on the health-related quality of life by the indices of life expectancy. Journal of Korean Public Health Association, 25(2): 77-104.

Chun S. (1999) A study on the indices of life expectancy by marital status. Journal of Korean Public Health Association, 25(1): 83-99.

Chun S, Park JS. (1999) Policy development for income security for the elderly - Focusing on the analysis of Labor activity for the Elderly -. Journal of Welfare for the Aged, 4:9-69.

Chun S. (1998) A Study on the estimation to the life expectancy lost by drinking. The Journal of Korean Public Health Association, 24(1): 153-166.

Chun S. (1998) Trends of ageing rate of Korean population, Journal of Life Science, 4: 124-133.

Chun S. (1996) Problems of the Medicaid policies programs based on ideologies of Social Security. Korean Journal of Public Health, 33(1): 88-107.

Lee YS, Chun S, Lim JE. (1996) A study on strategies for improvement of doctoral courses in school of public health, Seoul National University. Journal of Health and Environment Science, 6(1): 14-21.

Chun S, Kim JK. (1993) A Study on the estimation of limits to the life expectancy. Korean Journal of the Population Studies, 16(2): 65-83.

TECHNICAL REPORTS

Chun S. (2021) Strategic analysis for improving Human Development Indexes. UNDP & KPPC.

Chun S. (2021) A new challenge: COVID-19 vaccine hesitancy. UNDP & KPPC COVID-19 Situation Analysis 21-04.

Chun S. (2021) The burden of the COVID-19 deaths. UNDP & KPPC COVID-19 Situation Analysis 21-03.

Chun S, Salman A. (2021) What lessons have we learned from a year-long epidemic of COVID-19? UNDP & KPPC.

Chun S, Salman A. (2021) Association between case fluctuation and mobility. UNDP & KPPC COVID-19 Situation Analysis 21-02.

Chun S, Salman A. (2021) What are the contributing factors to the significant rises in new cases? UNDP & KPPC COVID-19 Situation Analysis 21-01.

Chun S, Salman A. (2020) The impacts of COVID-19 on mental health, food consumption, and relationship dynamics in Kuwait. Kuwait Public Policy Center (Printed online).

Chun S, Salman A. (2019) Evidence-based health promotion programs for ensuring sustainable development. UNDP & KPPC.

Chun S, Salman A. (2019) Challenges and perspective of health knowledge and research capacity on the era of k-economy. UNDP & KNDP.

Chun S. (2019) Guidebook for national health development plan 2035 in Kuwait. UNDP & KPPC.

Chun S. (2019) Strategic direction for reorganizing health service delivery system. UNDO & KPPC.

Chun S. (2019) Health workforce development plan and workforce management system. UNDP & KPPC.

Chun S. (2019) National health policy framework: for ensuring healthy lives and promoting well-being for all at all ages. UNDP-KPPC (Printed online)

Chun S. (2019) Overview of gaps, challenges, and way forward in Kuwait National Development Plan 2015-2020. UNDP-KPPC (Printed online)

Chun S. (2019) Research Agenda for the Health Pillar. UNDP-KPPC. (Printed online)

Chun S. (2018) Health industry and technology development plan. UNDP & KPPC.

Chun S. (2018) Holistic health system and health policy framework for ensuring quality and sustainability: Challenges, Gaps, Health System, and Policy Framework. UNDP & KPPC.

Chun S. (2018). Development of medicine management system. UNDP & KPPC.

Chun S. (2018) Achieving holistic health system and health in all policy. UNDP & KPPC.

Chun S. (2018) The plan of Amiri hospital to increase hospital beds and capacity. UNDP & KPPC.

Chun S. (2018) The plan of Kuwait new medical city. UNDP & KPPC.

Chun S. (2018) Strengthening health governance: public health authority. UNDP & KPPC.

Chun S. Siddiqui T. (2018) A brief prefeasibility report for national health insurance. UNDP & KPPC.

Chun S. (2017) Kuwait national development plan and health policies: transforming it from good to excellent. UNDP & KPPC.

Chun S et al. (2017) Strategic plan for graduate schools. Sahmyook University.

Shin S, Chun S, at al. (2017) Smoke free campus model development. Ministry of Health and Welfare.

Chun S et al. (2016) Development of international addiction workforce certificate. International Confederation of ATOD Research Association.

Chun S et al. (2015) National health promotion policy and program framework. Korea Health Promotion Institute.

Chun S et al. (2014) Alcohol: civil society & public health from local & national action to global change. Global Alcohol Policy Conference 2013 Summary Report, Global Alcohol Policy Alliance.

Goose et al. (2014) Regional meeting on addressing the harmful use of alcohol by young people. Hong Kong SAR (China) 12-14 November 2013, WHO WPRO.

Chun S et al. (2012) Alcohol Action Plan 2020. Seoul: Korea: Ministry of Health and Welfare.

Chun S et al. (2011) National Health Promotion Plan 2020. Seoul: Korea: Ministry of Health and Welfare.

Chun S et al. (2010) Quality evaluation report for health education textbooks of middle and high school. Ministry of Education.

Chun S et al. (2009) Strategies for the National alcohol control policy. Seoul: Korea: Ministry of Health and Welfare, Korea Institute on Alcohol Problems.

Yun at al. (2009) Seoul city plan for convention hub. Seoul City.

Chun S et al. (2008) Study on alcohol and injuries. Seoul: Korea: Ministry of Health and Welfare, Korea Institute on Alcohol Problems.

Chun S. (2008) Alcohol intervention program development for the health center. Seoul: Korea: Korean Public Health Association, Korean Institute on Alcohol Problems.

Yun at al. (2008) Seoul city plan for convention hub. Seoul City.

Kim at al. (2007) National mental health plan 2020. Ministry of Health & Welfare.

Chun S, Sohn A, Cho J, Kim Y, Yun J, Ahn K, Choi S, Ulzzima. (2007) Alcohol-attributable fractions of disease in Korea. Seoul: Ministry of Health and Welfare & Korean Institute on Alcohol Problems.

Chun S, Park H. (2007) Community alcohol intervention program development of Gunpo City. Seoul: Korea: Gunpo City, Korean Institute on Alcohol Problems.

Chun S, Cho J. (2007) Survey for Drinking prevalence, related behaviors, and attitudes of Adolescents. Seoul: Korea: National Youth Committee, Korean Institute on Alcohol Problems.

Chun S, Cho J, Cho A, Hong B, Moon I, Kim Y, Kim H. (2007) Development of the indicators for measuring adolescents harmful environment. Seoul: Korea: National Youth Committee, Korean Institute on Alcohol Problems.

Yun at al. (2007) Seoul city plan for convention hub. Seoul City, 2007.

Chun S et al. (2007) Online training program for research ethics. Korea Research Foundation.

Chun S et al. (2006) Evaluation report for Seoul educational office. Seoul City.

Chun S, Cho E, Park H. (2006) Development of alcohol intervention program for the workplace. Seoul: Korea: Seoul City, Korean Institute on Alcohol Problems.

Chun S et al. (2006) Community social welfare plan: Nowon borough (2007-2010). Seoul City∙Nowon Borough.

Chun S, Sohn A, Park J. (2006) Community health plan of Pajoo City. Seoul: Korea: Pajoo City, Korean Institute on Alcohol Problems.

Yun at al. (2006) Seoul city plan for convention hub. Seoul City.

Chun S. (2006) Mid-long term health and alcohol control plan. Gunpo city.

Chun S. (2006) Evaluation report for community alcohol programs. Gunpo city.

Chun S. (2006) Educational alcohol prevention programs for adults. Gunpo city.

Chun S. (2006) Educational alcohol prevention programs for adolescents. Gunpo city.

Chun S. (2006) Educational alcohol prevention programs for kids. Gunpo city.

Chun S, Sohn A, Jung E. (2005) Study on Alcohol Control Policies to Lead to Reduction on Drinking Alcohol. Seoul: Korea: Ministry of Health and Welfare, Korea Institute on Alcohol Problems.

Song H, Jung Y, Chun S, Jung E. (2005) Development of indicator for alcohol policy. Seoul: Korea: Ministry of Health and Welfare, Korea Institute of Health and Social affairs.

Chun S, Sohn A, Lee M. (2005) Evaluation of the health promotion activities of Kimpo city. Seoul: Korea: Kimpo City, Korean Institute on Alcohol Problems.

Chun S et al. (2005) Evaluation report for city and province educational offices. Ministry of Education, 2005.

Chun S et al. (2004) Protection polices for adolescents. National Youth Committee.

Chun S et al. (2003) Survey of the college students' binge drinking and development of alcohol policy for college campus. Seoul: Korea: Ministry of Health and Welfare.

Chun S et al. (2001) Implementation and evaluation of alcohol harm prevention program for the college students. Seoul: Korea: Ministry of Health and Welfare.

Chun S et al. (2000) Development of alcohol prevention program in the University setting. Seoul: Korea: Ministry of Health and Welfare.

Chun S et al. (2000) Model of Graduate School of health science and social welfare. Seoul: Korea: Sahmyook University.

POLICY DOCUMENTS

Salman A, Chun S. (2020) COVID 19: The level of weekly cases has been decreased as the level before May. Policy Brief 20-37.

Salman A, Chun S. (2020) COVID 19: New confirmed cases decreased to more than half in two weeks. Policy Brief 20-36.

Salman A, Chun S. (2020) COVID 19: Kuwait's monthly fatality is 41% point below than World's monthly fatality. Policy Brief 20-35.

Salman A, Chun S. (2020) COVID 19: The number of daily confirmed cases records over 700 for four consecutive weeks. Policy Brief 20-34.

Salman A, Chun S. (2020) COVID 19: The declining fatality trend under the third peak of the global coronavirus pandemic. Policy Brief 20-33.

Salman A, Chun S. (2020) COVID 19: Under the third peak of the global coronavirus pandemic. Policy Brief 20-32.

Salman A, Chun S. (2020) COVID 19: The Kuwait cases are surging three consecutive weeks, as the global cases climb toward a third peak. Policy Brief 20-31.

Salman A, Chun S. (2020) COVID 19: The serious fatality rate of coronavirus. Policy Brief 20-30.

Salman A, Chun S. (2020) COVID 19: The sharply increasing monthly fatality rates. Policy Brief 20-29.

Salman A, Chun S. (2020) COVID 19: The lowest record of daily cases in 21 weeks. Policy Brief 20-28.

Salman A, Chun S. (2020) COVID 19: A downward trend for two consecutive weeks. Policy Brief 20-27.

Salman A, Chun S. (2020) COVID 19: The impacts of the mitigation measures for the return to normal life. Policy Brief 20-26.

Salman A, Chun S. (2020) COVID 19: Special attentions are needed in the Hawally and Capital Health Districts. Policy Brief 20-25.

Salman A, Chun S. (2020) COVID 19: The incidence of COVID-19 in the Capital health district has been jumped up by more than 30% point in a week. Policy Brief 20-24.

Salman A, Chun S. (2020) COVID 19: Kuwait is the 6th country globally on the scale of COVID-19 pandemic per million. Policy Brief 20-23.

Salman A, Chun S. (2020) COVID 19: The mortality has steadily been increasing under phase 1-4. Policy Brief 20-22.

Salman A, Chun S. (2020) COVID 19: The daily confirmed cases have rebounded again facing phase 4. UNDP-KPPC, Policy Brief 20-21.

Salman A, Chun S. (2020) COVID 19: The challenges within the Gulf Cooperation Council countries on coronavirus pandemic. UNDP-KPPC, Policy Brief 20-20.

Salman A, Chun S. (2020) COVID 19: The daily confirmed cases appeal to be slowing slightly. UNDP-KPPC, Policy Brief 20-19.

Salman A, Chun S. (2020) COVID 19: Correlation between recovery rate and fatality. UNDP-KPPC, Policy Brief 20-18.

Salman A, Chun S. (2020) COVID 19: Pandemic in Al-Jahra Health District under Phase 1 and 2. UNDP-KPPC, Policy Brief 20-17.

Salman A, Chun S. (2020) COVID 19: Is the increase in incidence in the Capital Health District due to the effect of business resumption? UNDP-KPPC, Policy Brief 20-16.

Salman A, Chun S. (2020) COVID 19: How to alleviate COVID-19 pandemic under the second phase to return to normal life? UNDP-KPPC, Policy Brief 20-15.

Salman A, Chun S. (2020) COVID 19: The weekly confirmed cases are still linearly increasing among Kuwaiti Nationals under Phase 1. UNDP-KPPC, Policy Brief 20-14.

Salman A, Chun S. (2020) COVID 19: Conditions for moving to Phase 2 – Pandemic issues among Kuwaiti nationals -. UNDP-KPPC, Policy Brief 20-13.

Salman A, Chun S. (2020) COVID 19: Analysis of the trends of the two weeks before and after the start of the first phase of the normalization plan. UNDP-KPPC, Policy Brief 20-12.

Salman A, Chun S. (2020) COVID 19: Analysis of the trends of the three weeks during the total curfew -Transmission challenges of coronavirus within the nationality groups -. UNDP-KPPC, Policy Brief 20-11.

Salman A, Chun S. (2020) COVID-19: Analysis of the trends of the fourteen days after total curfew. UNDP-KPPC, Policy Brief 20-10.

Salman A, Chun S. (2020) COVID-19: Prediction after comprehensive curfew policy. UNDP-KPPC, Policy Brief 20-9.

Salman A, Chun S. (2020) COVID-19: Interim evaluation of Kuwait's response to COVID 19. UNDP-KPPC, Policy Brief 20-8.

Salman A, Chun S. (2020) COVID-19: Trend of 10 weeks epidemic and prediction. UNDP-KPPC, Policy Brief 20-7.

Salman A, Chun S. (2020) COVID-19: Prediction and lessons learned from model countries of the COVID 19. UNDP-KPPC, Policy Brief 20-6.

Salman A, Chun S. (2020) COVID-19: Issues and challenges of Gulf Countries. UNDP-KPPC, Policy Brief 20-5.

Salman A, Chun S. (2020) COVID-19: Prediction and recovery issues. UNDP-KPPC, Policy Brief 20-4.

Salman A, Chun S. (2020) COVID-19: Kuwait situation analysis (3). UNDP-KPPC, Policy Brief 20-3.

Salman A, Chun S. (2020) COVID-19: Kuwait situation analysis (2). UNDP-KPPC, Policy Brief 20-2.

Salman A, Chun S. (2020) COVID-19: Kuwait situation analysis. UNDP-KPPC, Policy Brief 20-1.

Chun S, Salman A. (2019) The most efficient way to be healthy country: what would you like to leave to the next generation? Healthy life or heavy burden? UNDP-KPPC, Policy Brief 19-03.

Chun S, Salman A. (2019) How can research and development (R&D) contribute to innovation, human capital, and the knowledge economy? UNDP-KPPC, Policy Brief 19-02.

Chun S. (2019) Effective governance for healthy and sustainable development. UNDP, policy brief 19-01.

Chun S. (2018) Holistic Approach to Health for Ensuring Healthy Lives and Wellbeing for All at All Ages. UNDP&KPPC. KPPC Policy Brief 18-01.

Chun S. (2014) Seoul Health Declaration. Asia-Pacific Federation of Public Health Conference.

Babor T, Brown K, Jernigan D, Mbona N, Hastings G, Laranjeira R, Obot I, Carlsson S, Gillan E, Hao W, Bakke O, Daube M, Robaina K, Miller P, Anderson P, Veryga A, Casswell S, Chun S. (2013) Statement of Concern: The international public health community responds to the global alcohol producers' attempts to implement the WHO global strategy on the harmful use of alcohol: Global Alcohol Policy Alliance.

Chun S. (2013) A Model of National Alcohol Policy Act. Global Alcohol Policy Conference 2013.

Chun et al. (2013) Global Alcohol Policy Declaration. Global Alcohol Policy Conference 2013.

Chun S. (2006) Seoul Appeal on Alcohol Policy and Programmes. The 1st International Alcohol Policy Conference.

BOOKS

Chun S et al. (2017) Korean public association history of 60 years. Jigu Publishing Co.: Paju, Korea.

Lee G, Chun S. (2016) Addiction mechanism. Jungdam publishing Co.: Seoul, Korea.

Chun S et al. (2014) History of public health in Korea. Jigu Publishing Co.: Paju, Korea.

Chun S, Lee G. (2013) Pride of alcohol and your prejudice. Keachook: Seoul.

Chun S et al. (2013) Alcohol: no ordinary commodity (Translation). Keachook: Seoul.

Chun S et al. (2011) Health management. Hanmee Med: Seoul.

Chun S et al. (2010) Public health. Hanmee Med: Seoul.

Chun S, Welch M, Mary S. (2010) Issues of Korean alcohol policy perspectives. (in) Asian perspectives and evidence on health promotion and education by Takashi Muto (Editor) et al. Springer: Tokyo, p. 326-339.

Chun S et al. (2009) Research methodology. Hanmee Med: Seoul.

Chun S et al. (2006) Theory and practice of health and welfare. Sahmyook Unv. Press: Seoul.

Chun S. (2002) Marketing and education method to reduce problem drinking of college students. The Ministry of Health and Welfare.

Kim K, Kim Y, Chun S, Choi E, Ma MY, Kim MH, Park SM. (2002) How to quit drinking of the adolescents. Prime Ministry, Korea.

Chun S, Lee YW, Cheong JH, Sohn A. (2001) Educational theory and practice to stop drinking of adolescent. Sizosa: Seoul.

Chun S, Park JS. (2001) Educational theory and practice for moderate drinking of college students. Daedong Munhwasa: Seoul.

Lee YW, Chun S, Park SC, Cheong JH, Lee YP, Kim HR. (2000) Toward the healthy society from drinking. Korea Ministry of Health and Welfare.

Chun S, Park J. (2000) Social research and analysis methodology. Asia Media Research: Seoul.

Chun S, Park J. (2000) Social statistics. Expert World: Seoul.

Chun S, Park J. (2000) Social research method 2. Expert World: Seoul.

Chun S, Park J. (2000) Social research method 1. Expert World: Seoul.

Sohn A. Cho WW, Chun S. (2002) For safety sex: theory and practice in health education. Samyoung Co.: Seoul.

Chun S et al. (2001) Campus life and health. Sahmyook University Press: Seoul.

Lee SW, Chun S et al. (1999) Korean public health association history of 40 years. KPHA: Seoul.

Lee YW, Chun S et al. (1997) History of school of public health. Seoul National University. SUN: Seoul.

PRESENTATION AND INVITED SPEECHES

Chun S, Salman A. Healthy workplace initiative: social-ecological model (SEM). 1st international & 6th GSS conference: occupational health & safety, Sheraton Hotel, The State of Kuwait, 15-17 December, 2019.

Chun S. Holistic approach to health: National health policy framework, for assuring healthy lives and wellbeing for all at all ages. UN House, December 11, 2018.

Chun S. Impacts of globalization on health and inevitability to reform health system and policy: a Kuwait case study. The sixth global conference on public policy and administration in the Middle East, AMEPPA, Kuwait, 17-18 December, 2017.

Chun S. Strengthening the Kuwait National Health System: Transforming it from good to Excellent. Round table discussion: Strengthening the Kuwait National Health System, UN House, December 6, 2017.

Chun S, Babor T. Education and training activities of the international confederation of addiction research associations. WHO Forum, Geneva, 26-27 June, 2017.

Chun S. The role of the ICARA as a network platform among multilateral partners. 2016 annual meeting of ICARA, Cumberland Lodge, UK, July 23-25, 2016.

Chun S. Developing competencies for bachelors-level training of addiction professionals. Building Capacity and Competency in Addiction Studies: An International Conference, Seoul, Korea, June 19-20, 2016.

Lee GS, Chun S, Sung WR, Yun M. The effect of local alcohol market densities on corresponding local criminal rates. The 3rdconference of Global Alcohol Policy Alliance 2015, Edinburgh, Scotland, October 7-9, 2015.

Chun S. How ICARA can cooperate with various levels of addiction studies programs? A collaboration model of ICARA and Sahmyook University. 2015 annual meeting of ICARA, Budapest, Hungary, August 30-31, 2015.

Chun S. How can the Center for Addiction Science Specialties (CASS) collaborate with ICARA/ISAJE? 2014 annual meeting of ICARA, Chicago, USA, September 3-5, 2014.

Chun S, Chou SP. Impact of alcohol control policy on injury occurrence: A cross-national comparison among Korea, China and Taiwan. 142nd American Public Health Association Annual meeting, Louisiana, USA, November. 15-19, 2014.

Chun S. Global network and advocacy for reducing harmful use of alcohol. International Seminar on Alcohol and Violence: Public Health and Economic Interest, Sao Paulo, Brazil, May 15-16, 2014.

Chun S. Global network and advocacy for reducing harmful use of alcohol. The annual meeting of Asia Pacific Confederation of Public Health, Seoul, Korea, April 10-11, 2014.

Chun S. Minimum age limits and enforcement. World Health Organization Western Pacific Regional Meeting on addressing the harmful use of alcohol by young people, Hong Kong, China, November 12-14, 2013.

Chun S. Correlates between national total alcohol consumption and alcohol-related harms-international perspectives. Global Alcohol Policy Conference, Seoul, Korea, 6-9 October, 2013.

Chun S. Correlates of problem drinking and prior generation's drinking patterns. International Union for Health Promotion and Education, Pattaya, Thailand, 25-29 August, 2013.

Chun S. Cross-national comparison of drinking patterns and alcohol-related injuries among Korean, Taiwanese and Chinese. Kettil Bruun Society, Kampala, Uganda, 3-7 June, 2013.

Chun S. Strategies to reduce alcohol-related injuries in Asia – What works? International Society for Biomedical Research on Alcoholism, Sapporo, Japan, September 9-12, 2012.

Chun S, Kim, M., David, AC. The price elasticity on alcoholic beverages in Korea. Kettil Bruun Society, Stavanger, Norway, June 4-8, 2012.

Casswell S, Meier P, MacKintosh AM, Brown A, Gordon R, HHastings G, Thamarangsi T, Chaiyasong S, Chun S, Welch M, Kim M, Enkhtuya P, Nasantsengel L, Huckle T, Wall M, You RQ, Randerson S. International alcohol control (IAC) study - collecting policy relevant alcohol data cross-country. 1st Global Alcohol Policy Conference, Nonthaburi, Thailand, Feb. 12-15, 2012.

Chun S, Inot R. Effects of the Korean policies to combat drink-driving. 1st Global Alcohol Policy Conference, Nonthaburi, Thailand, Feb. 13-15, 2012.

Chun S, Inot R, Reid E. Alcohol-attributable fractions of liver diseases in the Republic of Korea. Kettil Bruun Society, Melbourne, Australia, April 4-9, 2011.

Chun S. Implementation, evaluation, and visions of Korea national alcohol policy. 6th National Alcohol Conference, Bangkok, Thailand, Nov. 22-23, 2010.

Chun S. Alcohol attributable fractions on alcohol in Korea. 6th National Alcohol Conference, Bangkok, Thailand, Nov. 22-23, 2010.

Chun S. The roles and vision of government endorsed certification for health education specialists. 138th American Public Health Association Annual meeting, Denver, USA, Nov. 6-10, 2010.

Chun S, Reid E, Sohn A, Yoon S, Inot R. Review of effectiveness of community alcohol programs. 20th IUPHE World Conference on Health Promotion, Geveva, Switzerland, July 11~15, 2010.

Lysoby L, Chun S. Ensuring a competent workforce through certification of health education specialists in government endorsed and voluntary national organizations. 20th IUPHE World Conference on Health Promotion, Geveva, Switzerland, July 11~15, 2010.

Chun S, Yun M, Welch M, Yun S. Correlation between dietary habits and alcohol consumption. KSAS International Conference, June, 4th, 2010.

Chun S, Inot R, Kim MK, Kim J. Prevalence of problem drinking in Korea. KSAS International Conference, June, 4th, 2010.

Chun S. Effectiveness and cost effectiveness of alcohol policy. The 5th National Annual Alcohol Conference, Bangkok, Thailand,Nov. 26~27, 2009.

Chun S. Study on alcohol and injury in Korea. 137th APHA annual meeting, Philadelphia, USA, Nov. 7~11, 2009.

Chun S. Alcohol and injuries in Korea. International Symposium on Alcohol Abuse and Alcoholism, Korean Society of Alcohol Science, Seoul, Korea, Sep. 20, 2009.

Chun S, Cho J. Drinking prevalence and its related social and psychological factors among Korean middle school students. The 1st Asia-Pacific Conference on Health Promotion and Education, Tokyo, Japan, July 17~20, 2009.

Chun S, Inot R, Youn S, Kim G, Jung H. Weekly alcohol consumption and injuries in Korea. KSAS International Conference,Oct. 15~16, 2009.

Chun S. Global networking for alcohol policy. KSAS International Conference, Oct. 15~16, 2009.

Sohn A, Chun, S. Korean Emergency room study on alcohol and injuries. KSAS International Conference, Oct. 15~16, 2009.

Chun S, Youn S, Jung H, Inot R, Reid E, Welch M. Attitudes on the national alcohol policy. International conference on Health Promotion and Education, Seoul, Korea, Oct. 15~16, 2009.

Chun S., Sohn A, Cho J, Kim Y, Yoon J, An K. Alcohol-related disease impact in Korea. 136th APHA annual meeting, San Diego, USA, Oct. 25~29, 2008.

Chun S, Sohn A, Song C, Cho J. Effectiveness of college alcohol policy in Korea, 135th APHA annual meeting. Washington, DC, USA, Nov. 3~7, 2008.

Chun S. Alcohol use and alcohol problems in Korea, the Second International Workshop on Alcohol Addiction for Alcohol Policy and Alcohol Research in USA and Korea. Seoul, Korea, October 22, 2007.

Chun S. Alcohol-related problems and alcohol policies in college campus. The first International Alcohol Conference, Seoul, Korea, Dec. 5~7. 2007.

Chun S, Weitzman ER, Nelson TF, Sohn A, Wechsler H. Cross-national comparison of alcohol use, abuse and problems among Korean and U.S. college students. 134th APHA annual meeting, Boston, USA, Nov. 4~8, 2006.

Chun S, Sohn A. Correlates of problem drinking by the alcohol use disorders identification test on Korean college campus, 133rd APHA annual meeting, Philadelphia, USA, Dec. 10~14, 2005.

Chun S, Sohn A. Health and behavioral consequences of binge drinking in Korean College. 132nd APHA annual meeting, Washington, DC, USA. Nov. 11, 2004.

Chun S. Problem drinking of the college students in Korea. 131st APHA annual meeting, San Francisco, USA, November 16~19, 2003.

Chun S. Study on relation of the national alcohol consumption and mortality (at annual meeting of APHA, 4092.0: Tuesday, November 12, 2002 - Board 9, Abstract #43062.

Chun S. Health Information Manager: Trends and educational vision in the World. Annual meeting of KPHA, October 26, 2002.

Chun S. Analysis of the health informatics in the World. Korea Society of Health Information Education, May 17, 2002.

Chun S. Prevention programs for problem drinking of the college students. Korean Society of Alcohol Science, February 6, 2002.

Chun S. Analysis to levy the health promotion taxes on beverages. Korean Society of Alcohol Science, September 20, 2001.

Chun S. Health and welfare problems of drinking. Korean Society of Alcohol Science, January 18, 2000.

Chun S. A Study on the life expectancy for the quality of life. Korean Society of Health Statistics, October, 1997.

GRAND RESEARCHES

Regional Principal Investigator, International Alcohol Control Study (2011-Current)

Regional PI, WHO collaborative studies in alcohol epidemiology and injuries (2008-Current)

Principle Investigator, Korea National Alcohol Survey, MOHW (2007)

National Survey on the Hazardous Environment for Adolescent, National Youth Commission, Prime Ministry (2006-2007)

Consultant, the Korea National Health & Nutrition Examination Survey, MOHW (2003-2004)

Principle Investigator, Korea National College Alcohol & Health Survey, MOHW (2003-2004)
Research Interest
Global Health Governance

Substance Policy Development and Evaluation

Health Policy Analysis and Evaluation

Health System Management and Analysis

Health Promotion Program Development and Evaluation

Health and Social Data Analytics