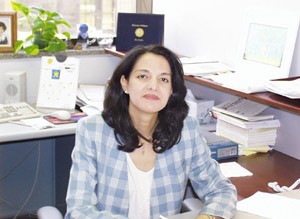 Maha
ElShinnawy
Department
Department of Management
Profile
Brief Biography
Maha ElShinnawy is professor of management in the School of Business at The American University in Cairo (AUC). She is also the Director of Goldman Sachs Women's Entrepreneurship and Leadership Program (WEL) at AUC.
Professor ElShinnawy joined the faculty of AUC in 2004. Previously, she was a tenured associate professor at the Lowry Mays College and Graduate School of Business at Texas A&M University. She received her PhD from The Anderson School at the University of California, Los Angeles (UCLA) in 1993. She received her BA from AUC in 1984 with highest honors and her MBA also from AUC in 1986. ElShinnawy's research received the Best Dissertation Finalist Award from The Institute of Management Sciences in 1992. Her research interests focus on leadership, organizational change, group dynamics, communication, and ethics in organizations. Her research also investigates the effects of collaboration, virtual communication and culture on group interaction and performance. She has presented her work in numerous conferences such as the Academy of Management, the Association for Information Systems and the International Conference on Information Systems and published her work in leading peer reviewed journals such as Management Information Systems Quarterly (MISQ), IEEE Transactions, The International Journal of Human Computer Studies, The Information Society, among others.
Professor ElShinnawy is an adviser to the Making Connections Academy of Management OB division; Beta Gamma Sigma Faculty Advisor; An Ethics Faculty Advisor to SIFE, Students in Free Enterprise; an International Student Mentor; and a Certified Extraordinary Leadership Coach for Louis Allen Worldwide. She served on the faculty of The Academy of Future International Leaders at the George Bush School of International Business of Texas A&M University. She has been quoted locally and internationally in Business Week, CNNmoney, Associated Press, Time Magazine, Voice of America, Herald Tribune, Financial Times, among others. She serves as the AUC liaison to the Egyptian Junior Business Association, the Beta Gamma Sigma faculty adviser, and is the AUC representative serving on the board of trustees of Cairo American College. She is married with three children.