Formative Assessment
Programs and Services
CLT offers various assessment services to help faculty members gain insights into the effectiveness of their teaching. Examples of assessments that CLT offers include Mid-Semester Assessments (MSA), Classroom Action Research (CAR), assessment, of course, pilots and new programs, and other tailored assessments, including surveys, focus groups, and in-class observations.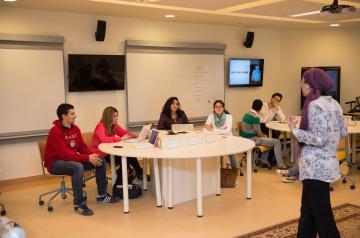 How to Request an Assessment?
Send an email to eda@aucegypt.edu or drop by CLT premises for a consultation, where a member of the CLT educational development and assessment team would help you with your request. You can also request a pedagogy consultation via this form.
AUC IRB Policy
All research by AUC faculty, students and staff require IRB approval through AUC's IRB office even if it will occur outside Egypt. Besides, all research done at AUC or supported by AUC must receive IRB approval even if the Principal Investigator (PI) is not affiliated with AUC. For more information, check the AUC IRB website.

Important Notes:
All CLT assessments are confidential and are only shared with the course instructor.

Faculty members are always welcome for pre and post-assessment consultations.