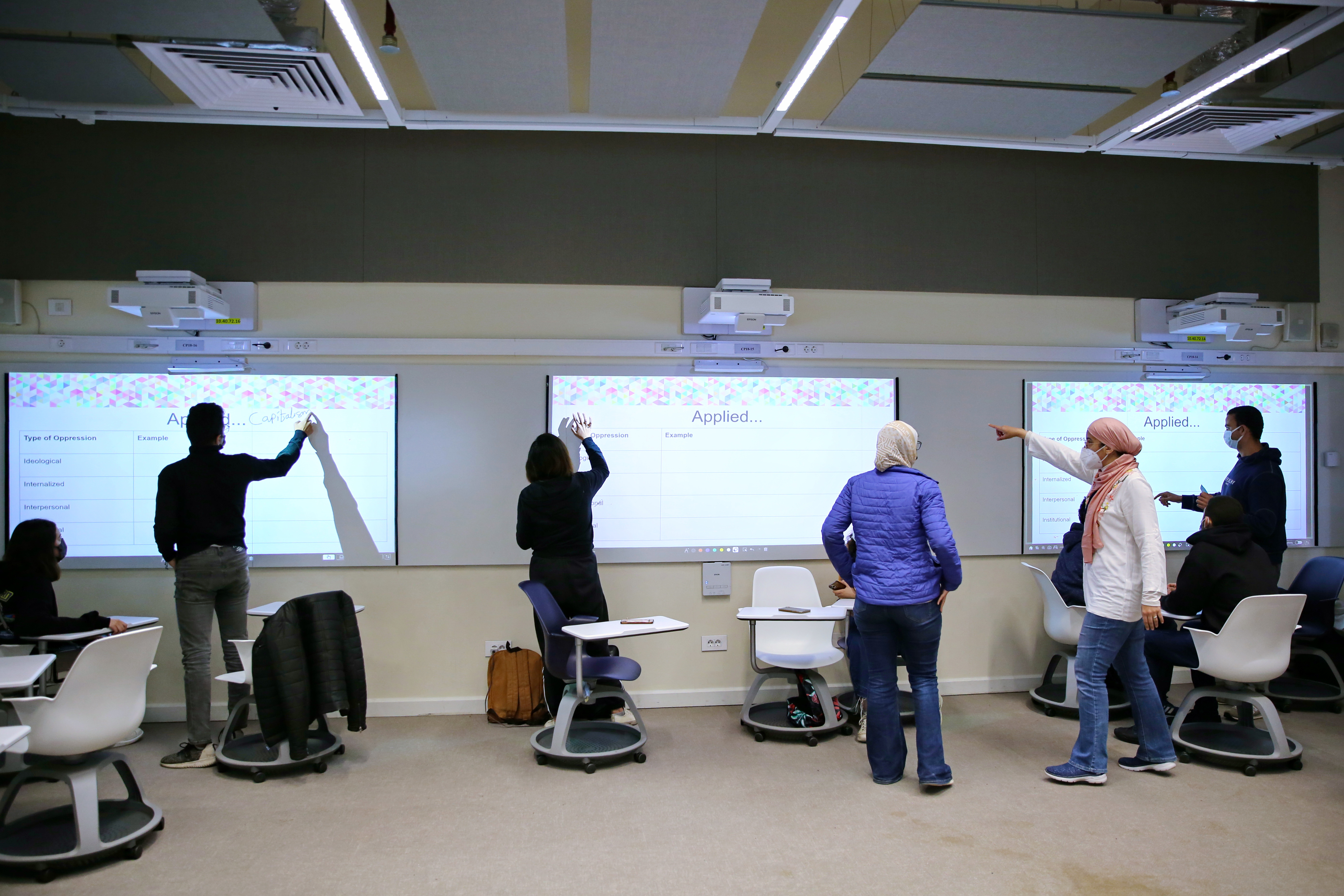 Active Learning Classrooms
Active learning classrooms have flexible furniture, and advanced technology, enabling innovative teaching.
Active Learning Classrooms
To inspire and support innovative approaches, CLT conducts workshops where faculty share their experiences, allowing innovative faculty priority to use pilot classrooms and showcase their teaching at CLT events. During the period of September 2021 to December 2022, 78 faculty members and 1,351 students used the classrooms, and 60+ faculty received pedagogical and technical support.
CLT assessed the teaching and learning experience via online surveys where most faculty respondents indicated classrooms positively impacted student engagement and allowed for collaborative group work. Many highlighted how the seating arrangement, flexibility, technology, and/or room features allowed for active learning. Many student respondents also indicated a positive experience. Faculty also contributed to CLT's New ChalkTalk newsletter.
Most faculty and student suggestions for improvement during the pilot phase revolved around technology enhancement. By December 2022, CLT adapted training sessions and materials accordingly, and Academic and Campus Technologies Support Services (ACTSS) addressed most technical challenges to ensure an optimal academic experience. The American University in Cairo (AUC) is committed to launching a total of 14+ learning spaces with future plans to transform AUC learning spaces.
Flexspace.org AUC Profile
Flexspace is a flexible learning environment exchange platform that allows educational institutions to document and showcase learning spaces, share resources and best practices, work collaboratively with campus colleagues and partners, and connect with a worldwide community.
Booking a tour of the classrooms or Pedagogy Innovation Lab (Faculty Sandbox)
To visit a class session or observe a class activity at the active learning sandbox located in the library building, fill out this form.
Teaching at Active Learning Classrooms: Faculty Sharing their Experiences
Pedagogical Support for Faculty Teaching at AL Classrooms
To request a CLT consultation, click here and answer all questions to help us assist you.
Resources
For more information on how to use the AL classroom technology, check the Technology Handout
To plan an activity and brainstorm some ideas that can be implemented in an AL classroom, use this Idea Canvas.
For ideas on different activities that can be done in the AL classroom, see this video of different activities and seating arrangements/configurations.