Mechanical Engineering - BS
Program Overview
Are you fascinated by the way things work? Do you love tinkering with machines and figuring out how to make them run better? If so, you might find your calling in the field of mechanical engineering. AUC's Bachelor of Science in mechanical engineering program combines rigorous coursework with hands-on experience with the latest technology and equipment. Working closely with professors who have a wealth of expertise in their fields will inspire you to develop your analytical and creative thinking skills. Whether you're interested in robotics, renewable energy or aerospace engineering, our program will prepare you for a rewarding and fulfilling career in this growing field.
Mechanical Engineering (B.S.) program is accredited by the Engineering Accreditation Commission of ABET, https://www.abet.org, under the commission's General Criteria and the Program Criteria for the Mechanical and Similarly Named Engineering Programs.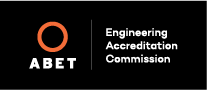 Concentrations
Design

Industrial

Materials and Manufacturing

Mechatronics

Energy Systems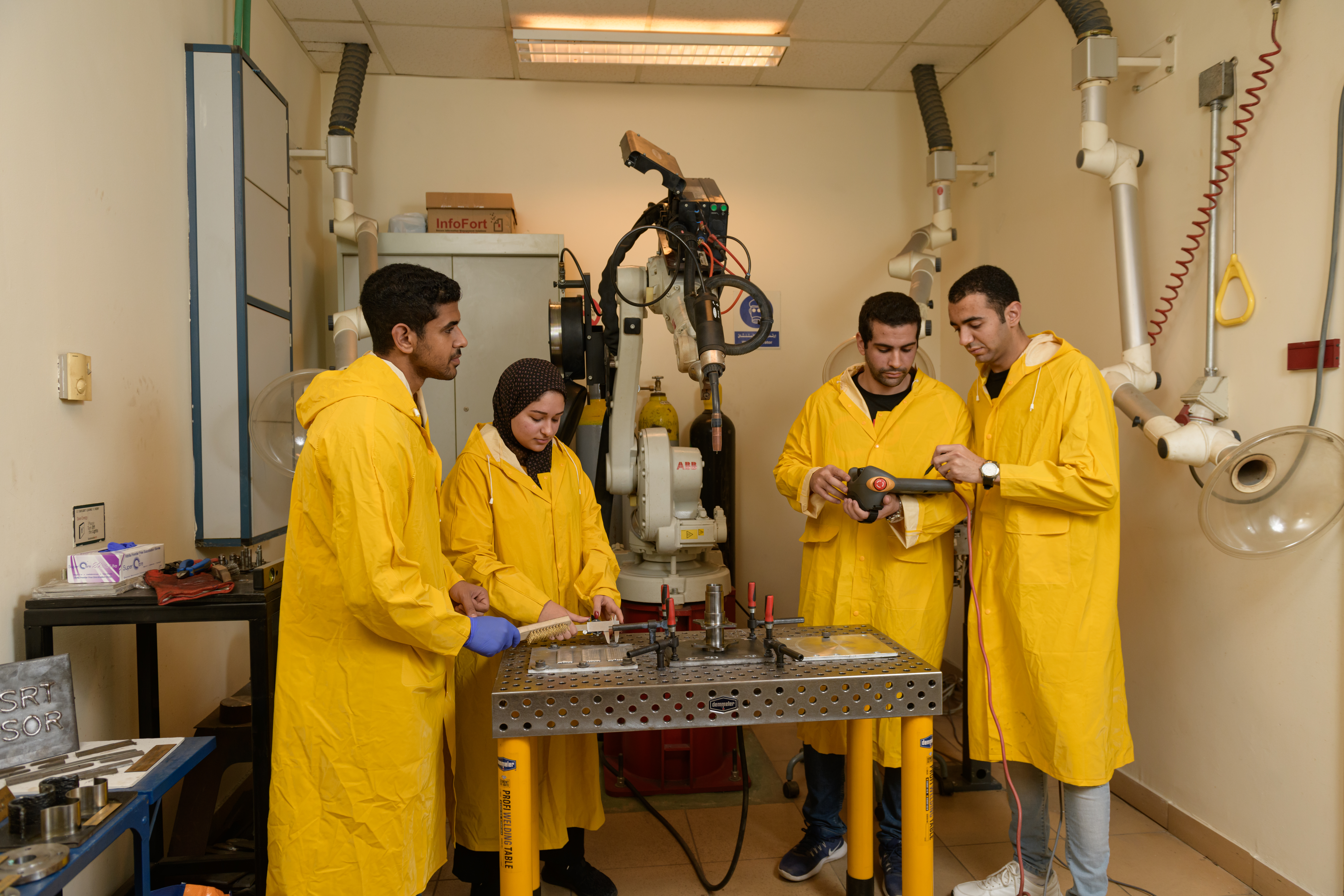 Mechanical Engineering - BS
Mechanical Engineering Program Mission
The mission of the Mechanical Engineering (MENG) Program is to provide students with a world-class, accredited mechanical engineering education within a liberal arts environment. Social responsibility and pursuit of excellence are central to the program mission. In addition to maintaining high standards of academic achievement, professional behavior and ethical conduct, the program provides students with a broad mechanical engineering foundation and depth in selected areas of their choice.
The MENG program at AUC prepares students for entry-level professional practice in the mechanical engineering discipline, both locally and internationally. The program instills in students the desire for lifelong learning that enhances professional growth throughout their careers.
Degrees and Admission Requirements
Students wishing to pursue a Bachelor of Science in construction engineering should meet the minimum academic and admission requirements set by AUC.
Concentration Details of Mechanical Engineering
The design concentration provides mechanical engineering graduates with additional skills for career success in modeling, analyzing, and designing mechanical components and systems using the latest engineering tools. These skills help the graduates of this concentration to develop innovative, viable, and sustainable solutions to meet the design requirements. This is accomplished through specialized courses in finite element analysis, automatic control, robotics, vibrations, systems analysis and design, and integrated design. These courses are supported by state-of-the-art computer software and hardware, in addition to advanced lab facilities.
Graduates of the Design concentration have further abilities to model, analyze and design mechanical components and systems.
The industrial engineering concentration encompasses the analysis, design, improvement, installation, and management of integrated systems of people, finances, materials, equipment, energy, and information. It draws upon specialized knowledge and skills in the mathematical, physical, physiological, and social sciences, together with the principles and methods of engineering analysis and design to specify, predict, evaluate, simulate, and optimize the outputs of such systems. It offers undergraduate students a multitude of courses covering all these aspects, supported by advanced lab facilities that offer and train students on the relevant state-of-the-art computer software and hardware.
Graduates of the Industrial concentration have further abilities to analyze, design, integrate, and manage industrial systems with the optimum utilization of available resources.
In materials and manufacturing, students study the interrelationships between the material's performance, its properties, its structure, and its processing techniques. Graduates of this concentration are equipped with the skills to engineer the structure of a material by controlling its composition, treatment, and manufacturing to meet the design specifications and achieve the desired levels of performance. Students are also provided with an education stressing engineering fundamentals set in the context of conceiving, designing, implementing, and operating real-world systems and products. The concentration courses are regularly updated to reflect recent advances in the field and state-of-the-art concepts, advanced materials, and advanced manufacturing. This includes courses on nanostructured materials, micro and materials for micro and Nano-mechanical devices (MEMS and NEMS), additive manufacturing, advanced characterization and materials simulation, and modeling.
Graduates of the Materials and Manufacturing concentration have further abilities to control material composition, treatment, and manufacturing in order to meet design requirements, and achieve desired levels of performance.
Mechatronics is an interdisciplinary engineering paradigm that synergizes modern engineering sciences and technologies. Mechatronics successfully fuses mechanical engineering, electronics, computer engineering, IT, intelligence, and control theory to supply the mechanical engineer with an innovative way of thinking, knowledge, and skills necessary to open new horizons enabling the design of smart products and processes, modeling, analysis, control, and implementation of physical real-time systems that address the new era of smart embedded systems. These systems are featured by smartness, compactness, reliability, flexibility, safety, and low power consumptions and are supported by sensing, actuating, motion transmission, networking, and intelligent decision-making capabilities with enhanced computational abilities. A mechanical engineer with a mechatronics background will have extended views of knowledge enabling them to lead interdisciplinary teams and contribute to the development of new high-tech smart products and processes covering a wide range of applications such as robotics, automation, smart systems, smart homes, Industry 4.0, etc.
Graduates of the Mechatronics concentration have further abilities to analyze, design, control and automate electromechanical systems with sensors and basic electronic circuits.
The Energy Systems concentration provides the mechanical engineering graduate with the knowledge and skills required for optimum use of energy resources, energy conversion, calculation of energy loads, design, selection, and integration of conventional and non-conventional energy systems and components, as well as energy transmission and storage. This is accomplished through the power plants and design of renewable energy systems core courses, supplemented with elective courses involving applications such as internal combustion engines, refrigeration, and air conditioning, HVAC systems, nuclear power plants, and turbomachinery. Issues regarding economic viability, sustainability, and environmental impact are addressed within the courses.
Graduates of the Power concentration have further abilities to optimize the use of energy resources, calculate energy loads, design, select and integrate conventional and non-conventional energy systems and components.
Student Learning Outcomes
Practice professionally as team members or leaders in both local and global, multidisciplinary environments

Advance their careers in mechanical engineering or other fields through promotions, positions of increasing responsibilities or professional certifications

Contribute to the welfare of the society, and are responsive to its needs with consideration of ethical and environmental issues

Engage in advanced academic and research careers

Pursue entrepreneurial endeavors
This program is suitable for students who are interested in the following

Problem-solving

Creativity

Innovation

Systems integration and management

Automotives

Aeronautics

Robotics and artificial intelligence

Design

Materials and manufacturing technologies
Career and Practical Experience
Many opportunities are available for students to work, study or intern, including hands-on experience in state-of-the-art labs and a minimum of 8-weeks of industrial training in the form of internships locally, regionally, and internationally.
Graduates of the program have gone on to become engineers, managers or entrepreneurs in the following fields

Biomedicine

Oil and gas

Renewable energy

Consumer goods

Automotives

Aerospace

Consultancy

Construction

Research and development
The program's many alumni include:
Moataz Attallah '01, '03, received a PhD from the University of Birmingham and holds a chair in advanced materials processing at its School of Metallurgy and Materials. Due to his contributions, he was awarded by Safran Group (France) for his work on developing 3D printing technologies for jet engines, and by the British and French ministries of defense. He was chosen by the University of Birmingham as the face of its marketing campaign "Birmingham Heroes", with his poster being featured in the airports and train stations.
Karim Badawi ' 95, '98, Managing Director for Schlumberger Oilfield Services, Egypt and East Mediterranean Region, based in Cairo.
Mouhab Meshreki '02, '05, Director of aerospace manufacturing at the National Research Council of Canada and an adjunct professor at McGill University.
Mahmoud I. Hussein '89, '94 is the Alvah and Harriet Hovlid Professor of Aerospace Engineering Sciences at the University of Colorado Boulder. He holds a courtesy faculty appointment in the Department of Physics and an affiliate faculty appointment in the Department of Applied Mathematics, and in 2018 was elected as a Fellow of the American Society of Mechanical Engineers (ASME).
Shahd Labib '15, Received her master's in Mechanical Engineering from MIT in June 2017. Labib is currently a Process Development Engineer at Lam Research's headquarters in the San Francisco Bay Area.
Our alumni have worked for the top companies in the field, including
Procter & Gamble

Henkel

Nestlé

PepsiCo

Baker Hughes

Schlumberger

Siemens

Lafarge

Dar Al-Handasah

Schneider Electric
Enrollment Trends of Fall 2014 to Fall 2022
| | | | | | | | | | | |
| --- | --- | --- | --- | --- | --- | --- | --- | --- | --- | --- |
| Student Level | Academic Semester | Fall 2014 | Fall 2015 | Fall 2016 | Fall 2017 | Fall 2018 | Fall 2019 | Fall 2020 | Fall 2021 | Fall 2022 |
| Undergraduate | Full-Time Students | 434 | 448 | 438 | 409 | 389 | 344 | 334 | 306 | 323 |
| Undergraduate | Part-Time Students | 26 | 19 | 16 | 30 | 22 | 19 | 35 | 44 | 40 |
| Graduate | Graduate Enrollment | 30 | 36 | 32 | 25 | 26 | 22 | 23 | 27 | 34 |
| Total FTE | Total Student FTE | 466 | 479 | 463 | 437 | 413 | 367 | 361 | 343 | 361 |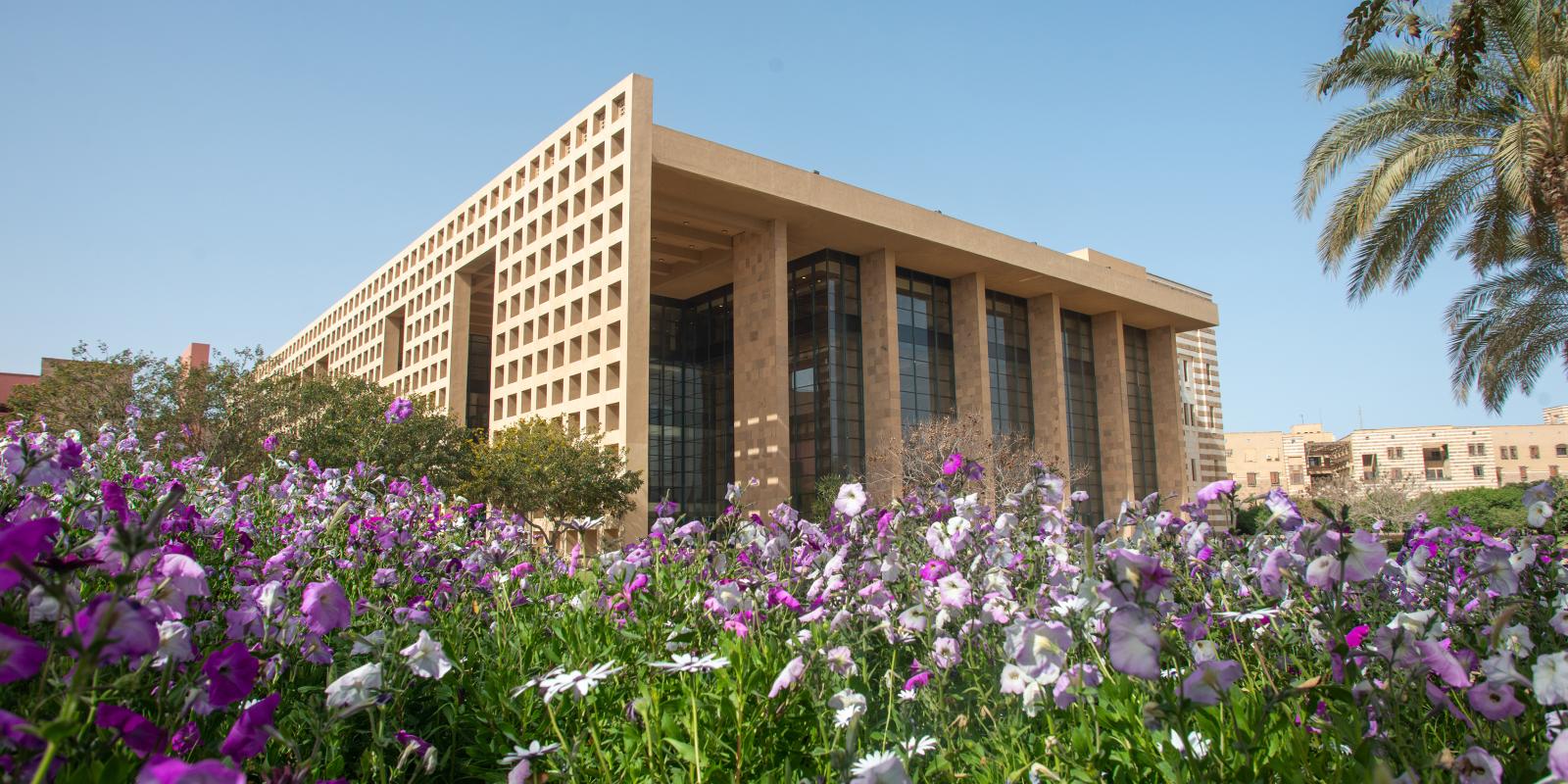 Discover More in Academics
Learn about related programs, minors, accreditation and more.