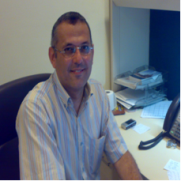 Sherif

Abdel Azeem
Position:

Professor and ECNG Graduate Program Director

Department:

Department of Electronics and Communications Engineering

Email: shazeem@aucegypt.edu
Brief Biography
Sherif Abdel Azeem is a professor of electronics and communications engineering at The American University in Cairo (AUC).  
Abdel Azeem joined AUC in September 2004. Before joining AUC, he was an associate professor at the Electronics and Communications Department, Faculty of Engineering, Cairo University. 
Abdel Azeem received his PhD from the Electrical and Computer Engineering Department at Queen's University, Kingston, Ontario, Canada in 1995.
Research Interest
Abdel Azeem's research interest is in the area of pattern recognition. His focus is on optical character recognition (OCR), mainly Arabic handwriting recognition.