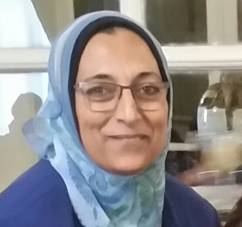 Sanaa
Makhlouf
Position
Senior Instructor II
Department
Department of English Language Instruction
Profile
Brief Biography
Sanaa Abdel Hady Makhlouf is a senior instructor II in the Department of English Language Instruction (ELI) at The American University in Cairo (AUC). She received her Bachelor of Arts in English and Comparative Literature from AUC, followed by two graduate diplomas in Anglo-Irish Literature and in Linguistics and Language Teaching from Trinity College, Dublin, Ireland.
While a teaching fellow in ELI, she completed her master's degree in Teaching English as a Foreign Language from AUC, and was appointed as a full-time Instructor since 1988. Makhlouf was promoted to senior I instructor in 2010 and later to senior II instructor in 2012. In addition to her teaching in the Intensive English Program from 1988 until 2008, she has been teaching in the 0210 Program since 2010, where she co-designed and piloted a new 0210 course to be adjunct to Seminar 1110, Creative Thinking and Problem Solving. She has also co-designed the 0210 course that is adjunct to the Seminar 102, Celebrating Ideas. Alongside her 0210 teaching responsibilities, she has expanded her instruction to the Department of Rhetoric and Composition by teaching a variety of courses such as Rhet 1010 and Core 1010, Imaging Exile, Rhet 1010 and Core 1010, The Human Quest, Core 1010, Advertology and Core 1010, Expressions of Resistance.
Makhlouf has served on many major and minor committees and events in the department, school and University. Her involvement includes, but is no limited to, being a member of the University Senate and the Faculty Affairs Committee (1998-2000), Core Advisory Committee (2012-2014), ELI Summer Coordinator 2012, 0210 Program Summer Coordinator 2015, CLT Review and Interview Committee 2011 and the Program Review and Planning Committee, and being a chair of the Curriculum Design Committee, Social Activities Committee and Annual Reflection and Planning Day Committee.
Moreover, she has also planned the agenda for the ELI visiting Professor Joe Cusseo in 2014 and hosted the Distinguished Visiting Professor James Purpura in Cairo in 2015. She has facilitated classes in the First-Year Program (FYE) since its initiation and has been active in attending various workshops offered by the Center for Learning and Teaching.
Makhlouf, S. A.-H. (2012), "Plagiarism: a game of wits or a way of learning?," NILE TESOL (CONFERENCE OF TEACHERS OF ENGLISH AS A SECOND OR FOREIGN LANGUAGE) Special Edition Journal 2012, 152, Cairo, Egypt: NILE TESOL (CONFERENCE OF TEACHERS OF ENGLISH AS A SECOND OR FOREIGN LANGUAGE) Special Edition, 2012. https://sites.google.com/site/niletesol2011/

Makhlouf, S. A.-H. (2012), "Critical reflection: why? How? And what next?" Vokovice, Czech Republic: IISES International Conference Proceedings. http://www.iises.net

Makhlouf, S. A.-H. (2011), "Blending the old with the new: an integrated approach to ESL learning," Florence, Italy: Euro academy Association: Lifelong Learning Program. http://eruralnetconference.com

Makhlouf, S. A.-H. (2011), "Bridging Mismatches: Teachers' expectations versus students' performance in an academic summary writing task.," Barcelona, Spain: EDULEARN 11. http://edulearn.org

Ms. Makhlouf has presented annually in national and international conferences such as EgypTESOL and NILE TESOL at AUC, Al Alsun in Ain Shams University in Cairo, IATEFL in England, INGED in Turkey, IISES in Croatia, Euro Academy in Italy and EDULEARN in Barcelona (virtual presenter).

Makhlouf, S. A.-H. (Principal), "Learning from learning: exploring students' strategies used for reflective writing," Sponsored by AUC, American University in Cairo, (February 2014 - April 2014).

Makhlouf, S. A.-H. (Principal), "Student Evaluations of teachers: a controversial tool.," American University in Cairo. (April 7, 2013 - April 13, 2013).

Makhlouf, S. A.-H. (Principal), "Critical reflection: why? how? and what next," Sponsored by AUC, American University in Cairo, (June 24, 2012 - June 27, 2012).

Makhlouf, S. A.-H., "Tolerating Lexical ambiguity: factors affecting reading comprehension and vocabulary comprehension." American University in Cairo. (October 20, 2011 - October 22, 2011).

Makhlouf, S. A.-H. "Plagiarism: a game of wits or a way of learning?" Sponsored by AUC, American University in Cairo, (April 2011).

Senior II Promotion: May, 2015

Teaching and Service Award: 25 Years of Teaching Award: May, 2013

Senior I Promotion Rank: May, 2010

Two Step Increment and Merit Award : 2009,2011,2013,2014.

Merit and Service Award for Student Support: 1999