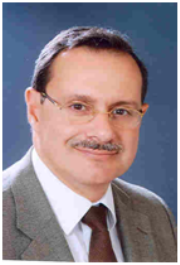 Ahmed
Ezeldin
Position
Professor and former Chair
Department
Department of Construction
Profile
Brief Biography
Ahmed Ezeldin is a professor of construction engineering at The American University in Cairo (AUC). He is currently the coordinator of the continuous education project management programs at AUC. Ezeldin has published more than 83 books, chapters in books, referred journal papers, and papers in conference proceedings. Ezeldin has advised, co-advised, and examined more than 21 PhD dissertations and more than 52 master theses. He has been a licensed professional engineer in the United States since 1993 and a certified project manager since 2005.
Ezeldin's professional experience has encompassed a range of activities, including consultation for engineering and project management, specialized training, academic teaching and highly technical funded research. He has also served as an international expert for the World Bank, International Bank for Reconstruction and Development and the United Nations Development Program.
Much of Ezeldin's 34 years of design, technical and management experiences were gained while working with consulting firms in the United States, Europe, and the Middle East. Ezeldin has been called on several times to deliver specialized consultation, customized training programs and help administer team-building activities. Ezeldin has also acted as an expert professional for international associations, governmental agencies and legal courts.
PhD, 1989, Civil Engineering, Rutgers University, New Jersey
MPh, 1987, Civil Engineering, Rutgers University, New Jersey
MS, 1986, Civil Engineering, Rutgers University, New Jersey
BS, 1982, Civil Engineering (honors), Ain Shams University, Cairo

Licensed Professional Engineer, Pennsylvania, USA, PE 044269-E, 1993
Certified Project Management Consultant, Egypt, 2005

Department Head, Department of Construction Engineering, AUC (January 2015 - Present)
Professor, AUC (September 2007 - Present)
Graduate Program Director, Construction Engineering, AUC (September 2012 - December 2014)
Acting Chair, Department of Construction and Architectural Engineering, AUC (Fall 2009)
Acting Director, Sciences and Engineering Services, AUC (Summer 2009)
Associate Professor, AUC (September 98 – August 2007)
Associate Professor, Stevens Institute of Technology (September 93 – August 1998)
Assistant Professor, Stevens Institute of Technology (August 1989 – August 1993)
Visiting Professor, New York University (January 1991 - January 1994)
Visiting Lecturer, Rutgers- The State University of New Jersey (January 1987 - January 1990)

World Bank, International Bank for Reconstruction and Development, Project Management International Expert, Program for Results (P4R), SRSSP World Bank Program, National Rural Sanitation of Egyptian Villages, July 2017- Present, Egypt
World Bank, International Bank for Reconstruction and Development, Project Management International Expert, Strengthening Governance of Local Water and Sanitation Utilities for Improved Service Delivery, October 2015- June 2017, Egypt
World Bank, International Bank for Reconstruction and Development, Verification and Accreditation International Expert, (EG-IDA-3779-CS-CQS), Industrial Development Authority (IDA), Ministry of Trade and Industry, April- June 2017, Egypt
Executive Director, Management Systems and Solutions- MSS, Egypt, 2014- 2015
The United Nations Development Programme, Technical Advisor, Technical Unit for the Ministry of Housing, Utilities, and Urban Communities, JAN 2015- September 2015, Egypt
Executive Partner and Project Management Director, EGEC- House of Expertise, Egypt- Saudi Arabia- United Arab Emirates, Qatar, 2008-2014
World Bank, International Bank for Reconstruction and Development, Project Management Expert, the Management of the National Program for the Sanitation of Egyptian Villages, Jan-March 2007, Egypt
Member of the Egyptian Management Code Standing Committee, 2008- Present
Member of many national and international boards, professional and administrative committees
Research Interest
Computer Software for Construction Projects Delay analysis
Life-Cycle Cost Analysis: Computer-Aided Tools
Neural Networks for construction engineering applications
Risk Management for Construction Projects
Dynamic Programming for Time-Cost Trade-off Problems of Project Schedules with Repetitive Sub-projects
Quality Management System Models