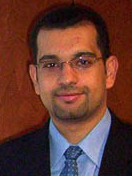 Mohamed
Fawzy Aly
Position
Associate Professor
Department
Department of Mechanical Engineering
Profile
Brief Biography
Mohamed Fawzy Aly is an associate professor of mechanical engineering. He received a BSc degree from the mechanical engineering department (Production and Design) at Cairo University in 1998 and a master's degree in mechanical engineering with distinction in 2001. He received his PhD degree in 2006 from McMaster University in Canada, conducting research in the state-of-the-art micro-machining laboratory at the McMaster Manufacturing Research Institute (MMRI). He joined The American University in Cairo in Fall 2010 as an assistant professor in the mechanical engineering department.
Aly has more than 19 years of teaching experience, built during his time at Cairo University, McMaster University, Fayoum University and AUC. He taught different subjects, including engineering drawing, mechanical assembly, advanced manufacturing processes, machine design, theory of machines and product design.
Aly is a member of the Professional Engineers of Ontario (PEO) association in Canada, the American Society of Mechanical Engineers (ASME) and the Egyptian Society for Engineers.
Aly's research is focused on advanced manufacturing processes, design optimization as well as topology optimization. He has been involved in several industrial projects such as: I) Design, manufacturing and testing of bioplastics for disposable packaging and catering items in collaboration with Prof. Mahmoud Farag and Dr. Khalil Elkhodary, II) Designing concrete matrix composites with carbon-fiber-core and polymer-casing fibers in collaboration with professor Hanadi Salem and Dr. Khalil Elkhodary.