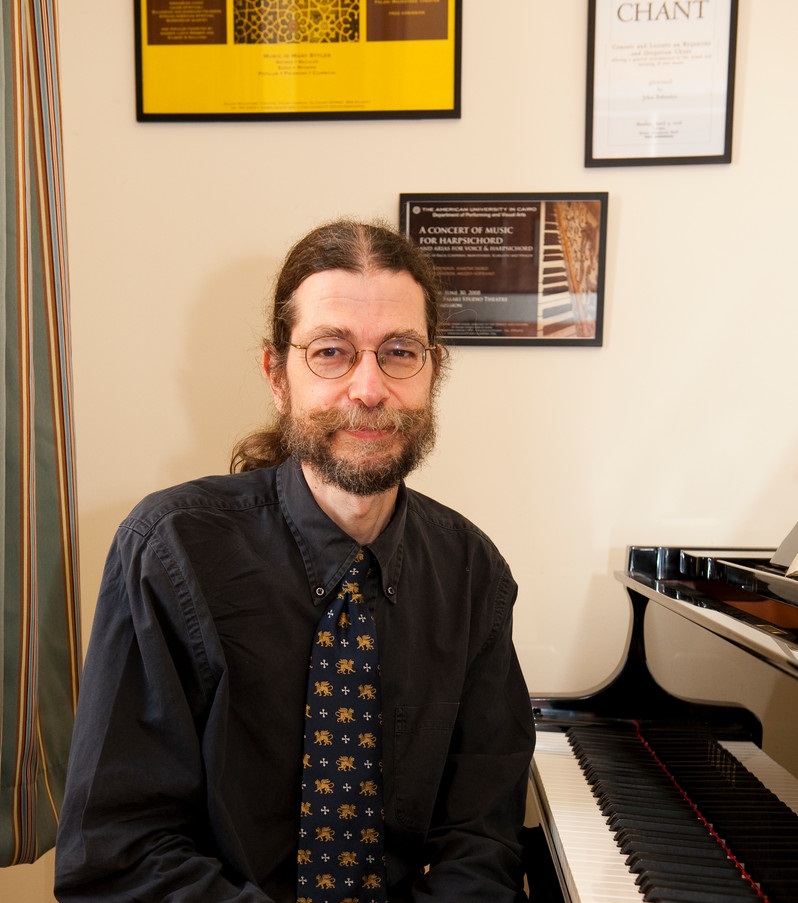 John

Baboukis

Brief Biography

John Baboukis is professor of music. He teaches courses in music theory, musicianship, and music literature, and teaches private lessons in piano, voice and harpsichord, directs the AUC Chamber Singers, and coaches chamber music ensembles. He has also served as music director in several collaborations with the theater program, including performances of Guys and Dolls, Molière's School for Wives, and the opera Dido and Aeneas, the first student-cast performance of an opera ever offered at AUC.

Professor Baboukis is the conductor of the Cairo Choral Society, a community chorus affiliated with the University in which students may also participate (either for course credit, or on a voluntary basis). Over the past twelve years, he has conducted them in performances of major works in the western choral repertory, including Charpentier's Messe de minuit and Te Deum, Handel's Messiah, Haydn's Creation and Nelson Mass, Mendelssohn's Elijah, Brahms's German Requiem and Schicksalslied, Beethoven's Mass in C and Choral Fantasy, Mozart's Requiem, Stravinsky's Symphony of Psalms, and Vivaldi's Gloria. He is also the conductor of the Cairo Festival Orchestra, a professional ensemble which frequently accompanies the Cairo Choral Society, and which is being developed as an ensemble in residence at AUC.

He is the founder and co-director of the Lions of Cairo, an early music group composed primarily of AUC faculty, with whom he is a singer, qanoon player and harpsichordist. The Lions present regular performances of medieval, renaissance and baroque Western music, Byzantine chant and classical Arab music.

He is a specialist in the performance of medieval and renaissance music, and was the founder and director of the Saint Paul Early Music Ensemble and Les voix médiévales de Montréal. He has also been trained in the performance of Byzantine Chant, and has served for many years as a chanter in the Orthodox Church.

He has taught conducting and directed numerous choral and early music groups at the College of Saint Catherine (in Saint Paul, Minnesota), McGill University, the University of Georgia, Young Harris College and Illinois State University.

Professor Baboukis holds a Doctor of Music degree from the Jacobs School of Music at Indiana University, where he was the first doctoral student ever permitted to submit an original composition (his Requiem Mass, for chorus, orchestra, and soloists) as a dissertation for a degree in choral conducting. He has written a substantial body of vocal music, as well as chamber works and music for piano, harpsichord, clavichord and organ. His concerto for bassoon and string orchestra, Three Walks in Zamalek, was premiered by the Cairo Symphony Orchestra in March of 2013, in a performance in which the composer was also the harpsichord soloist, and his Symphony for Cairo had its premiere performance, also by the Cairo Symphony, in June 2016. He has since conducted both works in a performance in Ewart Hall with the Cairo Festival Orchestra in March of 2017. He has been awarded a McKnight Composition Fellowship, and, in addition to receiving numerous private commissions, has twice won composer commissioning grants from the Jerome Foundation, through the American Composers Forum.

Professor Baboukis is married and has two children.