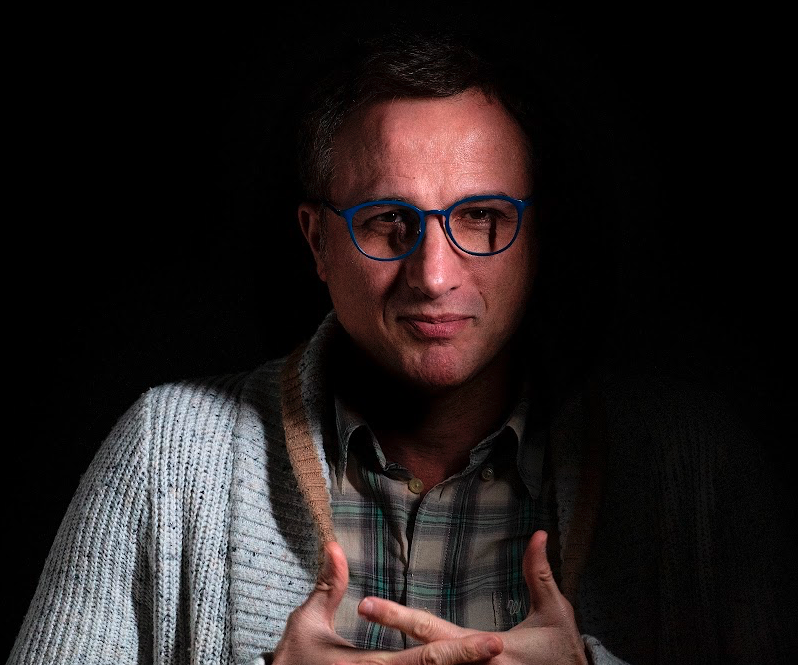 Jalal
Toufic
Building
AUC Center for the Arts
Department
Department of the Arts
Profile
Brief Biography
Jalal Toufic is a professor of Film Studies at The American University in Cairo (AUC). He is the author of, among other books, What Was I Thinking?; e-flux journal-Sternberg Press, 2017, The Dancer's Two Bodies; Sharjah Art Foundation, 2015, Forthcoming; 2nd ed., e-flux journal-Sternberg Press, 2014, and What Were You Thinking?; Berliner Künstlerprogramm/DAAD, 2011. He has made over ten films and videos, which include essay films and conceptual films; short films (seven and eight minutes), feature-length films (110 minutes, 138 minutes), and inhumanely long films (72 hours, 50 hours); videos that are standalone works as well as ones that are part of mixed media works; films that he shot and films in which all the images are from films by other directors (Hitchcock, Sokurov, Bergman). He, along with artists and pretend artists, was a participant in the Sharjah Biennials 6, 10, and 11, the 9th Shanghai Biennale, Six Lines of Flight: Shifting Geographies in Contemporary Art (San Francisco Museum of Modern Art), A History: Art, Architecture, and Design, from the 1980s Until Today" (Centre Pompidou), Theater of Operations: The Gulf Wars 1991–2011 (MoMA PS1), Home Beirut, Sounding the Neighbors (MAXXI). He was a guest of the Artists-in-Berlin Program of the DAAD in 2011, and director of the School of Visual Arts at the Lebanese Academy of Fine Arts (Alba) from September 2015 to August 2018.
Film 3130, Film Theory
Film 3160, The Filmmaker: Alfred Hitchcock
Film 3190, Film Genres: Vampire Films

Books

Radical Closure

. Singapore: National Gallery Singapore, 2020.

Postscripts

. Stockholm: Moderna Museet; Amsterdam: Roma Publications, 2020.

What Was I Thinking?

Berlin: e-flux journal-Sternberg Press, 2017.

The Dancer's Two Bodies

. Sharjah, UAE: Sharjah Art Foundation, 2015.

What Were You Thinking?

Berlin: Berliner Künstlerprogramm/DAAD, 2011.

What Is the Sum of

Recurrently? Istanbul, Turkey: Galeri Nev, 2010.

The Withdrawal of Tradition Past a Surpassing Disaster

.

Los Angeles: California Institute of the Arts/Roy and Edna Disney/CalArts Theater [REDCAT], 2009 (as

one of the volumes of the

publication that accompanied Walid Raad's exhibition Scratching on Things I Could Disavow: A History of Modern and Contemporary Art in the Arab World / Part I_Volume 1_Chapter 1 (Beirut: 1992–2005), edited by Clara Kim).

Two or Three Things I'm Dying to Tell You

. Sausalito, CA: Post-Apollo Press, 2005.

Undying Love, or Love Dies

. Sausalito, CA: Post-Apollo Press, 2002.

Forthcoming

. Berkeley, CA: Atelos, 2000; 2nd ed., Berlin: e-flux journal-Sternberg Press, 2014.

Over-Sensitivity

. Los Angeles: Sun & Moon Press, 1996; 2nd ed., Forthcoming Books, 2009.

(Vampires): An Uneasy Essay on the Undead in Film

. Barrytown, New York: Station Hill Press, 1993; revised and expanded edition, Sausalito, CA: Post-Apollo Press, 2003.

Distracted

. Barrytown, NY: Station Hill Press, 1991; 2nd ed., Berkeley, CA: Tuumba Press, 2003.

Translated Books

French

Le Retrait de la tradition suite au désastre démesuré

,

trans. Omar Berrada and Ninon Vinsonneau

. Paris:

Les Prairies ordinaires, 2011.

Distrait

, trans. Guillaume Fayard. Paris: Les Petits matins, 2011.

German

Vom Rückzug der Tradition nach einem unermesslichen Desaster

, trans. Christoph Nöthlings. Berlin, Germany: August Verlag, 2011.

Booklets

Reading, Rewriting Poe's "The Oval Portrait"—Angelically

, part of dOCUMENTA (13)'s "100 Notes–100 Thoughts," English/German (Ostfildern, Germany: Hatje Cantz, 2011).

Selected Exhibitions/Screenings

Theater of Operations: The Gulf Wars 1991–2011, MoMA PS1, New York, November 3, 2019–March 1, 2020.
The D-Tale, Video Art from the Pearl River Delta, Episode 3: The Politics of the Self, Times Art Center Berlin, Berlin, March 1, 2019–April 13, 2019.

Heavenly Beings: Neither Human nor Animal

, +MSUM | Museum of Contemporary Art Metelkova, Ljubljana, Slovenia, July 10–November 4, 2018.

Truth Is Black, Write over It with a Mirage's Light, Darat al Funun, Amman, Jordan, July

3–

October

4, 2018.

7th Bi-City Biennale of Urbanism\Architecture (UABB), Cities, Grow in Difference," Shenzhen, China, December 15, 2017–March 17, 2018.
Home Beirut, Sounding the Neighbors, MAXXI (National Museum of the 21st Century Arts), Rome, November 15, 2017–May 20, 2018.

Artists' Film International 10th Anniversary Screening

, Whitechapel Gallery, London, September 7–17, 2017.

I Can Call this Progress to Halt, Los Angeles Contemporary Exhibitions (LACE), March 8–April 23, 2017.
The Time Is out of Joint, Sharjah Art Foundation, March 12–June 12, 2016.

Do it

بالعربي

,

Sharjah Art Foundation,

United Arab Emirates,

January 23–April 23, 2016.

First Asia Biennial & 5th Guangzhou Triennial, December 11, 2015–April 10, 2016.

/seconds, Sharjah Art Foundation, United Arab Emirates, October 11–December 10, 2014.
Une histoire, art, architecture et design, des années 80 à aujourd'hui (A History: Art, Architecture, and Design, from the 1980s Until Today), Centre Pompidou, Paris, September 16, 2015–January 2016.

Installing the Ruin

, Galerie Tanit, Beirut, May 13–June 6, 2013.

Sharjah Biennial 11, United Arab Emirates, March 13–May 13, 2013.

9th Shanghai Biennale, October 2, 2012–March 31, 2013.
Six Lines of Flight: Shifting Geographies in Contemporary Art, San Francisco Museum of Modern Art, September 15–December 31, 2012.
Surplus Authors,

Witte de With | Center for Contemporary Art, Rotterdam, September 5–January 6, 2013.

3rd Athens Biennale: Monodrome, Greece, October 23–December 11, 2011.
Locus Agonistes–Practices and Logics of the Civic, Argos Centre for Art and Media, Brussels, Belgium, October 1–December 18, 2011.
Wunder (Miracles), the Deichtorhallen Hamburg and the Siemens Foundation, Hamburg, Germany, September 23, 2011–February 5, 2012.
Decreation, West Space, Melbourne, Australia, August 8–27, 2011.
Image in the Aftermath, Beirut Art Center, May 18–July 16, 2011.
Jalal Toufic: Irruptions of the Real, Daadgalerie, Berlin, May 13–June 18, 2011.
Sharjah Biennial 10: Plot for a Biennial, United Arab Emirates, March 16–May 16, 2011 (

recipient of a 2011 Sharjah Biennial Prize "as a philosopher, artist, and thinker of note."

Art in the Auditorium, Kunsthaus Zürich, Switzerland, March 1–June 1, 2011.

Giorgio Andreotta Calo, Jalal Toufic, Huang Xiaopeng

, Whitechapel Gallery, London, January 28–April 17, 2011.

All about Beirut, Galerie Tanit, White Box, Munich, December 17, 2010–January 16, 2011.
Blind Dates: New Encounters from the Edges of a Former Empire, Pratt Manhattan Gallery, New York City, November 19, 2010–February 11, 2011.
The Malady of Writing, Museu d'Art Contemporani de Barcelona (MACBA), Spain, November 20, 2009–April 25, 2010.
Medium Religion, ZKM | Museum of Contemporary Art, Karlsruhe, Germany, November 23, 2008–April 19, 2009.
Home Works IV: A Forum on Cultural Practices, the Lebanese Association for Plastic Arts Ashkal Alwan, Sfeir Semler Gallery, Beirut, April 12–May 31, 2008.
Art Now in Lebanon, Darat al Funun, Amman, Jordan, March 4–May 29, 2008.

Memorial to the Iraq War, Institute of Contemporary Arts (ICA), London, May 23–June 27, 2007.

Filming Death at Work, Kunsthalle Fridericianum, Kassel, Germany, April 12–May 14, 2006.
Home Works III: A Forum on Cultural Practices, Beirut, Lebanon, November 21and 23, 2005.
Normalization, Platform Garanti Contemporary Art Center, Istanbul, Turkey, March 10–April 23, 2005.
Focus Jalal Toufic, 16th International Documentary Filmfestival Amsterdam (IDFA), November 22, 25 and 29, 2003.
Home Works II: A Forum on Cultural Practices, the Lebanese Association for Plastic Arts Ashkal Alwan, Beirut, November 1, 2003.

Festival International du Cinéma Méditerranéen Montpellier, October 25 and November 1, 2003.

14th Festival Internacional De Arte Electrônica—Videobrasil, SESC Pompéia, São Paulo, September 27, 2003.
DisORIENTation: Contemporary Arab Artistic Practices from the Middle East, House of World Cultures, Berlin, April 12, 2003.
6th Sharjah International Biennial, United Arab Emirates, April 8–May 8, 2003.
Synopsis II-Theologies, National Museum of Contemporary Art, Athens, October 15, 2002–January 5, 2003.

"Contemporary Arab Representations," Fundació Antoni Tàpies, Barcelona, May 3–July 14, 2002; Witte de With, Rotterdam, September 15–November 24, 2002.

Home Works: A Forum on Cultural Practices in the Region: Egypt, Iran, Iraq, Lebanon, Palestine and Syria, the Lebanese Association for Plastic Arts Ashkal Alwan, Beirut, Lebanon, April 7, 2002.
Tampering with the Reel, Artists Space, New York, June 7–July 19, 1997.
East of Here … (re) Imagining the 'Orient, YYZ Artists' Outlet, Toronto, Canada, December 14, 1996.

References

Richard Foreman, artistic director, Ontological-Hysteric Theater. Foreman has written, directed and designed over fifty of his own plays both in New York City and abroad. Five of his plays have received OBIE awards as best play of the year—and he has received five other OBIE'S for directing and for sustained achievement. He has received the annual Literature award from the American Academy and Institute of Arts and Letters, a Lifetime Achievement in the Theater award from the National Endowment for the Arts, the PEN Club Master American Dramatist Award, a MacArthur Fellowship, and in 2004 was elected officer of the Order of Arts and Letters of France. His archives and work materials have recently been acquired by the Bobst Library at NYU. He is the author of ten books, among which Plays and Manifestos (New York University Press, 1976). Address: 152 Wooster Street, New York, NY 10012. Tel: (212) 260-3328.

Walid Raad is a professor of Art at Cooper Union. Raad has had solo exhibitions at the Louvre in Paris, the Museum of Modern Art, the Institute of Contemporary Art in Boston, Museo Jumex in Mexico City, Kunsthalle Zurich, The Whitechapel Art Gallery in London, Festival d'Automne in Paris, Kunsten Festival des Arts in Brussels, and the Hamburger Bahnhof in Berlin, among others. His works have also been shown in Documenta 11 and 13 in Kassel, Germany; the Venice Biennale; the 2000 and 2002 Whitney Biennial in New York City; São Paulo Biennial; Istanbul Biennial. He is the recipient of the Hasselblad Award in 2011, a Guggenheim Fellowship in 2009, the Alpert Award in Visual Arts in 2007, the Deutsche Börse Photography Prize in 2007, and the Camera Austria Award in 2005. Address: The Cooper Union for the Advancement of Science and Art, Cooper Square, New York, NY 10003–7120. Work phone number: (212) 353-4214. Email address: theatlasgroup@me.com.

Lyn Hejinian, professor emerita, English Department, University of California at Berkeley. Between 1982 and 1998, she was the co-editor (with Barrett Watten) of Poetics Journal. She is also the co-director (with Travis Ortiz) of Atelos, a literary project commissioning and publishing cross-genre work by poets. In 2000, she was elected the sixty-sixth Fellow of the Academy of American Poets. Selected bibliography: critical prose: The Language of Inquiry (University of California Press, 2000); Leningrad (written with Michael Davidson, Ron Silliman, Barrett Watten; Mercury House, 1991); poetry: A Border Comedy (Granary Books, 2001); The Cold of Poetry (Sun & Moon Press, 1994); The Cell (Sun & Moon Press, 1992); Oxota: A Short Russian Novel (The Figures, 1991); My Life (Sun & Moon Press, 1987). E-mail address: lynhejinian@gmail.com. Work Phone number: (510) 642–7264.
Lynn Marie Kirby is a Professor in the Media Arts Program at California College of the Arts. Her work has been exhibited at the Whitney Museum of American Art; the Museum of Modern Art, New York; Olympic Museum, Sarajevo; the Pompidou Centre in Paris; Arsenal in Berlin; Manage in St. Petersburg; Portland Museum of Art; the Kennedy Center and the Corcoran Gallery in Washington DC; LACE and MOCA in Los Angeles, the Pacific Film Archive in Berkeley; the Oakland Museum of California in Oakland; the San Francisco Cinematheque, Yerba Buena Center for the Arts, the de Young Museum, the Museum of Modern Art in San Francisco. Address: California College of the Arts, 5212 Broadway, Oakland, CA 94618. Work Phone number: (510) 594-3600. Email address: lkirby@cca.edu.
Stefania Pandolfo is a Professor of Anthropology and a faculty member of the Program in Critical Theory at the University of California, Berkeley. Her writing, teaching and research cover narrative, trauma, psychoanalysis and the unconscious, memory, historicity and the hermeneutics of disjuncture, language and poetics, experimental ethnographic writing, anthropology and literature, dreaming and the anthropological study of the imagination, intercultural approaches to different ontologies and systems of knowledge, modernity, colonialism and postcolonialism, madness and mental illness. The study of theories and forms of subjectivity, and their contemporary predicaments in the Middle Eastern and Muslim world represent the main focus of her current work. She is the author of Impasse of the Angels: Scenes from a Moroccan Space of Memory (University of Chicago, 1997) and Knot of the Soul: Madness, Psychoanalysis, Islam (University of Chicago, Chicago, 2018). Address: 201 Anthropology and Art Practice Building, University of California, Berkeley; email: pandolfo@berkeley.edu; phone: (510) 642-9229.
Allen S. Weiss. Associate Adjunct Professor, Performance Studies and Cinema Studies, New York University. His books include: Breathless: Sound Recording, Disembodiment, and the Transformation of Lyrical Nostalgia (Wesleyan University Press, 2002); Feast and Folly: Cuisine, Intoxication, and the Poetics of the Sublime (SUNY Press, 2002); Unnatural Horizons: Paradox and Contradiction in Landscape Architecture(Princeton Architectural Press, 1998); Mirrors of Infinity: The French Formal Garden and 17th Century Metaphysics (Princeton Architectural Press, 1995); Phantasmic Radio (Duke University Press, 1995); Perverse Desire and the Ambiguous Icon (SUNY Press, 1994); Shattered Forms: Art Brut, Phantasms, Modernism (SUNY Press, 1992); The Aesthetics of Excess (SUNY Press, 1989). (516) 261-7371/+1 212 998 1600. Home Address: 159 Cuba Hill Rd., Huntington, NY 11743. email address: allen.weiss@nyu.edu/allen.weiss@wanadoo.fr

Jalal Toufic is an amazing writer. He documents the moves of consciousness in a way that leads the reader ever deeper, from impasse to illusion to new impasse—turning the trap of "what can't be named" into a true paradise. Both of his books [Distracted and (Vampires)] knocked me out; totally original, totally fascinating. Richard Foreman, Artistic Director of the Ontological-Hysteric Theater, and a MacArthur Fellow
Jalal Toufic is one of the best writers in America today. Although fluent in French and Arabic, he has chosen English as his language of expression and his first 2 books, Distracted and (Vampires), are some of the best writing of the past 20 years. John Zorn, Film Works IV
Most theorists of cinema read, paradoxically, the avant-garde from the perspective of mainstream narrative film, whether unconsciously or not. This complex and disruptive, stylistically heterogeneous and hermeneutically subversive text [Over-Sensitivity] continues the project of Toufic's earlier book, (Vampires): An Uneasy Essay on the Undead in Film, in which the exigencies of avant-garde film, conversely, inform a broader reading of narrative structure, iconology, and epistemology. In this context, the author undertakes (an irresistible pun) the study of the previously neglected domain of narration from the point of view of the dead, inaugurating a major theme in which popular and traditional rituals intersect with the avant-garde. Allen S. Weiss, Sulfur 42, Spring 1998.
Relentlessly uncompromising and sometimes exasperating, Toufic's radical and visionary poetics gird the reader to forge ahead into uncharted territory.… Although sometimes couched in what looks like the language of critical theory, Toufic's formal hybridity and poetic methods sharply distinguish Forthcoming from most other titles on those shelves labeled Cultural, Poststructuralist, or Postcolonial Studies.… One could not find in current film theory anything as suggestive or useful as Toufic's writing on the relationship of medieval Islamic philosophy to certain contemporary Central Asian and Middle Eastern cinematography.… Toufic's interest in figures and movements sometimes considered heretical in the Islamic and Jewish traditions (the Nizaris, certain Shi'ites, the cabalists) opens the way to significant reevaluations of entire historical eras and relationships between languages, cultures, and peoples. In his insistence upon treating the dead as a great part of the potential force of this world, Toufic plumbs the poetics of disaster and recuperation in ways that remain both incredibly suggestive and relentlessly radical. Village Voice Literary Supplement, April 2001.
No brief comment can adequately describe this book [Undying Love, or Love Dies]; it is impossible even to categorize it. But this is true of Nietzsche's writings, too, and it is with Nietzsche that I can most readily compare Jalal Toufic. Like Nietzsche, Toufic is a writer of philosophical aphorisms, manifestations of the intensest of experiences under the pressure of incomparable intelligence. But Nietzsche was no miniaturist, and neither is Toufic. The pressure that the thinking must withstand makes the writing remarkably concise, but its power is enormous, its scope vast, its effect sweeping. This, Jalal Toufic's fifth book, can be read as a single aphorism, an aphorism composed of aphorisms. And though it is the shortest of his books to date, it is perhaps also the greatest.… Toufic's writings have already attracted something of a cult following; it is likely that Undying Love, or Love Dies will bring him a far larger readership. Certainly that is something to be hoped for. There is, in my opinion, no more subtle or powerful thinker today than Jalal Toufic, and none whose ideas are, in the end, more beautiful. Lyn Hejinian, author of A Border Comedy, The Cold of Poetry, The Cell, My Life, The Language of Inquiry, and John F. Hotchkis Professor of English, University of California at Berkeley.
Shakespeare, the myth of Orpheus, Sufi poetry and the Qur'an is not just touched upon lightly here [Undying Love, or Love Dies] but deeply dissected, rearranged and returned to their transcendent order within Toufic's amorous meditations. By turns mournful and magical, the book meanders through the Los Angeles of a decidedly cultured set, yet seems timeless in breadth, convincing in tone and earned in its broad field of reference. … Set pieces include a breathless re-creation of the drama of Orpheus's ascent from hell (he is a much more melancholic, flawed and regretful hero in Toufic's telling) and a ludic, yet compelling discourse on the Islamic creation myth. In the latter, Iblis (the Islamic equivalent to Satan) creates, in a six-day frenzy, the lower emotions (sadness, guilt, idolatry, sloth) to compensate for the suffering he felt from being separated from God. The son of an Iraqi father and a Palestinian mother, Toufic lived in Lebanon for 17 years, and Undying Love is haunted by death…. This short book, written in the high postmodern style that is digressive yet psychologically astute, is also—with its litany of crushed cities, its violent relationship to tradition, its intimacy that can't assuage grieving—a resonant epigraph for war-torn cultures that pass into memory with no formal mnemonic, no epics or stone ruins, to keep them close. Publishers Weekly, March 2003.
This year has already seen the publication of Toufic's Undying Love, or Love Dies (Post Apollo), a book that among other things unforgettably re-writes various versions of the Orpheus myth, as well as the release of a "revised and expanded" version of (Vampires): An Uneasy Essay on the Undead in Film (also from Post Apollo), first published in 1993, and written for "mortals to death." (Vampires) is a sort of sequel to Toufic's 1991 debut Distracted, explicitly written for the living and here becoming what Toufic calls an "untimely collaboration" with the author of the original edition and of (Vampires) too. As one proceeds through the book [Distracted]'s aphoristic prose paragraphs, very different eras and states of being seem to flow along and past one another and through the speaker's utterly unique sensibility. The book is thus not so much about what happens when Raymond Roussel repeats a sentence but changes billard (pool table) to pillard (plunderer), or about theories of the effects of "surpassing disaster" on cultures (including Jewish and Shi'ite) and literatures, or about reactions to how love, drunkenness and distraction are rendered by (and in) the deeply interconnected media of memory, film and language. Rather, the book records a kind of double or even multiple experiences of these things (what Toufic elsewhere calls an "over-turn"), with eternal recurrence and total dissolution as its horizons. There is nothing else in literature like it. Publishers Weekly, November 2003.
Focus Jalal Toufic: Irruptions of the Real: With a modest retrospective, IDFA pays homage to the many-sided writer, film theoretician and video artist Jalal Toufic. Although much of his work has political overtones—rather inevitable, being a Lebanese artist and son of an Iraqi father and a Palestinian mother—the philosophical reflections, the humor and the curiosity about all facets of life are the most distinctive characteristics of his short video films. Toufic's subjects range from sleeplessness (Phantom Beirut: A Tribute to Ghassan Salhab, 2002) and torn election posters (the humorous Saving Face, 2003) to the dead and undead (The Sleep of Reason: This Blood Spilled in My Veins, 2002). 16th International Documentary Filmfestival Amsterdam.
In memory of the 680 A.D. slaughter of Al-Husayn, the grandson of the prophet Muhammad, a yearly commemoration of 'Āshūrā' takes place in Lebanon. In Jalal Toufic's rigorous video ['Āshūrā': This Blood Spilled in My Veins], footage of the accompanying rituals is intercut with related blessings and prayers, as well as lamentations and elegiac music, all presented in extended takes with no commentary. To these events are added recorded interviews with Gilles Deleuze and Jacques Derrida, and a classroom lecture by the filmmaker himself. Without directly addressing 'Āshūrā', their considerations open up our experience of the commemoration. One of the final scenes takes place at the end of the ten-day ceremony when participants lacerate themselves with swords. This act helps maintain the memory not only of the past but of the future, in particular, the promise to await the redeemer, the twelfth Imam. Hovering between a theoretical exploration and ethnographic documentation, between excess and minimalism, 'Āshūrā' is a fascinating examination of the relationship between rituals, memory, and history. Kathy Geritz, Associate Film Curator, Pacific Film Archive.
Toufic is at the core of a small but staunch group of Beiruti artists who have—collectively and separately—made a strong case for there being an intellectually rigorous, critically engaged, and ultra-contemporary platform for cultural practice developing in Lebanon and in the region. Toufic has been instrumental not only as an artist in his own right but also as an instigator or catalyst, someone is known to push his colleagues and students to create better, more complex, and more probing work.… Toufic is one of the most active and ambitious figures in the Arab world who—book by book—has endeavored to sculpt a critical, theoretical language of the Arab world. The Daily Star, Lebanon, 21 August 2004.
A Festival with its logo riddled—like the walls of its city—with bullets, Né à Beyrouth (Born in Beirut) took place from Friday 19 August to Tuesday 23 August… Boos greeted Jalal Toufic's all the same very beautiful cinematographic essay A Special Effect Termed "Time"; or, Filming Death at Work, where the author films a child at different stages of his life, extending the length of his shots only to end on a 12-minute sequence, with no camera movement, showing the boy immersed peacefully in his sleep (Festival au logo criblé de balles, comme les murs de sa ville, Né à Beyrouth a eu lieu, du vendredi 19 au mardi 23 août… Des huées ont accueilli le pourtant très bel essai cinématographique de Jalal Toufic A Special Effect Termed "Time"; or Filming Death at Work, où l'auteur filme un enfant à différents stades de sa vie, en étirant la longueur de ses plans pour terminer sur une séquence de 12 minutes, fixe, montrant le garçon paisiblement plongé dans son sommeil). Le monde, France, 26 August 2005.
I also realize that I read about all this somewhere else, most likely in one of Jalal Toufic's books. I mentioned in our earlier conversation that I am likely to quote Jalal quite a bit in any exchange we have simply because I am not able these days to find my thoughts without passing through his words, books, and concepts. Walid Raad, in Silvia Kolbowski and Walid Raad's Between Artists (Canada: A.R.T. Press, 2006).
Some of the artists here [the exhibition Art Now in Lebanon … at the Jordanian arts foundation Darat al-Funun] have been active for more than a decade and have earned international artworld respect. Walid Raad, for example, is a critics' darling and a veteran of Documenta, the Venice Biennale and the Whitney Biennial; Akram Zaatari and Rabih Mroué are both showing new work in Paris' Centre Pompidou for the concurrent, Middle East-themed exhibition "Les Inquiets," which runs until May 19; Jalal Toufic is the author of eight books, seven videos and five multimedia projects, and is generally considered the brain of the bunch. Kaelen Wilson-Goldie, The National newspaper, Abu Dhabi, 20 April 2008.
Unabashedly controversial, this [Undeserving Lebanon] may be Toufic's most vital effort yet. Undeserving Lebanon is a work of creative exegesis in which radical interpretations of texts "profane" and "sacred" (including a passage from vampire films, the paintings of Francis Bacon, quantum physics, and the Koran) bear on one another with equal force and urgency.… Toufic reveals the resonances of translation between radical Eastern and Western positions, and he partakes in a larger project to relate cultural-historical particulars through a decisively messianic worldview. Toufic's messianism is articulated through its principal term: "forthcoming" (both the title of his 2000 book and the name of Toufic's own press). Not unlike the transcendental terminology of previous 20th-century thinkers—Levinas/Derrida ("trace"), Benjamin ("now time"), and Blanchot ("disaster")—the term "forthcoming" also refers to an interval outside historicity, as to be forthcoming is to be of a duration sensitive to subtle worlds—worlds defined by Toufic's conceptions of Parousia ("presence") and occultation ("withdrawal"). Thom Donovan, review of Undeserving Lebanon, Modern Painters 20, no. 3 (April 2008): 91.
Addressing a crowded lecture room several days after the opening of the Sharjah Biennial, Walid Raad began, "This seminar will introduce you to the writings of Jalal Toufic, in case some of you aren't familiar with them." … Raad and Toufic, two towering figures in the Lebanese art community, have a new gospel—Toufic's theoretical writings—and over the last four years have toured their hyperabstruse seminar to cultural institutions from Berlin to New York and Vienna, and this year to Sharjah and Paris. While Raad is well known internationally for his "Atlas Group" (1999–2007) … Toufic remains a more enigmatic video artist and film theorist. Art Asia Pacific, no. 75 (September/October 2011): 65.
Jalal Toufic is a thinker whose influence in the Beirut artistic community over the past two decades has been immense—notwithstanding that, as he put it, many, if not all of his books, most of which were published by Forthcoming Books, "continue to be forthcoming even after their publication." In relation to one of these books, he wondered: "Does not a book titled Forthcoming suggest, ostensibly paradoxically, a second edition?" Here's the revised edition of Forthcoming, a book first published nearly a decade and a half ago by Atelos press. Julieta Aranda, Brian Kuan Wood, and Anton Vidokle, editors of the e-flux journal-Sternberg Press book series.
What Was I Thinking? is an initiation into thinking.… Jalal Toufic is today and has been for some time, the most original thinker on the planet. He assumes the challenge stated by Heidegger in What Is Called Thinking? by his own thinking (by writing this book). To imagine the best possible worlds, to go into uncharted territory; these worlds are eminently those of the arts (as he practices them, as he delves into their layers, their paradoxes, their darings, ever admitting their maddening inbuilt inaccessibility). His kind of endeavor takes tremendous courage. And a unique freedom: letting his mind go into unpredicted ascertainments so that his writing "does not fall apart two days later." Situated somewhere close to the spirit of Einstein's General Theory of Relativity and Nietzsche's breakthroughs, we can say that Jalal Toufic is indeed a "destiny." Etel Adnan (from her blurb for What Was I Thinking?, e-flux journal-Sternberg Press, 2017).
A brilliant, ramifying series of thought experiments, Postscripts rigorously avoids becoming a no-stakes mind game. Here, the stakes—political, aesthetic, ethical—are quite high. For, the experiments are rigged to combust those ideas and stances that—insufficiently tolerant of counterfactuals—fail to pass their test. Deadly serious and humorous at once, these thought rifts for a moment to expose what is unthinkable—but for the creative collaboration, they stage between the two aspects of "the mortal, dead while still alive"—before it is once again abducted. Jalal Toufic invents and masters his own transversal genre, sentence by ingeniously-placed sentence. Joan Copjec, Professor of Modern Culture and Media at Brown University, author of Read My Desire: Lacan Against the Historicists.
Some works are not just thought-provoking, Jalal Toufic told us; they are also initiations into thinking. Such have been many of his own books and videos, including now Postscripts. They have brought new concepts and proposed original ways to ponder the most troubling questions of our time. Postscripts's aphorisms function as supplements to his previous books, as at once clarifications and disclosures. Built of discontinuous scenes that are at once here and elsewhere, reflections and fully formed receptions, they are "knockings" in the slumber of our world. What does it mean to be really alive?

Running throughout the work are beading of kindred questions about the entanglement and/or indiscernibility of reality and fiction, simulation or phantasy, of dreaming and wakefulness, of life and death (the latter is, paradoxically, settled by the seeming question "Am I dead?").

Some of the concepts the book revisits comprise the architecture of Toufic's speculative reflection: for example, radical closure, the withdrawal of tradition past a surpassing disaster, and the dancer's two bodies. They were created, partly through Toufic's "untimely collaborations" with filmmakers, artists, and dancers, and yet they were also "encountered" (by the subtle body of the thinker-artist), as imaginal entities, autonomous presentations, and resonate with such traditions of being and thought as the Sufism of Ibn al-'Arabī and psychoanalysis. An example is Toufic's engagement with psychoanalysis' theorization of jouissance, which has proved to be a key to our time. In counterpoint to its addictive and overwhelming force, which "strikes directly the libidinal system," he proposes the overwhelming experience of joy, which "touches directly the soul."

At once timely and untimely, worldly and unworldly, engaging the reader, and even funny at times, Postscripts will change the way we look at ourselves and our world. Stefania Pandolfo, Professor of Anthropology and faculty member of the Program in Critical Theory at UC Berkeley, and author of Knot of the Soul: Madness, Psychoanalysis, Islam.
Research Interest
Thought Mortality (Thought-provoking and/or art-provoking)
Joy/Jouissance
The withdrawal of tradition past a surpassing disaster
The dancer's two bodies
Radical closure and the irruption of unworldly ahistorical fully-formed entities that it allows
Creating universes that don't fall apart "two days" later