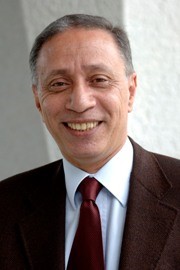 Ibrahim
Awad
Position
Professor of Practice and Director
Department
Department of Public Policy and Administration
Profile
Brief Biography
Ibrahim Awad is a political scientist and political economist. At present, he is a professor of practice of global affairs and the director of the Center for Migration and Refugee Studies in the School of Global Affairs and Public Policy at The American University in Cairo. He holds a BA in political science from Cairo University and a PhD in political science from the Graduate Institute of International and Development Studies, University of Geneva, Switzerland.
He has worked for the League of Arab States, the United Nations and the International Labor Organization, holding positions such as secretary of the commission, UN-ESCWA; director, ILO Sub-Regional Office for North Africa; and director, ILO International Migration Program. 
Publications
"The Making and Unmaking of the 2012 Constitution in Egypt", in North Africa: from Status Quo to (R)evolution, edited by Yahia Zoubir and Greg While (Routldge, 2015)
"Labour Migration Governance in Times of Political Transition: A Comparative Analysis of Egypt and Tunisia," Migration and Development, published online on September 30, 2015 and available here. 
"Population Movements in the Aftermath of the Arab Awakening: The Syrian Refugee Crisis between Regional Factors and State Interest," in Migration in the Mediterranean (University of Malta 2014)
"Breaking Out of Authoritarianism: 18 Months of Political Transition in Egypt" (Constellations, 2013)
"International Migration in Africa" (African Yearbook of International Law, 2008, Brill/Martinus Nijhoff, 2010),
"Migraciones laborales internacionales en tiempos de crisis económica: 2008-2009", in Migraciones laborales, acción de la OIT y política europea, Margarita Isabel Ramos Quintana (coordinadora). Albacete, Editorial Bomarzo, 2011, pp. 19-57.
"La question de l'emploi entre la recherche arabe et les institutions financieres internationals," in Les sciences sociales en voyage. L'Afrique du Nord et le Moyen-Orient vus d'Europe, "d'Amerique et de l'interieur, sous la direction d'Eberahrd Kienle" Paris, IREMAM-CARTHALA, 2010.
"International Migration in Africa," guest editor regarding this special theme in the African Yearbook of International Law, 2008. Leiden, Brill/Martinus Nijhoff, 2010.
"Introduction: Concepts, Practice and Policies of International Migration in Africa," Ibid.
Research Interest
International Migration
Employment
Human and Labor Rights
Development
Politics and political transitions in the Middle East and North Africa
International Relations
Global Governance