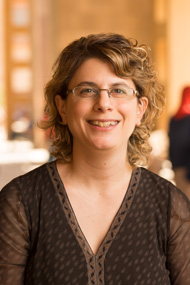 Helen

Rizzo
Position:

Associate Professor and Sociology Unit Head

Department:

Department of Sociology, Egyptology and Anthropology

Email: hrizzo@aucegypt.edu
Brief Biography
Helen Mary Rizzo is an associate professor of sociology at The American University in Cairo and she received her PhD in sociology from Ohio State University in 2000. She has published numerous articles on public opinion, citizenship rights and the democratization process in Kuwait. Her book, Islam, Democracy and the Status of Women: The Case of Kuwait, was published in 2005 by Routledge Press. 
Her more recent projects include working with colleagues from anthropology and media studies on a British Academy Small Grants funded project, titled Youth Perspectives on Gender Norms and Public Sexual Violence in Cairo: Cultural and Media Perspectives, in addition to research focusing on social movement campaigns against street sexual harassment in Egypt. Rizzo has also volunteered in the Egyptian Center for Women's Rights campaign titled Making Our Streets Safe for Everyone and worked as a research consultant with Harassmap, an initiative to end the social acceptability of sexual harassment.  
She is currently the Unit Head of Sociology and serves on the graduate advisory committee of the Cynthia Nelson Institute for Gender and Women's Studies at AUC.
Research Interest
Research Interests
Political sociology, with a focus on democratization and development in the Middle East
Stratification, emphasizing gender and race/ethnicity
Teaching Interests
Research methods and statistics
Political sociology
Social stratification, including international
Sociology of development
Sociology of gender
Introductory sociology
Race/ethnicity
Sociology of religion
Sociological theory
Gender and development
Arab family