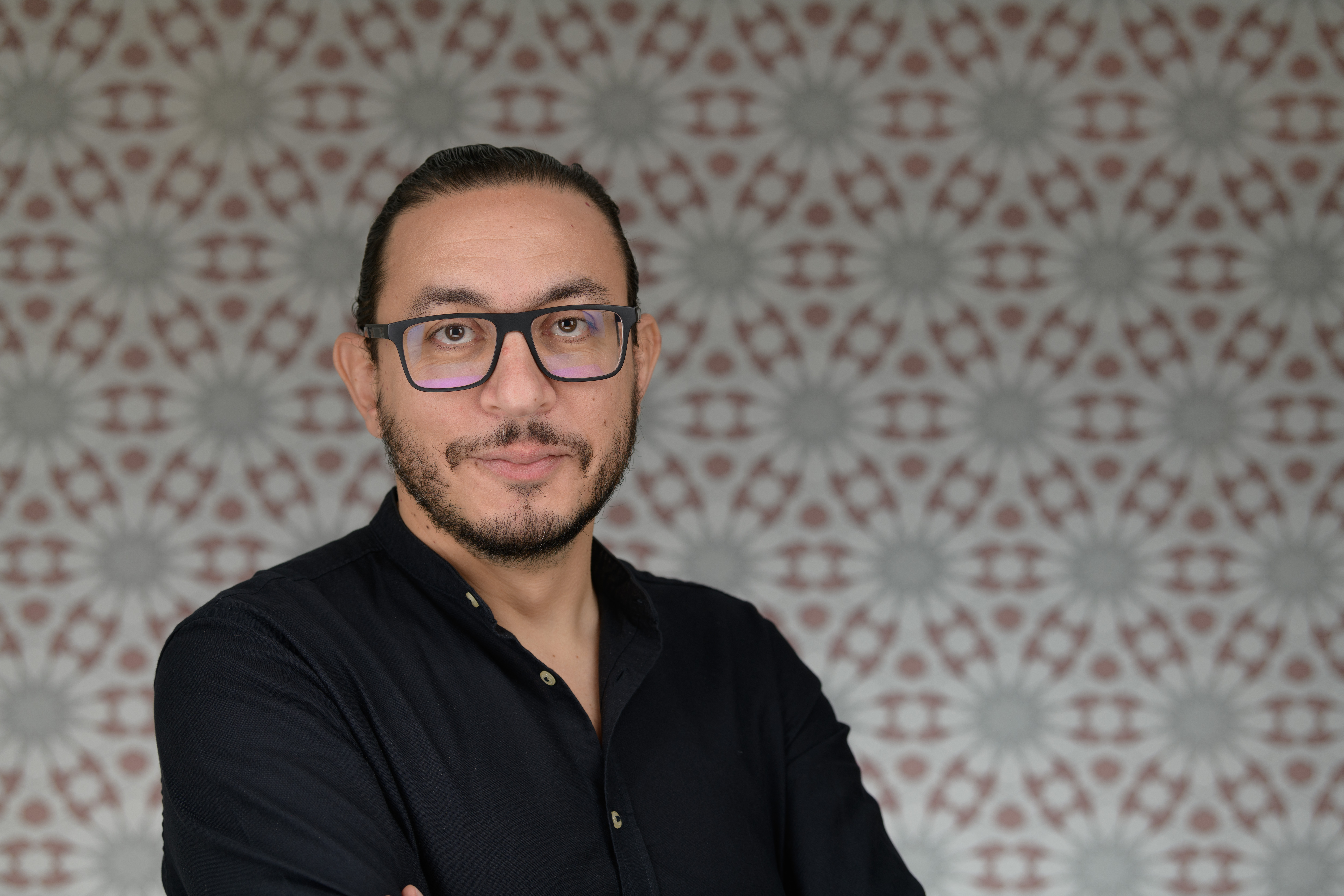 Haytham
Nawar
Building
AUC Center for the Arts
Position
Associate Professor
Department
Department of the Arts
Profile
Brief Biography
Haytham Nawar is a practicing artist and designer, as well as a scholar in the fields of art and design. He has built his professional and academic career over the past two decades, simultaneously fulfilling different roles.
Nawar's extensive experience spans continents as he worked at the Ionian Centre for Art and Culture in Kefalonia, Greece, and taught at the School of Design in Hong Kong, in the Department of Communication Design, Polytechnic University. In 2014, he pursued his academic career as an Assistant Professor of Design at the American University in Cairo (AUC), where he served as director of the Graphic Design Program from 2016 to 2019 before holding the post of chair of the Department of the Arts at AUC since 2019.
Nawar is a two-time Fulbright Grantee. He was a Fulbright Visiting Artist at the School of Visual Arts (SVA), New York, USA, in the academic year 2011-2012. Later, in the academic year 2017-2018, he was a Fulbright Visiting Scholar conducting post-doctorate research at the ArtSci Center of UCLA, LA, USA.
Besides his academic career, Nawar is the founding director of Cairotronica, Cairo International Electronic and New Media Arts Festival, Egypt. Cairotronica is a biannual festival that takes place in Cairo since 2016.
Books

Language of tomorrow:

Towards a Multicultural Visual Communication System in a Post-Human Era

, Intellect Ltd. Bristol, UK, 2020.

A History of Arab Graphic Design,

co-authored with Bahia Shehab and published by the American University in Cairo Press, Egypt, 2020.

Book Chapters

Lü

di Kong, E., Bao-G

ö

tsch, N., Baur, V., D

'

Amore, M., Fasel, S., Felsing, U., Jie, W., Kilch

ö

r, F., Maione, M., Moser, J., Nawar, H., Wilhelm, R., Baur, R.

Visual Coexistence: New Methods of Intercultural Information Design and Typography

, Lars M

üller Publishers, Switzerland, 2020.

Borysevicz, M., Bing, X., Nawar, H., Cross-cultural shift: from alphabets to pictographs, The book about Xu Bing

'

s Book from the ground, Massachusetts Museum of Contemporary Art; Cambridge, Massachusetts: The MIT Press, 2014, pp 55-63.

Journal Papers and Essays

Nawar, H.

Collective Bread Diaries: Cultural Identities in an Artificial Intelligence Framework.

AI & SOCIETY, 2019, pp 1-8.

Nawar H., Designing a Generative Pictographic Language. Design, User Experience, and Usability: Designing Interactions. DUXU 2018. Springer, Cham, Volume 10919, 2018, pp. 285–296.
Evans, K., Malina, R., Nawar, H., Nazir, C., CURRICULUM IN THE CRACKS: Encouraging Cross-Disciplinary and Art- Science-Humanities Teaching. ISEA 2018, Durban, South Africa., 2018, pp 426-429.
Elsrakbi, G., Nawar, H., Arabic Calligraphy of Downtown Cairo: From Holy to Vernacular, Khotout West ElBalad, J. Walter Thompson, Cairo, 2016, pp 22-53.
Nawar, H., Gabr, H., Multicultural/Cross-Cultural Emotional Design: The Usage of Pictographs to Design Emotional Interactive Environments, Universal access in human-computer interaction, UAHCI 2013, Springer, Volume 8010, 2012, pp 383-393.
Nawar, H., Multilingualism, visual integration, and transculturalism, Technoetic Arts 10 (2-3), 2012, 239-246.
Nawar, H., Multicultural transposition: From alphabets to pictographs, towards semantographic communication, Technoetic Arts 10 (1), 59-68, 2012.

Selected Creative Practices

Nawar has also participated in several international exhibitions, biennales, and triennials since 1999. Most importantly, in 2015, he took part in The Seven Days, The Heavens and The Earth, In the Eye of Thunderstorm Exhibition at the 56th Venice Biennale, Italy.

In 2016, Khotout West El Balad, a project in which a team of six designers explored Arabic typography of Downtown Cairo, and as a result, designed and generated six Arabic fonts. This project documents the letterforms of Downtown Cairo and recreates them as a restoration and preservation of the old neighborhood and its revival in contemporary times. The project captures letterforms from different eras, their various uses, and how they integrated into the daily lives of the societies they addressed.

In 2018, Nawar's work was on display in the exhibition titled Collective Bread Diaries: A Taste of Protest at the Art|Sci Gallery, UCLA CNSI CENTER, Los Angeles, USA. Collective bread diaries: cultural identities in an artificial intelligence framework is a project that explores the meaning of the bread and what it signifies to people from all over the world. It came to be as an interactive art project, employing the artificial intelligence of the MTurk platform in its investigation of "bread" as one's peculiar voice and political statement.

Services and Memberships

2020:

AI Artathon Judge, Ministry of Culture, Riyadh, Saudi Arabia.

2018, 2020:

Prix Ars Electronica Advisory Board

and Jury Member

, Linz, Austria.

2014-2020

:

Jury Member, Selection Committee, Reviewer, and Interviewer for the Binational Fulbright Commission in Egypt.

2016, 2018:

Member, Nomination Committee, (New Media Art) Prince Claus Awards,

Prince Claus Fund for Culture and Development (PCF), Amsterdam, the Netherlands.

2015-2019:

Jury Member, Granshan International Competition for Non-Latin Type Design.

PhD

,

Centre for Advanced Inquiry in Integrative Arts (CAiiA Hub), The Planetary Collegium, Faculty of Arts, School of Art and Media, Plymouth University, UK, 2016.

MA

,

Advanced Studies ZFH in Spatial Design, the Institute of Design & Technology, Zurich University of the Arts, Switzerland, 2009.

MFA

,

New Media, Faculty of Fine Arts, Helwan University, Cairo, Egypt, 2007.

BFA

,

Printmaking

from,

Faculty of Fine Arts, Helwan University, Cairo, Egypt, 2000.
Research Interest
Nawar is researching, writing, and publishing in the field of design History and practices with a focus on the Arab World and Africa. In general, Nawar is interested in multiscriptual design, Arabic type design, and typography. Nawar is also interested in pictographic communication systems as well as the notions of trans-culturalism and posthumanism. His engagement in the new media art community lead him to seek projects that challenge the boundaries between humans and machines in design and art. At present, Nawar is carrying out an ongoing project about Designing a Generative Pictographic Language that utilizes machine learning with the goal of producing a unique investigation of the existing, yet unconsciously neglected, relations among the diverse cultures of many civilizations. In addition, he is currently working on two research projects: one that investigates and reflects on multiscriptual communication in Egypt and its important role in defining the Egyptian visual cultural identity, and the second about design and visual cultures in Africa that are barely acknowledged and recorded.