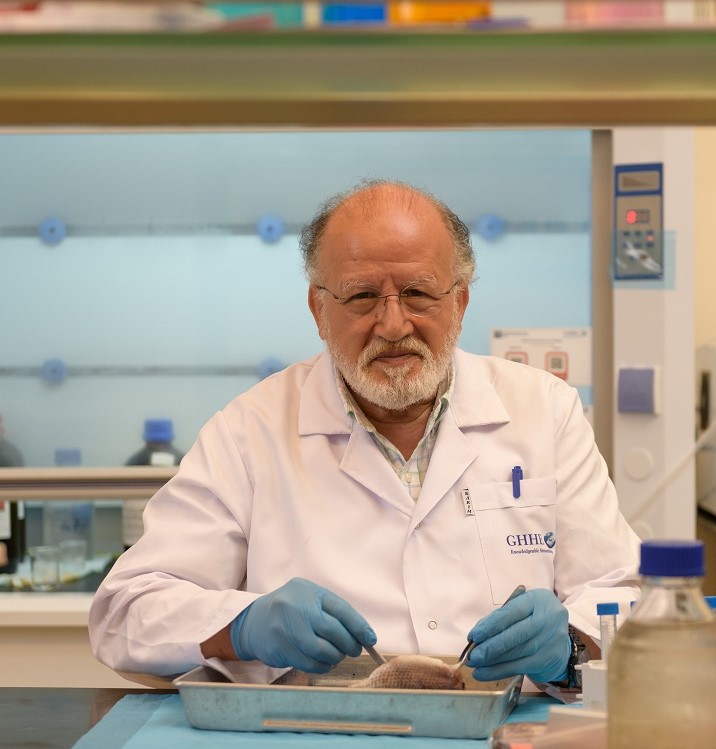 Hassan

El-Fawal

Brief Biography

Hassan El-Fawal describes himself as a son of academia, having grown up in an extended family of academics and researchers. He earned his BSc in Entomology and Pesticide Chemistry from the Faculty of Agriculture and Environmental Sciences, Alexandria University. It was there that he fell in love with neuroscience and toxicology. Returning to the USA, he started a journey of discovery in Cornell University, after which he worked in generic pharmaceuticals and organic solvents industries for trhee years. He went on to earn his MSc, from the University of Guelph, Canada, and PhD in Biomedical and Veterinary Medical Sciences from Virginia Tech. El-Fawal was a Research Assistant Professor at New York University Medical Center's Institute of Environmental Medicine. Recruited by Mercy College, a Liberal Arts institution, he developed, and taught, Natural and Biomedical Sciences curricula for undergraduate Biology, Health Sciences and graduate Health Professional Programs in Physical Therapy, Occupational Therapy, Speech Pathology, Physician Assistant Studies, Acupuncture and Oriental Medicine, and Advanced Nurse Practitioner Programs. He joined Mercy College as Associate Chair, then Chair of the Division of Natural Sciences and Veterinary Technology, and was Director of the Environmental Health and Safety program, as well as developing courses in Islamic History and Arabic. Prior to joining the American University in Cairo (AUC) in 2016, he was professor and founding dean of the School of Health Sciences with joint appointment as Professor of Pharmacology and Toxicology in the Department of Pharmaceutical Sciences at Albany College of Pharmacy and Health Sciences, where he developed undergraduate and graduate programs in Medical Diagnostics, Biotechnology, Nanomedicine, and Health Outcomes Research and Informatics. El-Fawal has been a member of the Society of Toxicology for more than 30 years, and is a member of editorial boards in Bionanosciences, and Nutritional Pharmacology. His research is in the area of Environmental Health, with a particular focus on developing diagnostic tests of neurodegeneration, environmental cardiopulmonary diseases, and nanosafety. However, his mission is to break down barriers that impede meaningful progress and solutions for the human condition. Believing that one should not just talk the talk, but must walk the walk, El-Fawal has been instrumental in establishing the interdisciplinary Institute of Global Health and Human Ecology (I-GHHE), with graduate offerings in Global Public Health and Environmental Sustainability. Consistent with this is I-GHHE's Center for Applied Research on the Environment and Sustainability (CARES).

As a relaxation from his administrative responsibilities, El-Fawal seeks opportunities to interact with students through teaching and research. El-Fawal has trained nearly 80 undergraduate, Masters, Doctorate and Post-doctorate fellows in the course of his career. Read More

Research Interest

Research work in El-Fawal's Laboratory revolves around applying innovative technology to address health and environmental challenges. However, he believes in a holistic approach that recognizes the interplay with the ethical, social and policy determinants of health and environmental sustainability. In keeping with this, his laboratory works with engineers, biologists, chemists, physicians, pharmacists and other health professionals, as well as social and behavioral scientists, and regulatory professionals. El-Fawal believes that sustainable solutions to challenges can only be addressed through a team-effort that inculcates social responsibility, beyond the laboratory, classroom, or the narrow definition of community. The diversity of El-Fawal's interests is further exemplified by the courses he has taught and teaches.