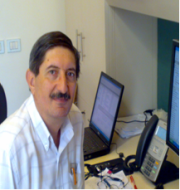 Hassanein

Amer
Position:

Professor

Department:

Department of Electronics and Communications Engineering

Email: hamer@aucegypt.edu
Brief Biography
Hassanein H. Amer is a professor in the Department of Electronics and Communications Engineering at The American University of Cairo. He was the founding chair of the department, serving from September 2004 through August 2008.
Amear received his BSc in electronics engineering from Cairo University in 1978, and his MSc and PhD degrees in electrical engineering from Stanford University, California, United States in 1983 and 1987 respectively. He founded the SEAD research group in 2003. He is a member of the IEEE Reliability Society since 1985, a member of the Industrial Relations Committee for the IEEE SMC Society and an honorary member of the International Society for Advanced Research. 
Research Interest
His research interests include the reliability and testing of digital and mixed-signal circuits, reliability modeling, fault modeling in VLSI, self-checking circuits, analysis of temporary failures, cache memory systems, networked control systems and wireless communications.