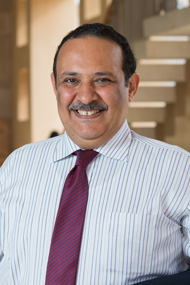 Hassan
Azzazy
Building
School of Science and Engineering
Position
Professor and Chair
Department
Department of Chemistry
Profile
Brief Biography
Hassan Azzazy is a tenured professor of Chemistry (2003-present) at The American University in Cairo (AUC). He serves as the Chairman of Chemistry Department and was the Associate Dean for Graduate Studies and Research at the School of Sciences and Engineering, AUC. He is the founder of the Novel Diagnostics & Therapeutics Research group and the director of the International Medical Laboratory Scientists training program at AUC.
Azzazy was a postdoctoral fellow and assistant professor at University of Maryland School of Medicine, Baltimore, MD (1995-2002). Azzazy is a graduate of Alexandria University, Egypt and received his PhD from the School of Biomedical Sciences, University of North Texas Health Science Center, Fort Worth, TX (1994). He holds two board certifications in Clinical Chemistry and Molecular Diagnostics from the American Board of Clinical Chemistry, Washington, DC. He is certified as a Specialist in Chemistry by the Board of Certification, the American Society for Clinical Pathology in Chicago, IL.
Azzazy has over 28 years of experience in biomedical research and he is the founder of Novel Diagnostics and Therapeutics Research group. A core interest of this group is the development of innovative diagnostics for accurate and affordable detection of biomarkers of infectious agents and cancer. Detection strategies combine the use of nanosensors, chips, smart phones, 3D printers, and/or robotics. He is also interested in drug design, subcellular targeting of drugs using smart biodegradable nanocarriers, and development of biodegradable honey chitosan nanofibers for use as antibacterial wound dressings.
Azzazy authored over 85 scientific publications in international refereed journals, 70 conference presentations, and 25 book chapters. He serves on the editorial boards of Clinical Biochemistry (Elsevier), Clinica Chimica Acta (Elsevier), and Clinical Chemistry Laboratory Medicine (De Gruyter). Azzazy has co-founded two nanomedicine startup companies. He is the CTO of D-Kimia, LLC innovative diagnostic solutions and the CEO of NanoEbers, LLC for nanofiber wound dressings.
Ahmed Shahat, Hassan M.A. Hassan, Hassan M.E. Azzazy, E.A. El-Sharkawy, Rabiul Awual. (2018) "Novel hierarchical composite adsorbent for selective lead (II) ions capturing from wastewater samples" Chemical Engineering Journal (Elsevier), 332: 377-386.
Ahmed Shahat, Hassan M.A. Hassan, Hassan M.E. Azzazy, Mohamed Hosnid, Rabiul Awuale. (2018) "Novel nano-conjugate materials for effective arsenic (V) and phosphate capturing in aqueous media" Chemical Engineering Journal (Elsevier), 331:54-63.
Mansour A, Tammam S, Althani A, Azzazy HME. (2017) "A single tube system for the detection of Mycobacterium tuberculosis DNA using gold nanoparticles based FRET assay" J Microbiol Methods (Elsevier), 139:165-167. doi: 10.1016/j.mimet.2017.06.001. Epub 2017 Jun 2. PubMed PMID: 28579440.
Sarhan WA, Azzazy HM. (2017) "Apitherapeutics and phage-loaded nanofibers as wound dressings with enhanced wound healing and antibacterial activity. Nanomedicine (Lond)" 12(17):2055-2067. doi: 10.2217/nnm-2017-0151. Epub 2017 Aug 14. PubMed PMID: 28805554.
Tammam SN, Azzazy HM, Lamprecht A. (2017) "The effect of nanoparticle size and NLS density on nuclear targeting in cancer and normal cells; impaired nuclear import and aberrant nanoparticle intracellular trafficking in glioma" Journal of Controlled Release (Elsevier), 253:30-36. doi: 10.1016/j.jconrel.2017.02.029.
El-Samadony H, Althani A, Tageldin MA, Azzazy HM. (2017) "Nanodiagnostics for tuberculosis detection" Expert Rev Mol Diagn,  doi: 10.1080/14737159.2017.1308825
Tammam SN, Khalil MA, Abdul Gawad E, Althani A, Zaghloul H, Azzazy HM. (2017) "Chitosan gold nanoparticles for detection of amplified nucleic acids isolated from sputum" Carbohydrate Polymers (Elsevier), 15;164:57-63. doi: 10.1016/j.carbpol.2017.01.051.
ElBagary R, Azzazy HME, ElKady EF, Farouk F. (2016) "Simultaneous determination of metformin, vildagliptin, and 3-amino-1-adamantanol in human plasma: Application to pharmacokinetic studies" Journal of Liquid Chromatography & Related Technologies, 39:4, 195-202, DOI: 10.1080/10826076.2016.1144202
Sarhan WA, Azzazy HME, El-Sherbiny IM. (2016) "Honey/Chitosan Nanofiber Wound Dressing Enriched with Allium sativum and Cleome droserifolia: Enhanced Antimicrobial and Wound Healing Activity" ACS Appl Mater Interfaces, 8(10):6379-90. doi: 10.1021/acsami.6b00739.
Tammam SN, Azzazy HME, Lamprecht A. (2016) "How successful is nuclear targeting by nanocarriers?" Journal of Controlled Release (Elsevier), 229: 140-53. doi: 10.1016/j.jconrel.2016.03.022.
Abbas Y, Azzazy HME, Tammam S, Lamprecht A, Ali ME, Schmidt A, Sollazzo S, Mathur S. (2016) "Development of an inhalable, stimuli-responsive particulate system for delivery to deep lung tissue" Colloids & Surfaces B Biointerfaces (Elsevier), 146:19-30. doi: 10.1016/j.colsurfb.2016.05.031.
Sarhan WA, Azzazy HME, El-Sherbiny IM. (2016) "The effect of increasing honey concentration on the properties of the honey/polyvinyl alcohol/chitosan nanofibers" Material Science & Engineering C: Materials for Biological Applications (Elsevier), 67:276-84. doi: 10.1016/j.msec.2016.05.006.
Tammam S, Malak P, Correa D, Rothfuss O, Azzazy HME, Lamprecht A, Schulze-Osthoff K. (2016) "Nuclear delivery of recombinant OCT4 by chitosan nanoparticles for transgene-free generation of protein-induced pluripotent stem cells" Oncotarget , 7(25):37728-37739. doi: 10.18632/oncotarget.9276.

1994: PhD, University of North Texas Health Science Center at Fort Worth, United States of America
1987: Post-Graduate Diploma, Alexandria University, Egypt
1984: BSc, Alexandria University, Egypt

2016: Plaque of Recognition for significant contributions as the Founder & Director of International Medical Laboratory Scientist Training Program, AUC.
2015: First Place, Arab Innovation and Entrepreneurship Award, 17th Arab Businessmen and Investors conference, Abu Dhabi, UAE.
2014: Global Innovator Award, Texas Christian University, Fort Worth, TX, USA.
2012: AUC Provost Award for co-chairing AUC 2012 Annual Research Conference on Entrepreneurship and Innovation, AUC.
2012: State Prize, Momtaz El-Sawi Excellence Award in Hematopathology and Laboratory Medicine, National Academy for Scientific Research & Technology, Cairo, Egypt
2011: State Prize for Excellence in Advanced Technological Sciences, National Academy for Science & Technology, Egypt
2011: First Place Prize, 7th Arab Technology Business Plan Competition, Arab Science & Technology Foundation (ASTF), Bahrain Kingdom.
2011: Third Place Prize, 2011 Intel Global Challenge, UC Berkeley, CA, USA.
2010: AUC 2010 Excellence In Teaching Award, AUC.
2008: AUC 2008 Excellence In Research & Creative Endeavors Award, AUC.
Research Interest
In vitro diagnostics
Biosensors
Clinical laboratory medicine
Drug delivery using nanocarriers
Nanobiotechnology
Entrepreneurship