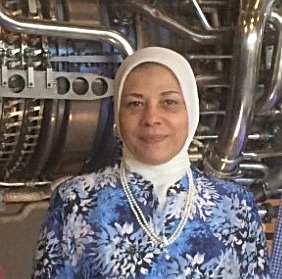 Hanadi

Salem
Position:

Professor and MENG Chairperson

Department:

Department of Mechanical Engineering

Email: hgsalem@aucegypt.edu
Brief Biography
Hanadi Salem is a professor and chair of the Department of Mechanical Engineering. She resumed her duties as chair of the mechanical engineering department on July 1, 2020. She was the elected Chair of the University Senate in the fall of 2020, vice chair in 2019, and served as the chair and member of the Faculty Affairs Committee of the Senate from 2017-2020. She received her BSc and MSc degrees in materials science and engineering from The American University in Cairo (AUC) (1983 and 1987) and received her PhD in mechanical engineering with specialization in materials and manufacturing, Texas A&M University, TX, 1997. Salem joined the mechanical engineering department at AUC as the first full-time assistant professor in 1999 and was the first tenured female faculty in engineering departments at the School of Sciences and Engineering, AUC, in 2005. She was promoted to full professor rank in 2010.
Salem was the associate chair of the mechanical engineering department in 2016. She is also the founder of the Nanotechnology Master's Program at AUC, 2009-2010, and has served as the program director for five years since September 2010. She is one of the four founders of the Yousef Jameel Science and Technology Research Center (YJSTRC) in 2003 and was appointed the associate director for Fund Raising and External Funding at the Center from November 2007-2008. Salem is a co-founder of the PhD program in applied sciences and engineering fall of 2011 and a co-founder of the Biotechnology Master's Program, in 2008.
Salem has vast experience in program accreditation at the graduate and undergraduate levels, nationally (supreme council for higher education) and internationally (ABET), and in the Middle States at the institutional level. Salem chaired the Mechanical Engineering Program ABET Accreditation Committee (DAC), fall 2012 - 2015 and as the department chair in 2020. She Co-chaired committees and served on the University Steering Committee for the Middle States (MSCHE) accreditation cycles of 2008 and 2017. She also served on the National Authority for Quality Assurance and Accreditation (NAQAA) steering committee at the University and School levels from 2009-2012. She was among three AUC faculty members who founded the First Year Experience Program, 2005-2006. Focal Point, Egyptian National Nanotechnology Network (ENNN), under the auspicious of the ASRT, AUC.
Salem was a visiting professor at the Functional Materials Center at the Royal Institute of Technology (KTH), Stockholm, Sweden; a visiting professor in the mechanical and aerospace engineering department of North Carolina State University, (NC) USA; a research associate in the Department of Materials Science of the Georgia Institute of Technology, GA and at the University of South Carolina, Colombia, SC USA. She has research collaborations with a large number of public and provides national universities as well as internationally in the US, Canada, and Europe. Salem supervised a large number of MSc and PhD students at AUC, national universities, regionally and internationally, many of whom are prolific, highly renowned academicians and researchers or industrial leaders worldwide.
Salem's research currently focuses on powder and wire-feed additive manufacturing using selective laser manufacturing. She is the founder and director of the Additive Manufacturing Centennial Lab (AMCL). She established the first Wire Arc Additive/Subtractive Manufacturing (WAAM) integrated Robotic System in Egypt, Africa and the Middle East. WAAM integrated system manufactures and repairs net-shaped metallic medium-to-large industrial parts. Salem also has vast expertise in the processing of Bulk nanostructured materials (BNSM) via a combination of top-down and bottom-up approaches. A combination of powder metallurgy technique and severe plastic deformation was employed in her research for the production of nanostructured bulk products with superior properties for tribological and has vast experience in high-temperature lightweight applications. She is a pioneer in Friction Stir Processing Worldwide since 2010. She has more than 120 international journal and conference publications with around 2000 citations and a high impact in the field; she has received many national and institutional awards and grants.
Salem has a wide spectrum of national and international industrial collaboration, including consultation, services and research and development projects, which contributes significantly to the fundraising efforts on the department and school levels. Salem was awarded the Excellence in Research and Creative Endeavors at the AUC level and School of Sciences and Engineering service achievement.
Research Interest
Wire Arc Additive Re-Manufacturing and Repair

Fabrication and Characterization of Cellular structures using Selective Laser Melting

Synthesis and characterization of composite metallic and ceramic nanopowders and nanostructured powders

Consolidation Behavior of Micro and Nanostructure Metallic, intermetallic Bulk materials

Metal and Ceramic Matrix Nanocomposites Fabrication and Characterization.

Self-Lubricating metal based-graphene nanocomposites

Bulk Nanostructure Material Fabrication Via

Spark Plasma Sintering (SPS);

Additive layer Manufacturing (ALM), wire and powder based;

Sever Plastic Straining (ECAP, HPT, TMP)

Friction Stir Processing (FSP)

Ceramic Coatings and Thin Films Processing and Characterization.

Fabricated via a combination of top-down and bottom-up approaches
Teaching interests 
Salem has had the honor of serving as a full-time faculty member in the field of materials and manufacturing in the Department of Mechanical Engineering at AUC. Working at AUC for the past 17 years has helped her gain an ineffable amount of experience in teaching and course and program development. This section highlights her teaching activities and accomplishments, starting September 1999 to the present.
Note: Salem, similar to many of the MENG faculty, has been teaching between 11 to 13 credit hours per semester throughout her years of service. Salem taught a wide spectrum of courses: eight undergraduate courses ranging from 100-400 level, six graduate 500 level MENG and NANO courses, in addition to senior project courses (as a coordinator and project supervisor) and seminar courses.
Education
PhD  Mechanical Engineering, Texas A&M University, TX, USA, Dec. 1997

MSc Materials Science and Engineering, American University in Cairo, June 1987

BSc  Materials Science and Engineering, American University in Cairo, June 1983