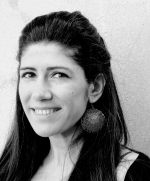 Ghalia
Elsrakbi
Position
Instructor and Director of Graphic Design Program
Department
Department of the Arts
Profile
Brief Biography
Ghalia Elsrakbi (1978, Damascus, SYR) completed a BA in graphic design at ArtEZ Hogeschool Voor de Kunst, Arnhem, followed by a master's in design at the Sandberg Institute in Amsterdam. In 2009, she followed a research post-graduate at Jan van Eyck Academy in Maastricht. Working as a professional designer since 2009, she has been involved in research, exhibition and interactive projects with special focus on the Middle East.
In 2009, she established a working collaboration with Lauren Alexander, South African designer and artist. They work under the collective name, Foundland. Foundland is an art and design practice based in Amsterdam. It aims to draw together disciplines of graphic design, art, and writing. Foundland's works focus on critical analysis of topics related to political and place branding and the way recent trends in these fields affect citizens.
Since 2014, she has taught at the Department of the Arts for graphic design majors at The American University in Cairo and she has served as the exhibition director of Cairotronica, Cairo International Electronic and New Media Arts Symposium.
In 2015, she received a Smithsonian's artist research fellowship at the Alixa Naff Collection Smithsonian Archive in Washington D.C., and a nomination for Prix de Rome and Dutch design award, 2016.
In April 2017, she served as a jury member for the Hybrid Art category for Prix Ars Electronica in Linz, Austria. 
EDUCATION AND QUALIFICATIONS
2008- 2011 RESEARCHER FELLOW, "DESIGN NEGATION" Van Eyck Academy, Maastricht, The Netherlands
2006- 2008 MFA. (DES) MASTERS DEGREE IN GRAPHIC DESIGN & VISUAL COMMUNICATION, Sandberg Institute, Amsterdam (affiliated with Gerrit Rietveld Academy Amsterdam) The Netherlands
2002- 2006 BA - DESIGN AND VISUAL COMMUNICATION, ArtEZ Academy for Visual Art, Arnhem, The Netherlands
1997- 2000 BA - VISUAL ART AND COMMUNICATION, Damascus University, Damascus, Syria
PUBLICATIONS, AND PUBLISHED CONTRIBUTIONS
Research and visual essay ANCESTORS & ALGORITHMS: SUPERNATURAL DATA
for Fictional Journal an online publication for design theory and practice navigating societal contexts of design.
http://www.fictional-journal.com/ancestors-algorithms/
"Failed Futures and Extended Borders" in "Global Perspectives On Visual Vocabulary" The third issue of PROTOCOLLUM - an annually published anthology dedicated to non-Western contemporary visual artists, art narratives and art history.
"Visualising Displacement" for"Escape Routes And Waiting Rooms" Essay developed together with curator and critic Nat Muller and published in Ibraaz
http://www.ibraaz.org/interviews/138
Sharing Is Believing: How Syrian Digital Propaganda Images Become Re- Inscribed As Heroes", Technoetic Arts: A Journal Of Speculative Research, Volume 11 Issue 3, Intellect Publishers, UK
http://www.ingentaconnect.com/contentone/intellect/ta/2013/00000011/0000...