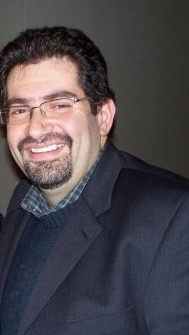 Firas

Al-Atraqchi
Position:

Professor of Practice and Caravan Adviser

Department:

Department of Journalism and Mass Communication

Email: falatraqchi@aucegypt.edu
Brief Biography
Al-Atraqchi is a Canadian journalist and editor who has covered the Middle East and North America since 1992. Raised in different capitals in Europe, North America and the Middle East, he is very much a product of internationalism, bridging both eastern and western value systems. He has worked at the Middle East Times; Pose Magazine; Al Ahram Weekly; Daily News Egypt (chief editor); Egypt Today (assistant editor); General Physics Canada (senior technical writer); and editor of Imprint (Toronto), to name a few. Additionally, he is a regular contributor to the Huffington Post. In 1996, he received an award from the Arab League for accomplishments in the field of journalism.
 Between 2004 and 2010, he worked at Al Jazeera English as a senior editor for its online edition and was in charge of converging web and TV broadcast.
Since 2010, he has been the faculty advisor of AUC's student newspaper The Caravan.
In 2012, he became co-founding editor of The Brics Post – a news website dedicated to coverage of economics and politics in Brazil, Russia, India, China and South Africa.
In July 2019, he became the co-managing editor of The Cairo Review of Global Affairs, the quarterly journal of the School of Global Affairs and Public Policy (GAPP) at The American University in Cairo (AUC). Its primary aim is to be a focal point for policymakers, officials, academics, experts, journalists, students, and others in the Middle East region who follow global affairs. 
He has a BS in physics and an MA in journalism.