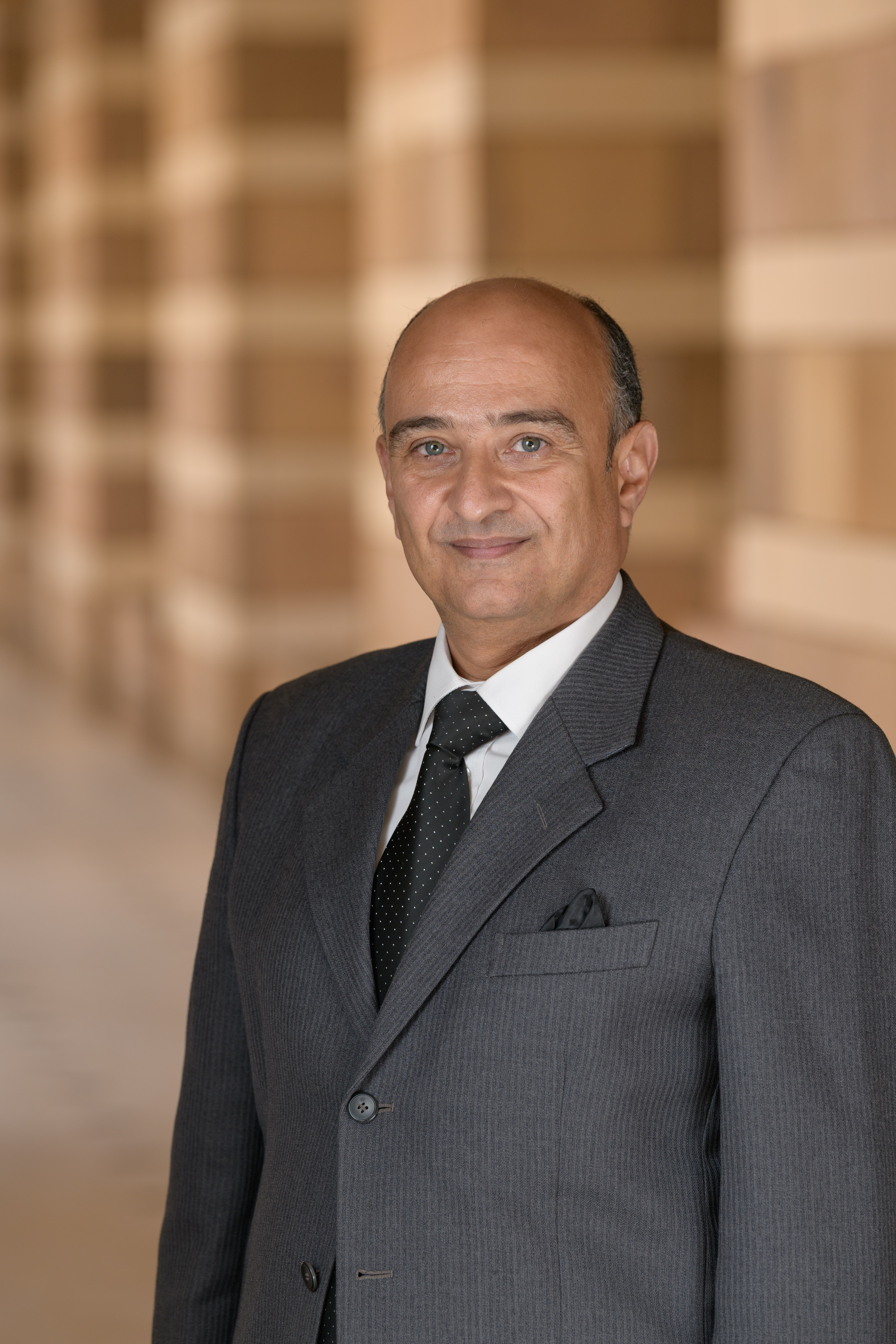 Ezzeldin

Yazeed Sayed-Ahmed

Brief Biography

Ezzeldin Yazeed is a professor and chair of the Department of Construction Engineering at The American University in Cairo. He is a fellow of the Academy of Scientific Research and Technology (ASRT), and a reinforced concrete and steel structures consultant in Egypt. He was previously a professor at Ain Shams University and served as the acting director of the New Credit Hours Engineering programs of Ain Shams University between 2007 and 2008. He was the associate dean of the College of Engineering of Qatar University from 2005 to 2006.

Ezzeldin Yazeed is a program reviewer for the Accreditation Board for Engineering and Technology (ABET) since 2018. He is a voting member of the Egyptian Code of Practice Committee for Steel Structures and the Egyptian Code of Practice for Fibre Reinforced Polymers. He was also a member of many engineering societies, such as the American Society of Civil Engineers and Stockholm Environment Institute in the USA, the International Association for Bridge and Structural Engineering in Switzerland, and the Canadian Society for Civil Engineering and CPCI Canadian Prestressed Concrete Institute in Canada. 

Yazeed was awarded the State Award in Engineering Sciences (Egypt) in 1999 and the Bruce M. Irons Memorial Scholarship in Canada in 1994. He was also awarded the excellence in teaching award from the AUC in 2019. His biographical profile has been listed in Marquis' "Who's Who in Science and Engineering", "Who's Who in the World", "Who's Who in Engineering Higher Education" since 2006. He has one U.S. Patent, 195 publications, of which 64 papers appear in journals. His Author h-index as of Dec. 2020 is 16 (google) and 13 (Scopus). He is recognized in 2020 among the highest cited researchers in the world in the study published by a group of Stanford University researchers. He supervised 30 MSc and 8 PhD students and examined 39 theses and dissertations. He is a reviewer for many international and regional journals as well as conferences.

Yazeed designed/design-reviewed many iconic projects such as the Four 140 m high Minarets of Al-Haram AlMakki Extension, (KSA), Al-Haram FRP Temporary Mataf (Makkah), FRP Clock of King Abdulaziz Endowment Tower (Makkah), Cambambe Hydroelectric Power Plant and Dam (Angola), Storm-water Drainage for Muna and Muzdalifah, (KSA) and many other reinforced concrete and steel structures. 

Research Interest

Teaching Interests

Ezzeldin Yazeed believes that a good instructor should help students answer questions they do not know yet how to ask. Furthermore, he always accepts the fact that whatever is learned and mastered for some time will always be surpassed by what will work better; he always accepts to replace what he knows with what works better. In teaching, his primary teaching objective is to offer students a skilled-based learning experience as opposed to a knowledge-based one. He is always adopting teaching paradigms, which are learner-centered. He is interested in new teaching/learning pedagogy, which includes, but are not limited to: Blended learning, Flipped Classrooms, Student-generated examinations and classes, Design competitions.

Research Interests 

Ezzeldin Yazeed research covers the following spectrum in structural engineering and engineering educations: 

1. Advanced Composite Materials (ACM) for Sustainable Structures

   Behaviour and design of Fibre Reinforced polymer structures and bridges.

   Anchor for Carbon Fibre Reinforced Polymers (CFRP) tendons and/or cable stays.

   Behaviour and design of masonry diaphragm walls prestressed with CFRP tendons.

   Thermal effects on prestressed masonry walls post-tensioned using CFRP tendons.

   Properties of CFRP tendons: short- and long-term mechanical properties, coefficient of thermal expansion, effect of elevated temperature, etc.

2. Rehabilitation and Strengthening of Structures via traditional and Advanced Composite materials (ACM)

   Rehabilitation of RC bridge beams using ACM and/or external prestressing.

   Strengthening of prestressed/precast hollow core slabs using CFRP strips.

   Flexural strengthening of steel and RC members using plain or prestressed CFRP strips.

   Flexural and shear strengthening of RC slabs and beams using Near Surface Mounted (NSM) FRP bars.

   Rehabilitation of masonry walls using Carbon Fibre Reinforced Polymers strips and/or epoxy grout.

3. Seismic Behaviour of High-Rise Buildings with Transfer Floors       

   Elastic response spectrum and nonlinear time history analysis of high-rise with transfer floors.

   Inter-storey drift of high-rise buildings with transfer floors

4. Steel Structures and Bridges Analysis/Design

   Behaviour and design of rigid beam-to-column connections subject to flexure or torsion.

   Analysis and design of steel tubular members' connections.

   Analysis and design recommendations for corrugated steel web composite bridge girders.

   Behaviour of steel-free deck composite bridge system.

   Concrete dowels and shear connectors for composite girders with corrugated steel webs.

   Behaviour/design of axially loaded and flexural members composed of cold-formed steel sections.

   Post-buckling strength of thin-walled steel columns.

   Lateral stability and simplified design of steel I-beams.

5. Structural Behaviour of Mass Concrete in Concrete Dams

   Coupled thermal and stress analysis of concrete gravity dams

6. Response of Structures to Subsurface Blasting

   Recommendations for new limits on subsurface blasting PPV to deter residential housing cracking.

7. Vibration of Light-Weight (steel and FRP) bridges

   Comparative investigation into current code limits for vibrations and comfort levels

   Dynamic load modelling due to pedestrian activities on light weight bridges. 

8. Masonry and Concrete Structures

   Concentrated loads on hollow block concrete masonry walls.

   Analysis and modelling of clay masonry creep.

   Short-term deflection of cracked reinforced concrete beams.

9. Biomechanics Engineering

   Finite element modelling of the human heart Interventricular Septum (IVS).

   Finite element modelling of the articular cartilage in diarthrodial joints.

10. Engineering Education

   Active course offering and effective learning/teaching modules including blended learning and flipped classes paradigm.

   Engineering programmes accreditation and CQI.

   Standardized university admission examinations: planning and specifications.