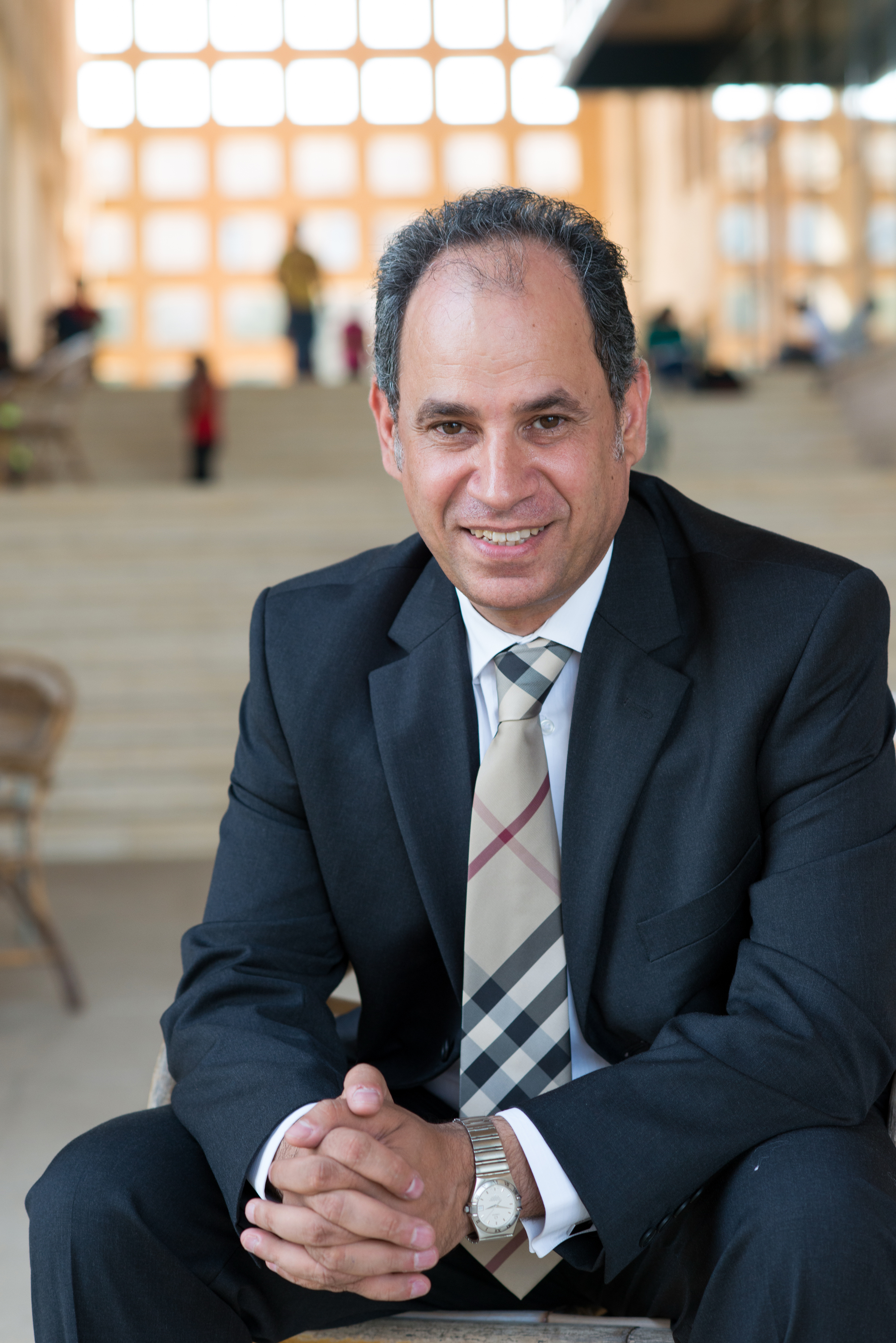 Ehab
Abdel-Rahman
Position
Professor and Provost
Department
Department of Physics
Profile
Brief Biography
Provost Ehab Abdel-Rahman has a long history with AUC, from serving as assistant professor of physics when he first joined in 2006 and chair of the Department of Physics four years later to simultaneously serving as associate dean of graduate studies and research and director of the Yousef Jameel Science and Technology Research Center, both in the School of Sciences and Engineering, starting 2011. His senior administrative duties began in 2013, when he became associate provost for research while continuing to head the Yousef Jameel Science and Technology Research Center. Three years later, he became vice provost before serving as interim provost in early 2017. Abdel-Rahman was appointed AUC provost in June 2017.
A prolific researcher and physicist, Abdel-Rahman has extensive expertise in thermoacoustics and photonics. Among his distinctive achievements is the development of a high efficiency, innovative and simple power block for concentrated solar power and self-tuned and photonic-based energy saving glass window. Throughout his 17-year-long career in thermoacoustics, solar energy, materials and photonics research, he has published more than 80 technical papers and reports and has acquired five U.S. patents. He previously served as Egypt's energy expert, actively contributing during the country's research collaboration with the European Union from 2007 to 2009. Additionally, Abdel-Rahman has founded four technology transfer offices at four Egyptian universities and has authored and managed several European Union and international projects.
Honoring Abdel-Rahman for his achievements, AUC granted him numerous awards, including the Research Innovation Award (2007, 2009), Excellence in Teaching Award (2009), Innovative Teaching Award (2010) and President's Distinguished Service Award (2010). He has also received the Outstanding Service Award for his contributions in establishing the University's Technology Transfer Office (2011) and the Provost's Distinguished Service Award in recognition of his "prolific writing and dedication to education" (2012).
Abdel-Rahman holds a PhD in physics from the University of Utah, where he previously served as a research assistant professor and postdoctoral fellow. Prior to joining AUC, he was assistant professor of physics at Helwan University for two years.
Shaban, M., Ahmed A. M., Abdel-Rahman E., & Hamdy H. (2017). Tunability and Sensing Properties of Plasmonic/1D Photonic Crystal. Scientific Reports 7. doi: 10.1038/srep41983
Shaban, M., Ahmed A. M., Abdel-Rahman E., & Hamdy H. (2016). Morphological and optical properties of ultra-thin nanostructured Cu films deposited by RF sputtering on nanoporous anodic alumina substrate. Micro & Nano Letters, 11 (6), 295–298.
Shaban, M., Ahmed A. M., Abdel-Rahman E., & Hamdy H. (2014). Fabrication and characterization of micro/nanoporous Cr film for sensing applications. Microporous and Mesoporous Materials, 198, 115-121.
El-Rahman, A. I. A., & Abdel-Rahman E. (2014). Computational fluid dynamics simulation of a thermoacoustic refrigerator. Journal of Thermophysics and Heat Transfer, 28(1), 78-86.
Aly, A. H., Mehaney A., & Abdel-Rahman E. (2013). Study Of Physical Parameters On The Properties of Photonic Band Gaps. International Journal of Modern Physics B, 27. doi: 10.1142/S0217979213500471
Aly, A. H., Ismaeel M., & Abdel-Rahman E. (2012). Comparative Study of the One Dimensional Dielectric and Metallic Photonic Crystals. Optics and Photonics Journal, 2, 105-112.
Aly, A. H., Ismail M., & Abdel-Rahman E. (2012). Ag/GaN One Dimensional Photonic Crystal for Many Applications. Journal of Computational and Theoretical Nanoscience, 9(4), 592-596(5).
Aly, A. H., Abdel-Rahman E., & Hanafey H. S. (2011). Numerical Studies on Electromagnetic Waves Properties in Metallic-Dielectric Photonic Crystal. Journal of Electromagnetic Analysis and Applications, 3, 465-470.
ElGazzar, H., Abdel-Rahman E., Salem H. G., & Nassar F. (2010). Preparation and Characterizations Of Amorphous Nanostructured SiC Thin Films by Low Energy Pulsed Laser Deposition. Applied Surface Science, 256(7), 2056-2060.
Abdel-Rahman, E., & Shaarawi A. (2009). Defect mode in periodic and quasiperiodic one-dimensional photonic structures. Journal of Materials Science: Materials in Electronics, 20, 153-158.

Patents

Title: Hi

gh Frequency Thermoacoustic Refrigerator

Authors: Orest Symko and Ehab Abdel-Rahman

Pat. No.: US Patent #: 7,240,495, Jul. 10, 2007

Title: High Frequency Thermoacoustic Refrigerator

Authors: Orest Symko and Ehab Abdel-Rahman, DeJuan Zhang and Thierry Klein

Pat. No.: US Patent #: 6,804,967, October 19, 2004

Title: High Frequency Thermoacoustic Refrigerator

Authors: Orest Symko, Ehab Abdel-Rahman, DeJuan Zhang and Thierry Klein

Pat. No.: US Patent #: 6,574,968, June 10, 2003

Title: Formation and applications of AlCuFe quasicrystalline thin films

Authors: Orest Symko, Ehab Abdel-Rahman, Wanjun Park, Thierry Klein and David Kieda

Pat. No.: US Patent #: 6,712,915, March 30, 2004
Research Interest
Thermoacoustics
Photonics
Hydrogen storage materials
Concentrated solar power