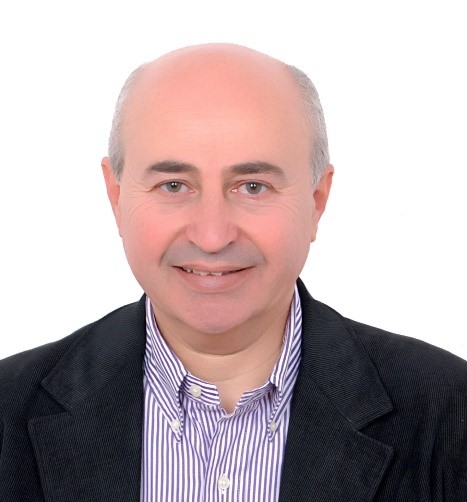 Basil
Kamel
Position
Professor and Chair
Department
Department of Architecture
Profile
Brief Biography
Basil Kamel is a professor of architecture and urban theory in the Department of Architecture, which he joined in 2011. His responsibilities include the development of the graduate studies program as well as the construction documents program in the department. He teaches several design studios specifically contextual design, graduation project, and courses related to working drawings and construction administration.
He received his BS and MS from Cairo University, and his PhD through a joint data gathering program between the University of California at Berkeley (UCB) and Cairo University in 1995. He stayed in the United States for 11 years studying and teaching at UCB and working as an architect in Ferrari Moe Firm in San Rafael.
Basil Kamel has conducted intensive research in several topics related to architectural and urban practice. His research papers covers a variety of interdisciplinary fields as follows: urban studies: bridging the gap between theory and practice; architectural education: means and methods to promote experiential learning; professional practice: from design concept to reality of architectural outcome; community development and participatory approaches; sustainable communities and green buildings.
He works on the professional level designing several recognized projects in Egypt and abroad through his privately owned consulting firm KCRG. His firm recently won the gold award from the International Council of Shopping Centers (ICSC), Middle East and North Africa Shopping Centre Global Awards program for the design of the largest furniture mall in the Middle East, Designopolis.
2016: Kamel, Basil, Yasmin ElSemary and Ahmed Amin; "IN PURSUIT OF COMPATIBILITY IN URBAN CONTEXT An Analytical Study with Special References to Contemporary Local Contexts in Cairo", International Journal of Science and Engineering Applications, Volume 5 Issue 10, 2016, ISSN-2319-7560, pp(485-494)
2016: Kamel, Basil, Hadia Saad and Karim Kesseiba; "TOWARDS A MORE APPROPRIATE& WATER EFFICIENT STREETSCAPE DESIGN", International Journal Advanced Research, ISSN: 2320-5407, Volume 4(12), pp (893-906)
2015: Kamel, Basil, Sameh El-Fiki and Rana Zaki; "Factors Affecting Construction of Gated Communities in Greater Cairo Region (A Risk Management Assessment)", Indian Journal of Applied Research, Volume : 5, Issue: 6, pp (792-801).
2015: Kamel, Basil and Moaz Mohamed (2015); "Creative Economic Building Components For Low-Income Housing", International Journal of Science and Engineering Applications, Volume 4– No.2, March-April 2015
2014: Kamel, B. A. and Mennat ElHusseiny (2014); "Questioning New Public Space Practices in Post-revolution Cairo", Australian Journal of Basic and Applied Sciences, AENSI Journals, 8(8) Special 2014, Pages: 184-190 (www.ajbasweb.com).
2014: Kamel, B. A. and ElHusseiny, M (2014); "New Public Space Patterns in Cairo: Whose Public Space?" Biennial Conference of the International Association for the Study of Traditional Environments (IASTE) "Whose Tradition?", Kuala Lumpur, Malaysia, from December 14-17, 2014.
2014: Kamel, Basil, Sally Essawy, and Mohamed ElSawy (2014), "Timeless Buildings and The Human Brain: The Effect of Spiritual Spaces on Human Brain Waves," ArchNet, IJAR, International Journal of Architectural Research, Volume 8 – Issue 1 – (133-142).
2014: Kamel, Basil and Naglaa Mahmoud (2014); "Managing Architectural Offices Using Software Programs (Special Reference to Local Small and Mid-Size Firms)", International Journal of Research in Chemical, Metallurgical and Civil Engineering. (IJRCMCE) Vol. 1, Issue 1, pp. 137-146, (http://dx.doi.org/10.15242).
2014: Kamel, B. A. and Mennat ElHusseiny (2014); "Questioning New Public Space Practices in Post-revolution Cairo", Australian Journal of Basic and Applied Sciences, AENSI Journals, 8(8) Special 2014, Pages: 184-190 (www.ajbasweb.com).
2014: Kamel, Basil, Sally Essawy, and Mohamed ElSawy (2014), "Sacred Buildings and Human Brain: The Effect of Sultan Hassan Mosque on Brain Waves of its users," Creative Space, Chitkara University, Chandigarh. Volume 1 – Number 2 – (125-143). (www.chitkara.edu.in/publications/)
2014: Kamel, Basil and Mennat ElHusseiny (2014); "Dynamics of Social Sustenance in Cairo's Changing Public Space", CAUMME II – 2014: Contemporary Architecture & Urbanism in the Mediterranean & the Middle East, International Symposium on: Architectural and Urban Research, Education, and Practice in the Era of 'Post-Professionalism', 23-25 October 2014, Girne – Cyprus.
2013: Kamel, Basil, Haitham AbdelLatif and Hani Hadly (2013); "Cooperative Housing: Modern Logistics in Modular Planning", First International Conference for Co-op Housing, Coairo, Egypt, December 2013.
2013: Kamel, Basil, Ahmed Waly and Ahmed Hamdalla (2013); "Current Status of Sustainable Construction Regulatory Systems In Egypt", 2013 RICS Cobra, New Delhi, India, 10 - 12 September 2013.
2013: Kamel, B. A. and B. M. Ahmed (2013), "Reclaiming Urban Settings: A Community Based Public Space," OZ Journal, Volume 35, (Nathan Geier & Sandi Lam, Eds.), Manhattan, Kansas, USA: OZ Journal. http://ozjournal.org/info/contact.html
2012: Kamel, B. A. and M. A. Assar (2012), "Applying Realistic Environmental & Sustainable Measures in Community Development with Special Reference to Egypt; A Socio-Cultural Study," Procedia - Social and Behavioral Sciences, 661-665
2012: Kamel, B. A. and K. Nassar (2012), "Effectiveness of Green-Roof on Reducing Energy Consumption through Simulation program for a Residential Building: Cairo, Egypt," Construction Research Congress Construction Research Congress.
2011: Effectiveness of Green-Roof on Reducing Energy Consumption through Simulation program for a Residential Building: Cairo, Egypt, (joint research) CRC Conference 2012, Purdue.

Selected creative Works

AWARDED AND LARGE SCALE PROJECTS OF EXCELLENCE

THE STRIP: SODIC major development for shopping malls and retail shops - Awarded exclusively to KCRG (my firm) based on expertise. Cairo, Egypt, 2015. (Budget: LE 160 million)
AUTOVILLE: GARDEN CITY/SODIC DEVELOPMENT for car shopping mall - awarded exclusively to KCRG (my firm) as a recall for DESIGNOPOLIS, Cairo Egypt 2014. (Budget: LE 120 million)
GOLD AWARD from the INTERNATIONAL COUNCIL OF SHOPPING CENTERS (ICSC), Middle East and North Africa Shopping Center Global Awards Program 2012, for the design of DESIGNOPOLIS SHOPPING MALL, Cairo, Egypt (Budget: LE 180 million)
2nd Prize (Joint) Award for the design of the Ahram Canadian University in Cairo 2011. Project Phase design was awarded to our office after Financial Negotiations in joint venture with Saleh and Hegab Consultants (Budget: LE 220 million)
SIRTE SEA-FRONT PROJECT was awarded to KCRG as a sub-consultant to The NATIONAL CONSULTING BUREAU of LIBYA as a representative of the Government, Sirte, Libya 2011. (Budget: $120 million)

Architecture and Urban Theory
Community Development and Urbanism
Cultural Landscapes and Sustainability
Critical Thinking and Social Behavior
Professional Practice and Construction Documents