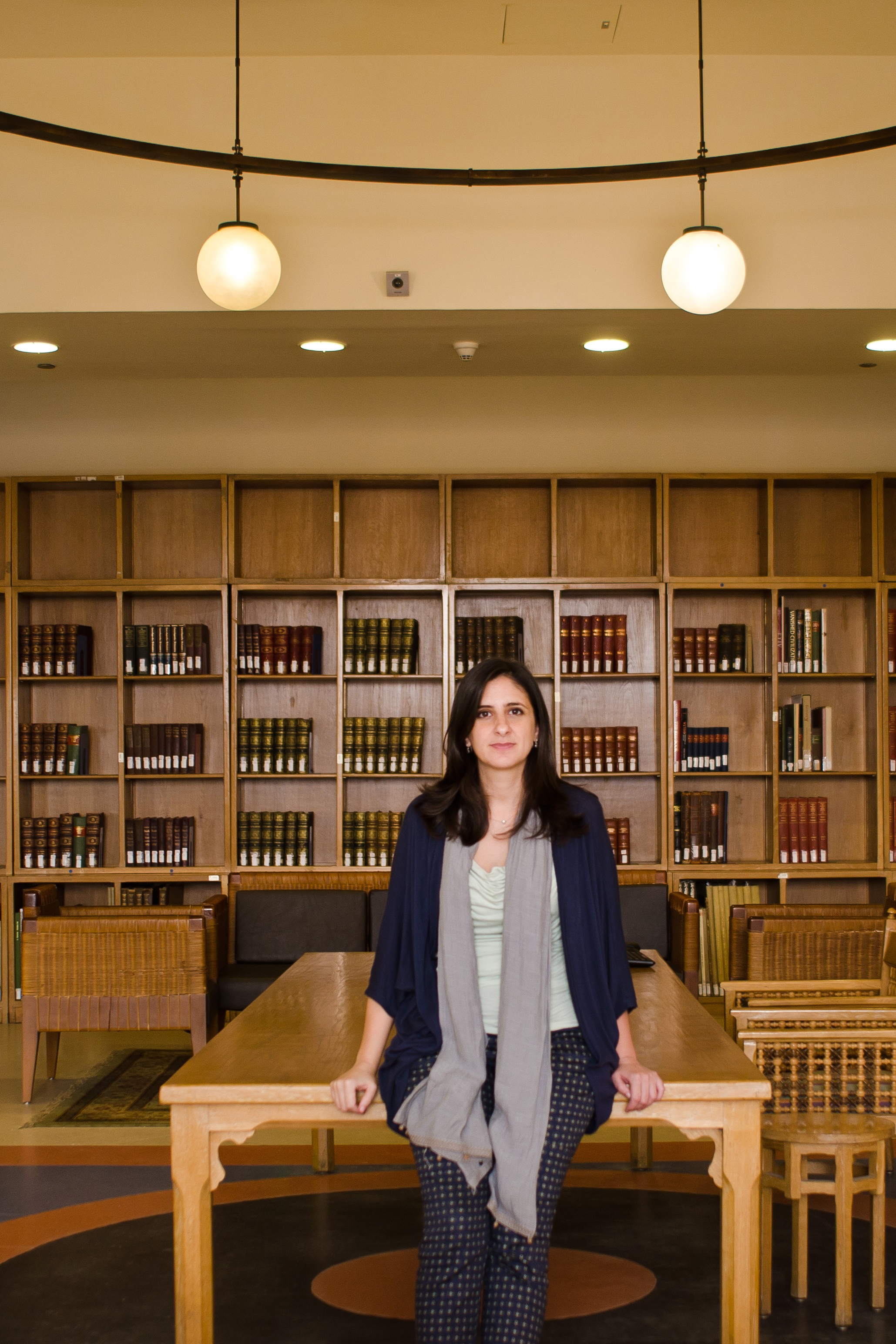 Bahia
Shehab
Position
Professor of Practice
Department
Department of the Arts
Profile
Brief Biography
Bahia Shehab is a professor of the practice of design and founder of the graphic design program at The American University in Cairo, where she has developed a full design curriculum mainly focused on the visual culture of the Arab world. She has taught over fourteen courses on the topic. She frequently lectures internationally on Arab visual culture and design, design education and curriculum development, Islamic cultural heritage, and her art practice. Her artwork has been on display in exhibitions, galleries, and streets internationally and has received several international recognition and awards. The documentary Nefertiti's Daughters were featuring her street artwork during the Egyptian uprising released in 2015. Her publications include "A Thousand Times NO: The Visual History of Lam-Alif." She is the first Arab woman to receive the UNESCO-Sharjah Prize for Arab Culture. 
Courses Taught 
DGSN 2115     History of Graphic Design
DGSN 3115     History of Graphic Design in the Arab World
DSGN 3117     History of Advertising in the Arab World
DGSN 3118     History of Arabic Calligraphy
DGSN 2210     Typography I: Arabic Typography
DGSN 3220     Typography II: Latin & International Typography
DGSN 2201     Design I: Introduction to Design
DGSN 2202     Design II: Logo and Corporate Identity
DGSN 3204     Design IV: Packaging
DSGN 3205     Design V: Retail Design
DGSN 2245     Illustration
DSGN 3265     Advertising and Branding
DSGN 3270     Designing for Eternity
DSGN 4269     Senior Project Thesis
DSGN 4270     Senior Project 
Publications
Shehab, Bahia, "At the Corner of a Dream." London: Gingko, 2019. 
Nawar, H., Shehab, B., "A History of Arab Graphic Design," Cairo-New York American University in Cairo Press, Egypt, 2020.
Shehab, Bahia, A Thousand Times No - Alif Lam-Alif: The Visual History of the Lam-Alif. Amsterdam: Khatt Books, 2011.
The book is a research-based tribute to the wealth, diversity, and freedom of expression in art from Islamic lands. It is a rejection of conformity and repression that often plagues the Arab and Islamic cultures. It traces chronologically the history of one letter from the Lam-alif (which also means NO in Arabic) on different items produced under Arab and Islamic patronage over 1400 years from countries that span from Spain to the borders of China. "A Thousand Times No" is a bi-lingual book written, illustrated and designed by Bahia Shehab in conjunction with an installation by the artist under the same title at "The Tradition of Future 100 years after the exhibition 'Masterpieces of Mohammadan Art'" (Munich-Germany, September 2010-February 2011)
Selected Book Chapters
Shehab, Bahia, "A Thousand Times No!: Spray Painting as Resistance and the Visual History of the Lam-Alif," in Contemporary Revolutions: Turning Back to the Future in 21st-Century Literature and Art, Bloomsbury Academic, 2018
Volker Albus, Adélia Borges, Axel Kufus, Tapiwa Matsinde, Divia Patel, Bahia Shehab, Eggarat Wongcharit, Zhang Jie, "Up-Cycling the Future," Pure Gold: Upcycled! Upgraded!, Leipzig: Spector Books, 2017
O'Kane, Bernard & Shehab, Bahia, "The Epigraphy of the Mausoleum of Yahya al-Shabihi," in Art, Trade, and Culture in the Islamic World and Beyond: From the Fatimids to the Mughals, Ed. Alison Ohta, Michael Rogers, and Rosalind Wade Haddon, Gingiko Press, 2016, pp. 48-55 
Shehab, Bahia, "The Granddaughters of Scheherazade," in Companion to International Children's Literature, Eds. Dr. John Stephens, Dr. Celia Abicalil Belmiro, Dr. Alice Curry, Dr. Li Lifang. Dr.Yasmine S. Motawy, Routledge, 2016.
Shehab, Bahia, "Emotional Translation," in Translating Dissent: Voices from and with the Egyptian Revolution, Ed. Mona Baker, NY: Routledge, 2016, pp. 163-177.
Shehab, Bahia, "A Thousand Times No," in No Gods, No Masters, No Peripheries: Global Anarchisms, Barry Maxwell & Raymond Craib eds., Michigan: PM Press, 2015, pp.233-241.
Shehab, Bahia, "Landscape/Soundscape: 20 Minarets from the Arab World", in World Architecture.
Shehab, Bahia, "Spraying NO,"  Walls of Freedom, Ed. Basma Hamdy & Don Karl, Malta: From Here to Fame, 2014, pp. 117-119.
Shehab, Bahia, "Urban Dialogues," in Positions - Arabich Worlt, Eds. Johannes Ebert et el,  Göttingen: Steidl-Verlag, 2013, pp. 274-278.
Shehab, Bahia, "Faṭimid Kūfī Epigraphy on the Gates of Cairo: Between Royal Patronage and Civil Utility," in Calligraphy and Architecture in the Muslim World, Eds. Mohammad Gharipour & Irvin Cemil Schick. Edinburgh: Edinburgh University Press, 2013, pp. 275-289.
Selected Street Interventions
"We Will Not Repent"-Mahmoud Darwish poem, Mural, 

University of Lincoln, UK, August 2019.

 "My People" – Mahmoud Darwish poem, Mural, permanent public display at the Doris Duke Shangri-La Museum of Islamic Art, Culture and Design, Honolulu-Hawaii, August 2018
 "I will Dream" – Mahmoud Darwish poem, Mural, Institut des cultures d'Islam Paris-France, October 2017
"How Big is the Idea" – Mahmoud Darwish poem, Mural, Stavanger-Norway, September 2017
 "The Journey" – Mahmoud Darwish poem, Mural, Amsterdam-Netherlands, December 2016
 "Those who have no land have no sea" – Mahmoud Darwish poem, Mural, Cephalonia - Greece, August 2016
 "On this Earth" – Mahmoud Darwish poem, Mural, FIGURE, Tokyo-Japan, May 2016
 "We Love Life if We Had Access to IT" – Mahmoud Darwish poem, Mural, École Supérieure des Arts Visuels Marrakech - Morocco, April 2016 
 "No to the Impossible" – Mahmoud Darwish poem, Mural, Madison/Wisconsin-US, April 2016
"Imprisoned Butterfly" – Mahmoud Darwish poem, Street intervention, New York-US, March 2016
 "Stand at the Corner of a Dream and Fight" – Mahmoud Darwish poem, street intervention Vancouver-Canada, February 2016
Selected Exhibitions
Awards and Fellowships
Research Interest
Arabic Typography and Calligraphy
History of Arab Graphic Design and Visual Culture
Design Education and Curriculum Development
Arab Art and Politics
Arab and Islamic Cultural Heritage
Education
PhD, Modern Arab Art, Leiden University, The Netherlands (2019) 
MA, Islamic Art & Architecture, American University in Cairo, Egypt (2009) 
BGD, Graphic Design, American University of Beirut, Lebanon (1999)