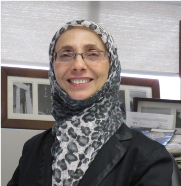 Asma
Amleh
Position
Associate Professor
Department
Department of Biology
Profile
Brief Biography
Asma Amleh is an associate professor of biology at The American University in Cairo. She received a BSc in biology and chemistry at The American University of Beirut, Lebanon (1983), and a PhD in biology from McGill University in Montreal, Canada (1997).
Professor Amleh has been a research fellow at the laboratory of cellular and developmental biology, NIDDK, and a research associate at the National Institutes of Health, Bethesda, MD, USA.  She has also been an instructor at the Department of Molecular Medicine, Institute of Biotechnology, at the University of Texas Health Science Center and a senior research scientist at the Developmental Biology Program, Memorial Sloan-Kettering Cancer Center in NY.
Publications
Mennatallah M. B. Elfar and Asma Amleh. "miR-590-3p and its Downstream Target Genes in HCC Cell Lines" Analytical Cellular Pathology November 2019.

https://doi.org/10.1155/2019/3234812

Hassanein, N., Bougherara, H., Amleh, A. "In-vitro evaluation of the bioactivity and the biocompatibility of a novel coated UHMWPE biomaterial for biomedical applications" J

Mech

Behav

Biomed

Mater August 2019. 

https://doi.org/10.1016/j.jmbbm.2019.103409

Nihal Abou El Azm, Daisy Rifaat, Eric Zadok Mpingirika, Asma Amleh, and Mayyada El-Sayed. "Production of Bioactive Compounds from the Sulfated Polysaccharides Extracts of Ulva lactuca: Post-Extraction Enzymatic Hydrolysis Followed by Ion-Exchange Chromoatographic Fractionation" Molecules June 5, 2019, 24(11), 2132

; DOI: 10.3390/molecules-24112-2132 

Nancy Hassanein, and Asma Amleh. "Biomaterial Implants: A Gateway to Cancer Through Genetics and Epigenetics" AMOR March 20, 2019; 4 (4), 15-27.
Ghabriel, M., and Amleh, A. "The testis: an accessible Mesenchymal Stem Cells source" AMOR 4 (06): 1-13

DOI: 

http://dx.doi.org/10.30564/amor.v4i6.196

. December 2018.

Salem, M., J. O'Brien, H. Shawer, G. Ye, J. Brkic, A. Amleh, B. Vanderhyden, B. Refky, B. B. Yang, S. Krylov, and C. Peng, "mirRNA-590-3p Promotes Ovarian Cancer Growth and Metastasis via a Novel FOXA2-Versican Pathway" Cancer Res August 1, 2018 (78) (15) 4175-4190; DOI: 10.1158/0008-5472.CAN-17-3014
Sarah E. Riad, Dalia S. Elhelw, Heba Shawer, Nada El-Ekiaby, Ayman Salah, Abdelrahman Zekri, Gamal Esmat, Asma Amleh, and Ahmed I. Abdelaziz. "Disruption of claudin-1 expression by miRNA-182 alters the susceptibility to viral infectivity in HCV cell models" Front. Genet. 20 March 2018 |

https://doi.org/10.3389/fgene.2018.00093

Dalia S Elhelw, Sarah E Riad, Heba Shawer, Nada El-Ekiaby, Ayman Salah, Abdelrahman Zekri, Asma Amleh, Gamal Esmat, and Ahmed Ihab Abdelaziz. "Ectopic delivery of miR-200c diminishes hepatitis C virus infectivity through transcriptional and translational repression of Occludin" Arch Virol June 2017
Ahmed Mai, Ghabriel Myret, and Amleh Asma. "Enrichment, Propagation, and Characterization of Mouse Testis-Derived Mesenchymal Stromal Cells". Cellular Reprogramming. Volume: 19 Issue (1): 35-43. 2017
Eman El Zeneini, Sarah Kamel, Mahmoud El-Meteini, and Asma Amleh. "Knockdown of COBRA1 decreases the proliferation and migration of hepatocellular carcinoma cells". Oncol Rep 37: 1896-1906, 2017
Amina Soliman, Asma Amleh, Selim Kafafy and Arthur R. Bos.  "Population ecology, reproduction and locomotion of the sand dollar Sculpsitechinus auritus (Echinodermata; Echinoidea) in the Gulf of Suez, northern Red Sea" Marine Biodiversity. DOI: 10.1007/s12526-016-0571-5. 
Aya Youssef, Heba Shawer, Alaa Afify and Asma Amleh. "The Potential Involvement of the Cofactor of BRCA1 in Hepatocellular Carcinoma Pathogenesis"Advances In Modern Oncology Research. 12 pages. DOI: 10.18282/amor.v2.i4.129. August 2016
Haihui Pan, Xiayan Zhao, Xiaowen Zhang, Mohamed Abouelsoud, Jianlong Sun, Craig April, Asma Amleh, Jian-Bing Fan, Yanfen Hu, Rong Li. "Translational Initiation at a Non-AUG Start Codon For Human and Mouse Negative Elongation Factor-B". PLoS ONE 10(5): e0127422. Doi: 10.1371/journal.pone.0127422. (2015)
Laila Ziko, Sandra Riad, Momen Amer, Radovan Zdero, Habiba Bougherara, and Asma Amleh. "Mechanical Stress Promotes Cisplatin-Induced Cell Death". BioMed Research International Journal, vol. 2015, Article ID 430569, 14 pages. Doi: 10.1155/2015/430569. (2015)
Mona Kamal Saadeldin, Heba Shawer, Ahmed Mostafa, Neemat Mohamed Kassem, Asma Amleh and Rania Siam. "New genetic variants of LATS1 detected in the urinary bladder and colon cancer". Frontiers in Genetics, Published online Jan 13. Doi: 10.3389/fgene.2014.00425. (2015)
Zahra S. Bagheri, Erica Giles, Ihab El Sawi, Asma Amleh, Emil H. Schemitsch, Radovan Zdero, Habiba Bougherara. "Osteogenesis and cytotoxicity of a new Carbon Fiber/Flax/Epoxy composite material for bone fracture plate applications" Materials Science and Engineering

C,

Materials

for Biological Applications

46:

435-442

(2015).

Firouzi D, Youssef A, Amer M, Srouji R, Amleh A, Foucher DA, and Bougherara H. "A New Technique to Improve the Mechanical and Biological Performance of Ultra High Molecular Weight Polyethylene using a Nylon Coating". J Mech Behav Biomed Mater 32: 198- 209. (2014)
Eslam M. Moustafa, Claire L. Camp, Ahmed S. Youssef, Asma Amleh, Helen J. Reid, Barry L. Sharp and Tamer Shoeib. "Oxaliplatin Complexes with Carnosine and its Derivatives: In vitro cytotoxicity, Mass Spectrometric and Computational Studies with a focus on Complex Fragmentation." Metallomics 23;5(11): 1537-1546. Doi: 10.1039/c3mt00180f. (2013)

Asma Amleh

, Mohamed abou El Soud, Sarah Kamel. Effective Teaching of science in an undergraduate course; Knowledge, discipline and dedication yield scientists. Procedia Social and Behavioral Sciences. Volume 9: 890- 902. (2010)

Asma Amleh

, Bao-Zeng Xu and Teruko Taketo "Role of Sex Chromosomes in Mammalian Female Fertility" in M. D'Aquino and V. Stallone (Eds.), Sex Chromosomes: New Research, (Hauppauge NY: Nova Science Publishers, pp 53-86 (2013).

Asma Amleh,

Sreejith J. Nair1, Jianlong Sun, Ann Sutherland, Paul Hasty, Rong Li. Mouse "Cofactor of BRCA1 (Cobra1) is Required for Early Embryogenesis" PLoS ONE (2009) Published online April 2. Doi:10.1371/journal.pone.0005034
Lu, Y., Amleh, A., Sun, J., Jin, X., McCullogh, S.D., Baer, R., Ren, D., Li, R., and Hu, Y. "Ubiquitination and Proteasome-mediated Degradation of BRCA1 and BARD1 during Steroidogenesis in Human Ovarian Granulosa  Cells"  Mol Endocrinol 21:651- 663 (2007).
Hu, Y., Ghosh, S., Amleh, A., Yue, W., Lu, Y., Katz, A., and Li, R. "Modulation of aromatase expression by  BRCA1: a possible  link to tissue-specific  tumor suppression" Oncogene 24:8343- 8348 (2005).

Amleh, A.

and Dean, J. "Mouse genetics provides insight into folliculogenesis, fertilization and early embryonic development" Hum Reprod Up 8(5):395- 403 (2002).
Soyal, S.M., Amleh, A., and Dean, J. "FIGα, a Germ-Cell Specific Transcription Factor Required for Ovarian Follicle Formation" Development 127(21):4645-54 (2000).

Amleh, A.

, Smith, L.C., and Taketo, T. "Both nuclear and cytoplasmic components are responsible for the developmental failure of fertilized eggs from the B6.YTIR sex- reversed female mouse" Dev Biol 219:277-286 (2000).

Amleh, A.

and Taketo, T.  "Live-borns from XX but not XY oocytes in the chimeric ovary composed of B6.YTIR and XX cells" Biol Reprod 58:574-582 (1998).
Vanderhyden, B.C., McDonald, E.A., Merchant-Larios, H., Fernandez, A., Amleh, A., Nasseri, R., and Taketo, T. "Interactions between the oocyte and cumulus cells in the ovary of the B6.YTIR sex-reversed female mouse" Biol Reprod 57:641-646 (1997).

Amleh, A.,

Ledee, N., Saeed, J., and Taketo, T. "Competence of oocytes from the B6.YDOM

sex-reversed

female mouse for maturation, fertilization, and embryonic development in vitro" Dev Biol 178:263-275 (1996).
Courses Taught
BIOL3326 Vertebrate Anatomy and Physiology
BIOL3370 Developmental Biology
BIOL4330 Tumor Biology
BIOT5203 Biotechnology

BIOT5204 Experimental Biotechnology

BIOT6204 Model Systems in Cancer Research
Research Interest
To define genetic markers implicated in the development of cancer
To Explore new therapeutic approaches to the treatment of cancer
To pursue questions related to the molecular/cellular/ developmental and  differentiation processes including stem cell research
Team Members