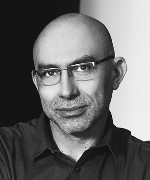 Amr

Abdel Kawi
Position:

Professor of Practice

Department:

Department of Architecture

Email: akawi@aucegypt.edu
Brief Biography
Upon completing his architectural education in the United States, Amr Abdel Kawi practiced architectural design in Egypt for more than twenty years through his practice, Praxis. He eventually diversified his practice to include interior design and furniture design through the firm, Philosophy, which introduced into Egypt the international furniture brands as well as contemporary Egyptian designs. By 2008, Abdel Kawi consolidated the diverse activities under a new design management firm, Rhimal Design. The main focus of the company is to contribute to developing the fields of design through effective linkages with design-based industries.
Always interested in the concepts of change, he published a bilingual periodical on architecture, interior design and fine arts magazine titled Medina between 1997 an 2002. This was later followed by Magaz, another bilingual magazine on design and design thinking between 2008 and 2012. Abdel Kawi has also been an educator since 1981 teaching in the schools of architecture of Ain Shams University until 1999 and then in the Arab Academy of Science and Technology in Cairo until 2009. He eventually joined The American University in Cairo and has been wih the University here since 2010.
Abdel Kawi has consulted in the field of Technical Education and Vocational Training (TVET) for over nine years and was a key expert with the TVET reform program. This experience resulted in the creation of the National Academy for Science and Skills (NASS), which he co-founded and manages. NASS is a vocational training academy focused on developing a new model for qualifying internationally competitive professional technicians.