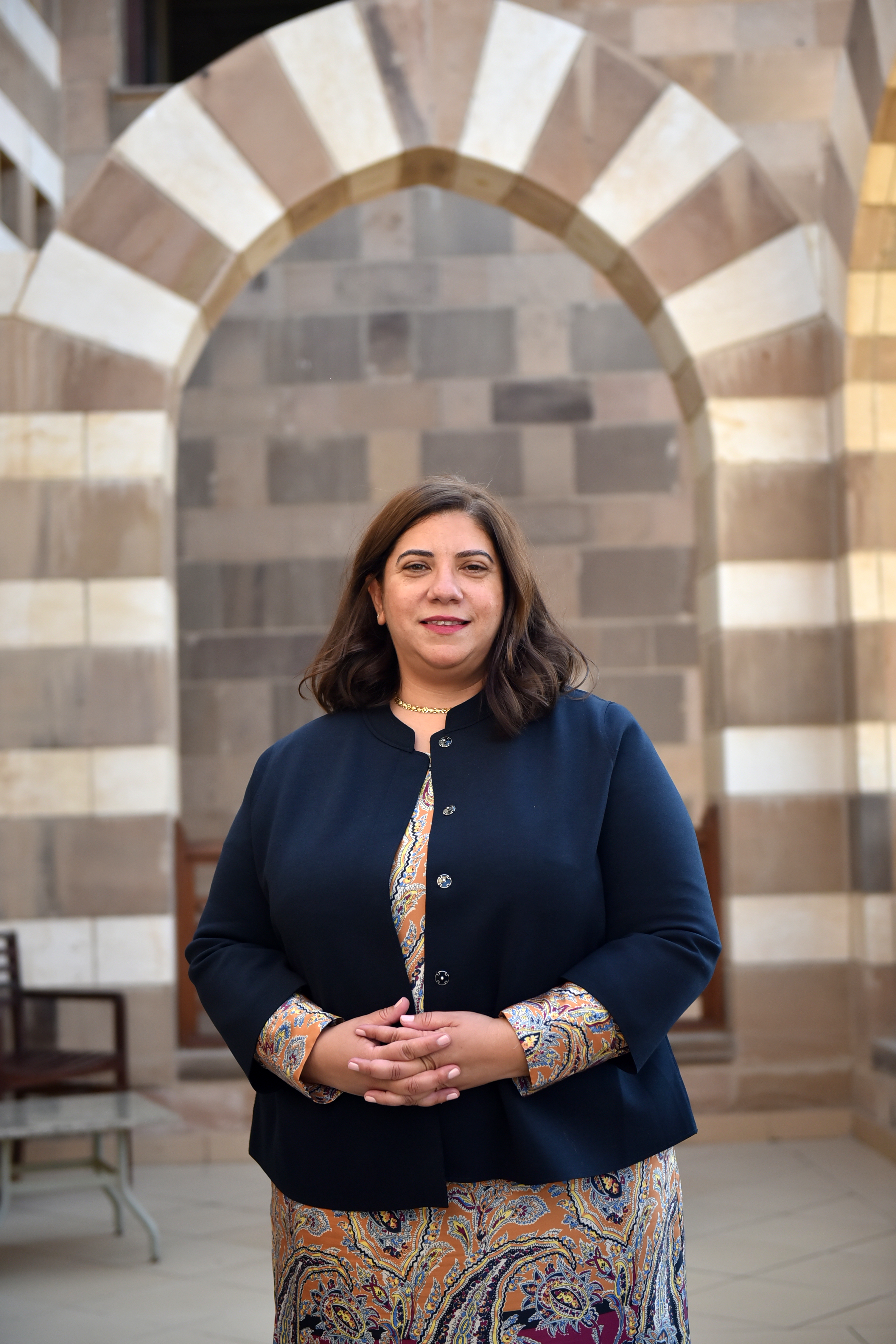 Amina

Elbendary
Position:

Associate Professor and Director of Graduate Studies

Department:

Department of Arab and Islamic Civilizations

Email: abendary@aucegypt.edu
Brief Biography
Amina Elbendary is an associate professor of Middle East history at the Department of Arab and Islamic Civilizations, the American University in Cairo (AUC). Her research interests include Mamluk social and cultural history, Arabic historiography, and Islamic political thought.
Her publications include the monograph Crowds and Sultans: Urban Protest in Late Medieval Egypt and Syria (AUC Press). The book explores reports of urban protest and dissent in the cities of Egypt and Syria under the late Mamluk and early Ottoman regimes and analyzes both the historiography of protest and the intricacies of urban politics in the late medieval period. She is also the co-author, with Dalia Said Mostafa, of The Egyptian Coffeehouse: Culture, Politics and Urban Space (I.B. Tauris). She is currently working on a research project related to popularization and late medieval historiography. 
Elbendary earned her PhD in oriental studies from Clare Hall, University of Cambridge (2007). Before studying at Cambridge, she studied at AUC, earning an MA in Arabic studies with a specialization in Middle East history for her thesis "Histories of the Muslim Hero: Medieval and Modern Perceptions of al-Zahir Baybars" (1999) and a BA in political science (suma cum laude, 1996). At AUC, she was a recipient of the Riyochi Sasakawa Young Leaders Graduate Fellowship. She was also the winner of the Middle East Medievalists award for best graduate paper on a medieval topic in 1998.
She is co-organizer of the annual history seminar at the Department of Arab and Islamic Civilizations, a yearly event that brings together scholars of Egypt and the Arab world around a chosen theme. She is a member of the board of trustees of the Women and Memory Forum (WMF), an independent Egyptian research center that focuses on the study of women and gender in Arab cultural history. She is also an associate scholar of the Skilliter Center for Ottoman Studies, Newnham College, University of Cambridge and a member of the editorial board and co-book review editor of the Turkish Historical Review (Brill) and member of the editorial board of Cairo Papers in Social Sciences (AUC Press). She served on the jury of the Middle East Medievalists dissertation prize in 2020. She also serves on the editorial board of the series "Critical Approaches to Arabic Historiography", recently launched by Edinburgh University Press.
Research Interest
Mamluk Egypt and Syria
Social and cultural history of the Arab Middle East
Arab-Islamic historiography
Medieval and early modern popular culture
Islamic political thought