At the third annual Benefit Dinner held in New York City under the theme of Inspiring Women, AUC honored three "inspiring" AUC alumnae: Rana El-Kaliouby '98 '00, chief science officer of Affectiva, a spinoff of the Massachusetts Institute of Technology (MIT); Heba Morayef '02, Egypt director of Human Rights Watch; and Haifaa Al-Mansour '97, Saudi Arabia's first female filmmaker.
At the third annual benefit dinner, AUC raised funds in excess of $400,000, with net proceeds being used to support scholarships for female students.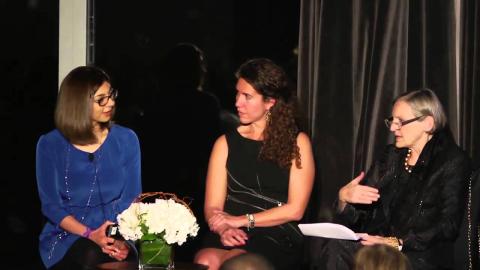 AUC's Third Annual Benefit Dinner
This year marks the third AUC Benefit Dinner under the theme: AUC: Inspiring Women. The intent of the event is to showcase the caliber of AUC graduates in Egypt and abroad who are actively contributing to Egypt and our global society. All proceeds will be used to support scholarships at AUC.