Former Presidents
Francis J. Ricciardone (2016-2021)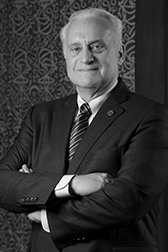 Francis J. Ricciardone was appointed the twelfth president of The American University in Cairo (AUC) and began his term on July 1, 2016. He had served as a foreign service officer from 1978-2014, including appointments as US ambassador to Egypt, Turkey, and the Philippines, and Chargé d'Affaires and deputy ambassador to Afghanistan. After graduating from Dartmouth College Summa Cum Laude in 1973, he received a Fulbright Scholarship and taught in American international schools in Trieste, Italy, and Tehran, Iran. During 2014-2016 he was vice president of the Atlantic Council and director of the Rafik Hariri Center in the Middle East. He was a distinguished scholar at the US Institute of Peace in 2008-2009. He speaks Arabic, Turkish, Italian, and French. He is married to Dr. Marie Ricciardone, a molecular biologist.
Lisa Anderson (2011-2015)
Lisa Anderson (CASA '76) was appointed the eleventh president of The American University in Cairo in January 2011. A specialist on politics in the Middle East and North Africa, Anderson served as the University's provost from 2008 to 2010. As the chief academic officer, she was responsible for shaping and implementing AUC's academic vision and building the size and quality of the faculty. Anderson holds a BA from Sarah Lawrence College and an MA in law and diplomacy from the Fletcher School at Tufts University. She earned a PhD in political science from Columbia University in 1981, where she also received a certificate from the Middle East. She was awarded an honorary doctor of laws from Monmouth University in 2002.
David D. Arnold (2003-2010)
David D. Arnold became president of The American University in Cairo in September 2003. Arnold holds a bachelor's degree from the University of Michigan and a master's in public administration from Michigan State University. He served for six years as executive vice president of the Institute of International Education, the world's largest and oldest nonprofit educational exchange organization. Arnold worked for the Ford Foundation, serving as the foundation's representative for India, Nepal, and Sri Lanka. During his tenure at AUC, he oversaw the construction of the University's New Cairo campus, built to the highest international standards. Academic initiatives were launched during Arnold's presidency, including new undergraduate and graduate programs. Under his leadership, AUC partnered with prominent universities such as the University of Pennsylvania, Cambridge, Oxford, and Harvard.
John D. Gerhart (1998-2003)
John D. Gerhart was The American University in Cairo's ninth president. A native of Abilene, Texas, he received his Bachelor of Arts from Harvard University and earned his master's and PhD from Princeton University. He spent 29 years in the Africa and Middle East program of the Ford Foundation, working in the fields of economics, agricultural development, and public administration before joining the University in September 1998. Gerhart expended an unparalleled amount of time and effort in strengthening AUC's academic programs and expanding extracurricular activities for students. He began a historic fundraising campaign that raised an unprecedented amount of money for AUC New Cairo and research and training programs at the University.
Donald McDonald (1990-1997)
Donald McDonald, a civil engineer with degrees from Auburn University in Alabama and the University of Illinois, led The American University in Cairo through continued expansion and recognition. He served as a faculty member for 17 years at Texas A&M, and in 1979, was appointed head of civil engineering there. After that, he became provost, then vice president for academic affairs. McDonald had international academic experience before coming to AUC and established a Texas A&M branch campus in Japan.
Richard F. Pedersen (1977-1990)

Richard F. Pedersen had studied at Stanford and received his doctorate from Harvard. A career diplomat, he was appointed US ambassador to Hungary at 41. He had also served as the deputy US representative in the United Nations Security Council and counselor of the State Department under Secretary of State William Rogers. Pedersen was senior vice president of US Trust Co., responsible for its international division, which gave him valuable experience in finance and investment management. Pedersen led AUC's curricular expansion and efforts to attain full accreditation in the United States.
Cecil K. Byrd (1974-1977)
Cecil K. Byrd came to The American University in Cairo from Indiana University, where he had been the library director. In 1973, he was appointed dean of the faculties. President Thoron stepped down in 1974 due to illness, and Byrd was named acting president. His position was made permanent. Byrd advocated active personal participation in a variety of University affairs, and his administrative team was accessible to all.
Christopher Thoron (1969-1974)
Thoron was appointed acting president at 38. His appointment was temporary at first, but his outstanding performance as president during his first year made his appointment official. Though not an academic, Thoron was a skilled United Nations diplomat who was fluent in French and German. Through his exceptional diplomacy, Thoron began the complicated process of securing official Egyptian recognition for an AUC degree.
Thomas A. Bartlett (1963-1969)

Thomas A. Bartlett, 33 at the time of his appointment, studied at Stanford and Oxford universities, where he was a Rhodes scholar. After Oxford, he became an adviser to the UN delegation in the United Nations. Through his work on the Palestinian refugee issue, he became familiar with the Middle East. He was responsible for much of the expansion and construction of The American University in Cairo's campus, including the purchase and remodeling of the Greek campus. In 2002, he returned to serve as interim president.
Raymond F. McLain (1954-1963)

Raymond F. McLain, an Ohio native, pastored several Disciples of Christ churches there before his appointment as president of Eureka College in Illinois at age 31. Three years later, he became president of Transylvania College. At 49, he directed a study by the National Council of Churches on the nature and role of church-related colleges in the United States. At The American University in Cairo, he initiated a new organizational structure and arranged for the first trustees meeting ever to be held in Cairo.
John S. Badeau (1944-1953)

In 1936, John S. Badeau was brought to The American University in Cairo as the first Weyerhauser professor of ethics. Previously, he had been trained as an engineer and worked as a missionary. In 1938, Badeau became dean of the Faculty of Arts and Sciences. In fall 1944, he was selected to succeed president Watson, at Watson's behest. Badeau developed the University's first five-year plan and was instrumental in the establishment of the Social Research Center in 1952, with a grant from the Ford Foundation.
Charles Watson (1919-1944)

Charles Watson, The American University in Cairo's inaugural president, grew up in Cairo. Watson received his Bachelor of Arts from Princeton University, then studied at Ohio State and Lawrenceville before receiving a degree in divinity from the Princeton Theological Seminary. After finishing his studies, Watson worked at a mission in Pittsburgh and pastored a church in St. Louis. In 1902, he was called upon by the United Presbyterian Board of Foreign Missions to direct its overseas activities in India and the Middle East. He cultivated an association with the Hill family, who eventually made possible AUC through their generous contributions.