Experiential Learning and Design Thinking
AUC is Now a Member of the Global Design Thinking Alliance
In 2019 The Global Design Thinking Alliance extended its network to include AUC. On the occasion of the annual conference at Hasso Plattner Institute, New York, the GDTA welcomed five new member institutions: The American University in Cairo, Echos Innovation Lab, Penn State University, Tecnológico de Monterrey, and Universidad Mayor. The Global Design Thinking Alliance is a network of institutions, including the Hasso Plattner Institute, London School of Economics, Penn State University, University of British Columbia, the University of Cape Town, among other prestigious institutions. This worldwide network of institutions promotes excellence in design thinking education and research.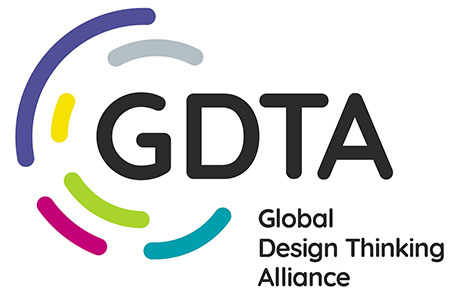 What is Design Thinking?
Design Thinking is a process that starts with discovery and ends with a user-centered offering that solves one of the user's most pressing problems. In its simplest form, design thinking is an iterative process that starts with finding inspiration by immersing in the challenge space and truly understanding the user's tensions and pains, to generating multiple solutions designed to alleviate those pains, to implement the most promising solutions through an iterative build-test-evolve cycle. It is also called Human-Centered Design because it combines anthropologically-based ethnography and design to generate user-centered solutions that are resource feasible and economically viable.
Why Design Thinking
Adopted by many fortune 500 companies, universities, governments, and NGOs across the world, Design Thinking is a human-centered problem-solving approach that identifies hidden opportunities and the unarticulated aspirations of the users. It is multidisciplinary and team-based, relying on a culture of collaborative innovation, a key pillar in AUC's strategic plan moving forward. The anticipated value of participating in design thinking opportunities to our departments, service centers, programs, staff, and students is eminent and of high impact while moving forward with the University's strategic direction towards innovation and quality of education.
Applying Design Thinking in Education
Design Thinking can be used in education as an innovative pedagogy in the classroom, where students use the DT process in order to solve design problems, or educators can (re)design learning experiences by centering students as users.
Design Thinking as Innovative Pedagogy and Experiential Learning
Design Thinking is a student-centered pedagogy that promises to provide students with an experiential learning framework for a real-life problem-solving experience. The goal is to help problem-solvers embrace ambiguity and face the unknown by slicing the challenge into smaller parts that they can tackle one at a time. The learning from each step then becomes the foundation of the next step this change in mindset that puts the user at the center of the challenge and frames problem-solving as a process may be the most impactful stage in students' learning,
Faculty can explore design thinking as a mindset and method and reflect on ways in which it can be incorporated into activities, projects, course design and more. To learn more about how CLT can help you integrate design thinking into your course, and create an experiential learning experience for your students, contact CLT at clt@aucegypt.edu or request a consultation.
Learning Experience Design
Higher education has entered an era of transition requiring universities to reconsider their classical model of teaching and enforce new paradigms for student-faculty relationships. Many educational institutions across the world are using design thinking as a problem-solving framework to redesign their students' learning experiences, inside and outside the classroom.