Design Thinking
Design Thinking
AUC is Now a Member of the

Global Design Thinking Alliance
The Global Design Thinking Alliance extends its network. On the occasion of the annual conference at Hasso Plattner Institute, New York, the GDTA welcomed five new member institutions: The American University in Cairo, Echos Innovation Lab, Penn State University, Tecnológico de Monterrey, and Universidad Mayor. The Global Design Thinking Alliance is a network of institutions, including the Hasso Plattner Institute, London School of Economics, Penn State University, University of British Columbia, the University of Cape Town, among other prestigious institutions. This worldwide network of institutions promotes excellence in design thinking education and research.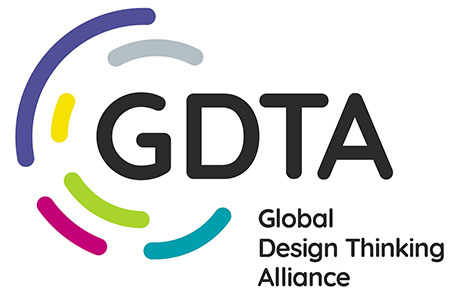 CLT Goal
CLT's goal is to integrate design thinking into the curriculum across disciplines to develop students' creative and entrepreneurial thinking skills. We aim at establishing and maintaining an institutional structure that promotes experiential learning and supports design thinking education and implementation as the underlying framework for innovation and cross-disciplinary collaboration across the University.
What is Design Thinking?
Design thinking is a human-centered problem-solving approach that is practiced by fortune 500 companies, universities, governments, and NGOs across the world to identify hidden opportunities and design user-centered innovative products, services, businesses, governance, and social solutions for tomorrow. A key to the success of design thinking is its multidisciplinary team-based approach. It follows an intentional and iterative process to discover the day-to-day unmet needs and unarticulated aspirations of users, and develop solutions that balance user desirability, technical and structural feasibility, and economic viability of proposed solutions. Design thinking relies on a culture of collaborative innovation, a key pillar in AUC's strategic plan moving forward. The anticipated value of this opportunity to our departments, service centers, programs, staff, and students is eminent and of high impact while moving forward with the University's strategic direction towards innovation and quality of education.
Recent Design Thinking Events
AUC-Mountain View Design Thinking Challenge
June 2021 - Summer 2021
How might we redefine the residential compound living experience, in a world where modern families' needs and lifestyles hold them back from living a genuine, connected life?
Overview
This Design Thinking Immersive Workshop, held on November 4th-Nov 6th, was designed to expose participants to the creative problem-solving innovation framework; where students tackle a real-life challenge presented by an industry partner. AUC Faculty coaches led this innovation challenge.
Partners
AUC Innovation Hub (iHub), Center For Learning and Teaching (CLT), Office of the Assistant Provost for Innovative Learning Experiences, and Mountain View Developments (MV), a leading real estate development company. The industry partners' aspirations include building connected communities, a true sense of happiness and human-centered solutions in the post-pandemic ecosystem.
The Challenge
Design Thinking teams follow an iterative process to discover user needs, struggles and aspirations, and design user-centered solutions that are technically feasible and financially viable.
During the workshop, faculty-led teams worked on the following challenge statement: "How might we design a mixed-use urban living experience that nurtures true happiness, in a world where young families struggle to lead a genuine, connected life?"
Ideas with Impact
Two of the four ideas were impactful and the Mountain View Guest Panel asked those two teams to attend a deep dive workshop at Mountain view premises with the in-house innovation team to further develop their ideas further.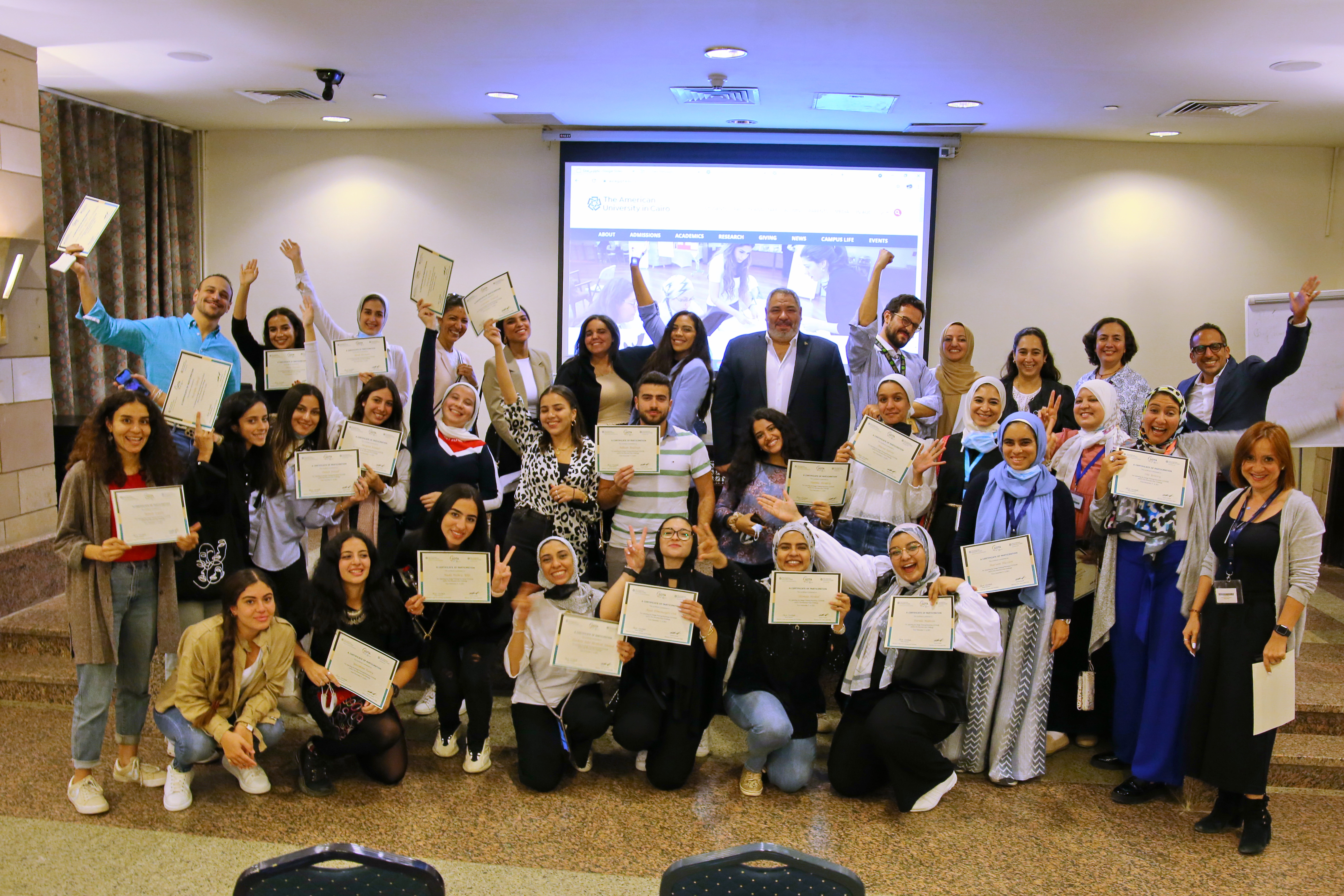 Friday, March 30, 2021

The Center for Learning and Teaching (CLT) held its first virtual Design Thinking Sprint as part of the Research and Creativity Convention at The American University in Cairo. This year the CLT partnered up with Wuzzuf (launched in 2011) a smart online recruitment platform that helps employers hire the right talent, and connects Egypt's brightest professionals with the right career opportunities that empower them to create their own success. Wuzzuf provided CLT with the challenge which was a great opportunity for participants to learn about the framework, tools, and mindsets of design thinking through an authentic real-life challenge.

How might we redesign the job seeker's experience on WUZZUF's platform to enhance engagement throughout the user journey, from acquisition to retention?

Over an intense day-long sprint, participants, coaches, and challenge partners worked collaboratively in groups to tackle the challenge, redefining the challenge based on their understanding. At the end of the day, they were able to come up with 3 different ideas to re-imagine the job-seeking experience.

"Actually, I never thought we could come out with solid and concrete outputs from a one day sprint working online like what we did today." Ahmed Eid, Head of New Ventures (Wuzzuf), 2021

Friday, March 29, 2019

This daylong workshop, facilitated by AUC's Center for Learning and Teaching, aims to connect AMICAL colleagues in building creative solutions to common challenges using design thinking. This workshop builds on the spirit of the AMICAL 2018 Teaching and Learning Innovation Exchange event bringing members together in a collaborative environment.

Goals of this workshop

The workshop has the following goals:

Identify challenges within and across AMICAL member institutions, focusing on AMICAL's grant-funded goals or areas of CLT expertise:

Localized and collaborative forms of digital liberal arts

Information and digital literacies

Innovative and effective library and technology leadership

Faculty development

Unpack/analyze challenges across institutions and roles in order to recognize views of impacted stakeholders.

Design and document creative solutions (in multifunctional and inter-institutional teams) which can be implemented or applied in future.

Result in initiatives and projects within a single institution or across multiple institutions, AMICAL projects, creation of AMICAL interest groups, or other concrete actions that can be taken in the coming year after AMICAL 2019.

Saturday, April 6, 2019 - Sunday, April 7, 2019

AUC Research and Creativity Convention is a collective event that brings together diverse research, design, entrepreneurship, innovation and creativity activities that have demonstrated growth and success over the years. Its aim is to enhance knowledge-sharing, interdisciplinary research collaboration, and projects of community or economic value. It is an event that highlights AUC's strategic priorities, strengthens research capacity, invigorates campus creativity, and explores critical regional and global issues.

AUC faculty and students, both graduate and undergraduate, showcase and share the outcomes of original research and creativity in the sciences, humanities, social sciences, business, and the arts. They demonstrate the breadth and depth of the institution's research mission. The AUC Research and Creativity Convention is a celebration of excellence in university research, entrepreneurship, and creative achievement.

This hands-on design thinking event is designed to introduce you to this creative approach to problem-solving, where you will learn the tools, mindsets, and frameworks of design thinking. What is unique about design thinking is the process that places the user at the center of the design canvas, and only through a deep understanding of the user's needs, fears and aspirations designers are able to create insight-driven innovations tailored to the user needs.

Tuesday,

January 22, 2019

- Thursday, January 24, 2019

As AUC approaches its Centennial, the Center for Learning and Teaching, with the support of the Office of the Associate Provost for Research, Creativity, and Innovation, is collaborating with the Hasso-Plattner Institute School of Design Thinking (HPI) to offer an immersive year-long program for educators as design thinking coaches and innovation enablers. The selected cohort is expected to integrate this innovative approach to problem-solving into the curriculum to foster real-life experiential learning experiences for students. This initiative is in line with the quality of education and innovation pillars in the Centennial AUC Strategic Plan.

The selected cohort will receive design thinking training, coaches training, and academic integration training and consultations throughout the duration of the fellowship. Upon completion, participants will receive a design thinking coach and educator certificate from AUC, and a certificate of participation from HPI-AUC events attended.

The fellowship program will launch with a Design Thinking for Educators Bootcamp, from January 22-24, 2019. This three-day experience provides educators with an in-depth introduction to design thinking and how it can be used to engage students in projects and assignments that foster engagement, innovation, and creativity. Participants will have the opportunity to:

Experience a design thinking challenge - Re-imagine the future of higher education" (Day 1 and 2)

Practice facilitating part of the design thinking process (Day 3)

Review and work with AUC and other open design thinking materials from HPI and IDEO and Stanford School of Design Thinking (Days 1-3)

Participate in conversations about implementing design thinking in courses within a network with like-minded educators (Day 3)

During the first week of July 2018, a cohort of 24 AUC faculty members, staff members, and graduate students, representing the entire AUC community, took part in a Design Thinking Bootcamp, designed and facilitated by the Hasso-Plattner Institute School of Design Thinking (HPI), in collaboration with design thinking experts at CLT, AUC.

The cohort spent four days in an immersive experience, learning and practicing the tools, mindsets, and frameworks of design thinking. During the boot camp, participants got a chance to apply this user-centered innovation framework to solve a real-life design challenge, in collaboration with our industry partner, Valeo. Four multidisciplinary teams were tasked to design the future automated delivery experience in the age of smart mobility.

We invite you to explore the highlights of our first global design thinking week in this video.