Accreditation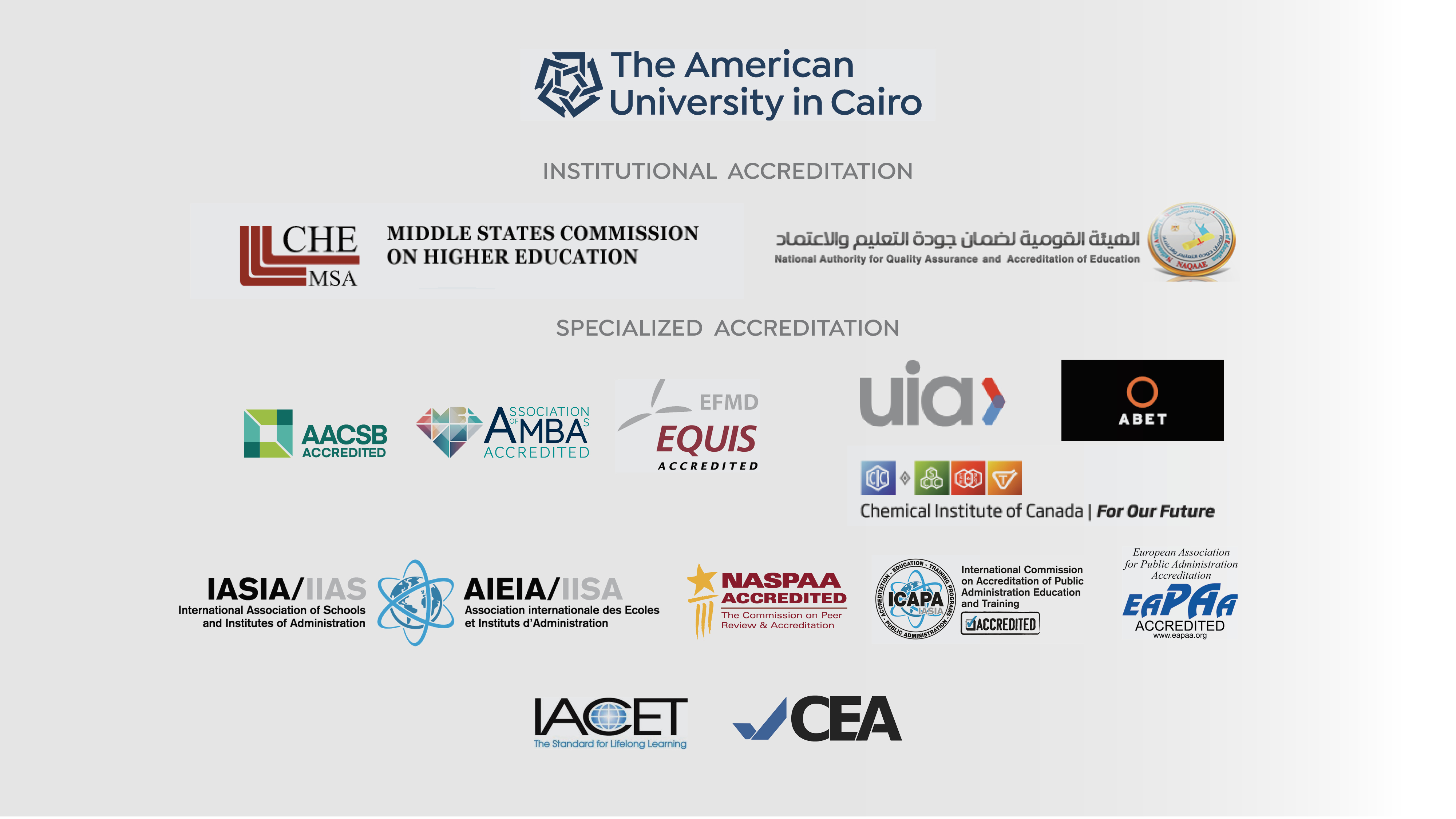 Institutional Accreditation Specialized Accreditation Other Accreditations Resources
AUC'S ACCREDITATION
AUC operates within the framework of a 1975 protocol with the Egyptian government, which in turn is based on a 1962 cultural relations agreement between the Egyptian and US governments. In the United States of America, AUC is licensed to grant degrees and is incorporated by the state of Delaware. AUC is governed by a board of trustees and is administered by a chief executive officer appointed by this board.
Accreditation is a mark of excellence indicating endorsement by peer reviewers. It is of the utmost importance to universities, especially in a global context where prospective students, faculty members, and employers view it as a measure of academic excellence and institutional quality. The adherent self-study process, which involves participants from every unit of the institution and focuses on all activities and services, is an opportunity to examine where the University and its programs stand in terms of achieving institutional goals and standards, to focus efforts on areas that need enhancement and changes, and to define new challenges in academic endeavors and organizational matters.
Global Institutional Accreditation

The Middle States Commission on Higher Education (MSCHE) is a voluntary, non-governmental membership association that defines, maintains, and promotes educational excellence. It examines each institution as a whole, rather than specific programs within institutions. Institutional accreditation is granted by MSCHE for a period of 10 years, with a midway periodic review.
National Institutional Accreditation
In January 2020, AUC was reaffirmed for its national accreditation with the

National Authority for Quality Assurance and Accreditation of Education (NAQAAE). NAQAAE is a government body formed in 2007 with the purpose of establishing quality standards for Egypt's educational institutions in order to enhance the quality of education in Egypt. AUC was the first University in Egypt to receive the NAQAAE accreditation at the institutional level in December 2010.
Specialized Accreditation